Debate students win IHSA State for the first time in Central history
For the first time in school history, Central's debate team won the IHSA state champion team title in Congressional Debate. Leading them to victory were team captains junior Vivian Zhao, who placed second in the state, and senior Jim Royal, who placed first.
The tournament, which took place March 15 and 16, was structured in three different rounds: three sessions of preliminaries, one session of semifinals and one session of finals in Congressional Debate.
"We had six of 10 advance [from preliminaries], which was probably the third or fourth time we've done that," head coach Randall Smith said. "We've never had all 10 advance. Then we had semifinals. At semifinals, everyone is guaranteed two speeches."
The speech topics vary widely and are researched throughout the year by the debate team. During the speeches, the students act as a mock Congress, in which they have to argue over student-written bills.
"We debate a lot of different bills which are sorted into three subjects: economics, foreign affairs and public welfare," Zhao said. "We take a side as to whether or not we want to pass or fail the bill. We had student loans, a two-state solution for Palestine and Israel, vaccinations and an international cap and trade solution."
Of the six students to advance to semifinals, both Royal and Zhao advanced to finals. According to Smith, both students excelled during their final round performances.
"If you want to see someone who, in questioning, can take what a speaker presented and warp it to a point where they're saying 'mercy', [Vivian]'s amazingly gifted at it," Smith said.
As for Royal, his last speech was regarding a bill to restrict carbon emissions.
"I advocated, instead of top down government solution to the problem, more of a free market oriented option," Royal said. "Part of [debate] is being able to argue for other positions, but I actually got to say what I really believed which was nice."
Along with Royal and Zhao placing at finals, the debate team as a whole won as Congressional Debate champions.
"Individual students do research that any and all of us can use," Smith said. "To be victorious in battle, it's not just a Jim Royal victory. He's using research that the whole team has done."
Royal has been involved with debate for four years and feels as though he's gotten a lot out of his time with the team.
"It was a really wonderful experience, because this is a competitive event, but it's also a great community of people who are very supportive of each other," Royal said. "To have that success, and to end a career in that community was just really rewarding."
The debate team also teaches its members valuable life skills, as Zhao explains.
"I think that it's definitely helped me develop my confidence," Zhao said. "I've definitely become a lot more politically engaged after joining debate because we have to research a lot of different topics. It helps me be more aware about current events."
Smith and assistant head coach Rob Lugiai both lend support to the team captains, who, in addition to Zhao and Royal, include junior Sophie Hussein.
"To me, one of the bigger things that I like about debate is that you get to grow young leaders," Smith said. "There's times where I have been much more proactive in what I do and how I do things because of leadership weakness. [The captains] don't make the job easier, but it's fun to watch them lead with integrity and with quality and with direction."
One of the most important lessons this win has taught Smith is that it is often an entire team behind one person's victory.
"It's the same essence of 'it takes a village to raise a child'," Smith said. "It takes a lot of people to keep a victory poised."
About the Writer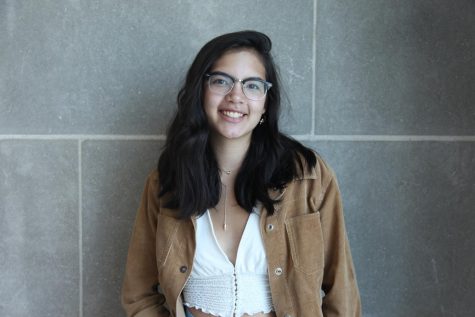 Madeleine Chan, Profiles Editor
Madeleine Chan is a senior in high school and is the Profiles Editor this year for Central Times. This is her second year on staff and she is so pumped to have an even better year! Outside of Central Times, you can find Madeleine being the secretary of Theatre Central and doing secretary things for the club (join Theatre Central). She also works at Everdine's grilled cheese in downtown Naperville and loves her dog.