'Cupcake Wars' famous TV contestant Molly's Cupcakes brings signature treats to Naperville
Hang on for a minute...we're trying to find some more stories you might like.
Famously known for being one of the contestants on the TV series "Cupcake Wars," Chicago-based Molly's Cupcakes has recently opened up a new location in the Downtown Naperville area located at 30 W. Jefferson Ave.
John Nicolaides, creator and founder of Molly's Cupcakes, started to gain popular recognition during season one, episode nine of "Cupcake Wars" and ever since then has caught the eye of cupcake lovers. Nicolaides started his cupcake business in dedication to Miss Molly, his third-grade teacher who would always make cupcakes when it was someone's birthday.
In dedication to his inspirational third-grade teacher, Nicolaides designed his numerous cupcake locations with a cozy elementary school-like atmosphere and decorations. Nicolaides decided to bring the school concept into their new location in Downtown Naperville.
Molly's Cupcakes aims to honor Miss Molly by donating a portion of their profits to school communities. Ever since Molly's Cupcakes opened back in January, many people have been lining up at their door. Molly's Cupcakes has presented Naperville with an elementary school-like cupcake bakery complete with chalkboards, wooden swing chairs, school lockers and a sprinkle station.
Molly's Cupcakes grand opening in Downtown Naperville was held on Jan. 21. Molly's Cupcakes in Naperville is currently owned by Stephanie and James Jacobson. Stephanie Jacobson grew up in the Naperville area and attended Neuqua Valley High School. She has been a big fan and long-time supporter of Molly's Cupcakes and found Naperville a suitable place for an award-winning bakery.
"My husband and I use to live in the city, so we've always been huge fans of Molly's," Jacobson said. "The cupcakes are amazing and we just fell in love with the concept, and we thought that Naperville would be the perfect place due to the walking traffic and the vibe of Downtown Naperville. Naperville is reacting very well to Molly's."
Team leader Amanda Gercak has enjoyed working as an employee of Molly's Cupcakes.
"We have all become pretty close," Gercak said. "Stephanie and James are amazing, I love working with the public. I like getting to know the public and coming here."
Molly's Cupcakes encourages everyone to come in and not only enjoy their award-winning cupcakes but also enjoy a cup of coffee, cookies, cake pops and their monthly specials. The February specialties include the strawberry champagne cupcake, the tiramisu cupcake, the chocolate raspberry cupcake and Valentine's Day-themed cake pops.
"I love my team," Jacobson said. "Everyone is doing a fantastic job. Everyone is very happy when they walk into Molly's. It's such a happy, fun place. It's goodies, what could you not like?"
About the Writer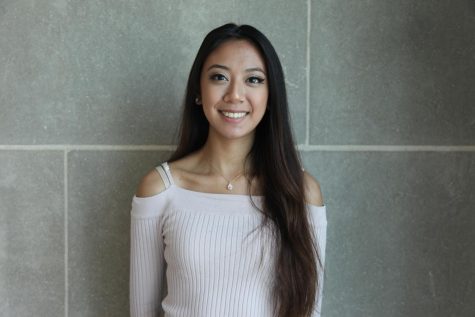 Marissa Laqui, Community Editor, Social Media Manager
This is Marissa Laqui and this is her first year on staff for Central Times. She has climbed her way to the top and has earned the roles of Social Media Manager and Community Page Editor. Outside of Central Times she is a major food enthusiast and runs her own food blog. She also is involved in the school's Literary Magazine Club and is currently President of her youth group. She hopes to start a career in the writing field and one day work for a media entertainment company.