Central's sports fans less supportive of girls' teams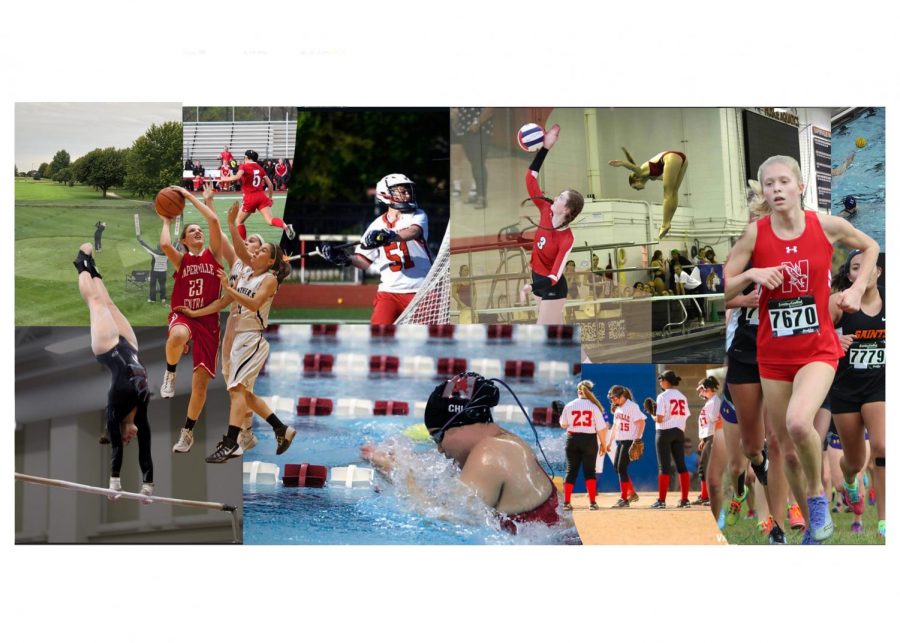 Alana Cervera, Online Managing Editor, Sports Columnist
January 30, 2019
Women have fought for their equality in sports for over 40 years and many girls, including ones at Central, have experienced a lack of support, approval and coverage from their student body.
Take, for example, the doubleheader girls and boys basketball game at Naperville North on Dec. 7, which received attention for the lack of parity in fan support. The girls game followed the boys 6 p.m. game, but less than half of the students stayed after the boys played. Even a majority of the Redhawk Rowdies, Naperville Central's all-male pep club, left after the boys played their game.
"I tell the girls it's their [the audience's] loss, and they're the ones who are missing out," Andy Nussbaum, head girls basketball coach, said. "I think we have a pretty entertaining game. We don't play above the rim as much as the boys do, but there are a lot of things we do pretty well. Our girls basketball team this year has made more three-point shots per game than any team I've ever seen at the high school level, boys or girls."
Senior Mary Amato witnessed many people leaving the doubleheader basketball game.
"It was actually kind of disgusting," Amato said. "A majority of the Rowdies and 90 percent of the student section left. The girls game started five minutes later, and it was appalling. I heard people leaving the stadium saying, 'Hey, do you want to go to McDonald's?' How about going to McDonald's after our just-as-equal classmates perform their game?"
Junior JV basketball player Rachel Carrier was disappointed by what she saw from her perspective on the court.
"Having the [majority of the] Rowdie team be the ones to get up and leave during a game where you watch the whole boys game and now you're leaving for the girls, shows that our leadership of the student section of sports fails to stand up for equality," Carrier said.
Despite the small crowd, senior Lucy Schmid, varsity basketball player and UChicago commit, is staying positive.
"We saw that less than half of the people stayed, and we were totally okay with it," Schmid said. "That's the normal student population at our games. People usually don't come out, and we're really happy with whoever stayed."
Students, including senior Paul Stys, have suggested for the past couple of years that there should be a female Rowdie.
"I definitely think there should be girls," Stys said. "I don't get why that's [an issue]. I think it would definitely help [gender equality] because having a girl on the Rowdies would have insight to get ready and prepare [for games.]"
Assistant girls volleyball coach and former boys volleyball assistant coach Megan Thornton believes female role models and coaches also matter.
"I think it's really important for females to see people they can be like and to be confident in their gifts and pursue whatever they want to in and not to feel like they have to hold back," Thornton said.
The lack of support for girls sports is not just seen at the high school level.
"The 2015 NCAA men's basketball championship game attracted 28.3 million viewers to the CBS broadcast," Liz Clark writes in The Washington Post. "The following night, the women's championship drew just over 10 percent of that audience — 3.1 million viewers — on ESPN."
The lack of gender equality affecting female athletes at the professional level has its origins in high school. Advertisements are market driven, and if the attention is not there, the coverage be won't be either.
"I don't know how you can fix that," senior Payton Nesci said. "I think there can be more respect shown toward women's sports, but you can tell people to see the game, but you can't force anybody to go to it."
Central students' social media presence has a big impact on sports as well.
Freshman Braeden Schmidt, junior Jackson Wigger and senior Sam Wichhart all make "hype" videos showing highlights from the games that have the intention of hyping up students to attend more games.
"Now that you bring it to my attention, [I would] possibly consider making a girls video," Schmidt said. "It really depends on the atmosphere. That's really what I try to capture. It's just more fun. I think getting more people out would help."
Amato sees another side to the issue and explains her opinion.
"It's a give and take," Amato said. "All the people are partying because they want to be videoed. It's an awesome time at these games. But the second they see that camera, and I do it, too, anybody who sees a camera is going to want to be filmed, right?"
Nussbaum believes more students should try to attend girls sporting events and, specifically, girls basketball games.
"Students [should] give us a chance," Nussbaum said. "Don't be critical until you've been to a game and watched."
The underlying gender bias of girls playing sports may always be an issue in high school, local communities and the professional level. But the important lessons in both boys and girls sports remain the same.
"We're trying to get people to learn things through sport, and that's girls and boys," Nussbaum said. "If boys can learn things through sport, then so can girls. We're talking about teamwork, setting goals, the satisfaction of achieving those goals, the satisfaction of working towards those goals and the disappointment of not reaching those goals. Dealing with joy and dealing with disappointment. [That's what the] girls have to learn just as easily as boys have to learn. It's of equal importance educationally for girls and boys."
About the Contributor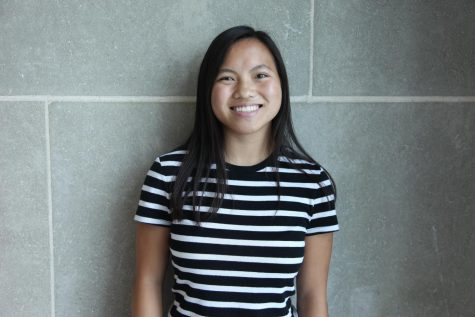 Alana Cervera, Online Managing Editor, Sports Columnist
Alana Cervera is a senior at Naperville Central and is a second-year staff member on Central times as the Online Managing Editor. She brings a positive attitude and writes stories from a new angle. Outside of Central Times she ballroom dances and dives for high school, constantly staying busy and active. She hopes to become a Nurse and start a career in the medical field after high school.