Jocelyn Freeman: Off-Broadway Debut
Marissa Laqui, Community Editor, Social Media Manager
December 20, 2018
Hang on for a minute...we're trying to find some more stories you might like.
Staring in awe at the stage, sophomore Jocelyn Freeman saw her play go from words on a page to actors projecting emotion into each line and action.
Freeman won New York City's off-Broadway Player's Theatre and BOO short play festival. With a love of theatre and playwriting, both of Freeman's plays, "Four in the Morning" and "Goodbye," were chosen to perform in Greenwich Village in Manhattan.
Freeman's career first started in June of 2017. Scrolling through writing contest pages, Freeman came across the NYC contest for off-Broadway.
The first play Freeman submitted was a small 15-minute snippet about the timeline of the LGBTQ+ movement and the Stonewall Riots, calling the segment "Four in the Morning." Freeman won a grand prize of $100.
Freeman's first achievement winning off-Broadway was only the beginning of her journey. This most recent win happened after she took first place at off-Broadway's October "BOO" short play festival.
Wanting the chance to become recognized by the off-Broadway theater community, Freeman decided to submit to the festival.
There was a total of 35 plays submitted, each with a 15-minute time limit. Freeman's "Goodbye" came out on top. After winning the recent off-Broadway BOO festival, Freeman flew to New York to see her play live.
Proud of her friend's recent achievement, junior Samantha Lakin has been with Freeman throughout the entire process.
"She's my best friend and my neighbor, and I've known her for a long time," Lakin said. "I think that it was a long time coming, but I knew that it would happen at one point. I'm really proud of her making it happen so early."
Many things must happen before an off-Broadway show can get produced. With money being the biggest obstacle, Freeman worked hard to secure the funds needed to make her dream a reality.
"A lot of people donated money to help me hire actors and get a theater because it cost money to produce a play," Freeman said. "My wonderful family members donated [their] time and money."
Nervous to see the show pre-production, Freeman was ecstatic to see her show coming alive before her eyes. She was able to meet the cast for "Goodbye" and witness these professional actors in action.
"When I met my actors they were excited to meet the playwright, and I was excited to meet them," Freeman said. "The energy of the whole theater is just so amazing — it was like walking in and going back home. I never really felt at home like I felt at that theater in New York."
Sophomore Abby Bills accompanied Freeman during her trip to New York City to watch the show pre-production.
"Just to know that she has been working on this for so long, and to see it be brought to life, it was really cool," Bills said. "She's very talented."
Arriving in New York City again to finally see her show live Freeman was blown away by how amazing the execution was.
"It was beyond my expectations," Freeman said. "These were professional actors and they were just amazing actors, and the tech they did for my show just brought this paranormal feel to it that I could never imagine."
Seeing her show in action only ensured Freeman that theater was something she wanted to continue to pursue.
"I am very new to the theater in general," Freeman said. "I am not a very good actor, I have only been in one musical, and I don't know that much about it. But seeing these people bring it ["Goodbye"] to life really ensured me that this is something that I want to learn about and continue to learn about."
Although Freeman is relatively new to theater, her inexperience doesn't prevent her from pursuing her dreams. Freeman aims to connect with her audiences. She wants to test the boundaries of theatre and continue to write stories that no one has heard before.
"The story ends when the curtain comes down," Freeman said. "That, I think, is what keeps it going. You can break a character's heart and then the curtain comes down. Then the next day, they have the same show again. In real life that doesn't really happen. When your heart gets broken, you have to keep going. I think it's interesting to think about plays as little snapshots of moments in time, where humans are feeling something that's so real, and everybody in the audience can empathize one way or another. If they can't, then they paid you money to see your show."
Freeman has learned a lot throughout the entire process. Her advice for students who are struggling to make a name for themselves: look for opportunities.
"You have to look for opportunities," Freeman said. "Opportunities aren't going to come knocking on your door, and if you expect them to, then you're too afraid to take the risk to find your own opportunity. Just jump right in, don't wait for someone to push you in."

About the Writer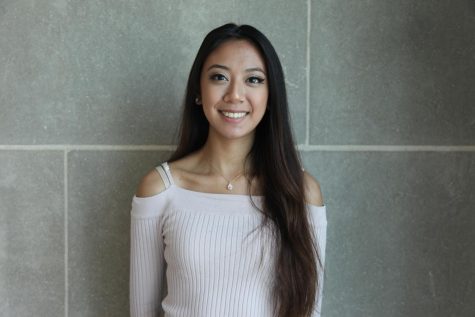 Marissa Laqui, Community Editor, Social Media Manager
This is Marissa Laqui and this is her first year on staff for Central Times. She has climbed her way to the top and has earned the roles of Social Media Manager and Community Page Editor. Outside of Central Times she is a major food enthusiast and runs her own food blog. She also is involved in the school's Literary Magazine Club and is currently President of her youth group. She hopes to start a career in the writing field and one day work for a media entertainment company.