New vision for Veterans Day
Beginning this school year, all students at Naperville Central had the opportunity to attend the Veterans Day assembly.
Gratitude, recognition, reflection: Veterans Day means different things to different people and since 1991, Naperville Central has honored those in the halls and the community who have served in the military by holding a Veterans Day assembly in the auditorium. Attendance was never required, however, only select teachers who chose to bring their classes to the assembly attended. The seating capacity of the auditorium was an additional variable, as the space is not capable of holding the entire student body.
But thanks to a push by staff and students, two assemblies took place in the main gym on Friday, Nov. 9, and the entire Central student body and faculty attended. In years past, the Veterans Day assembly was optional for students to attend, while spirit assemblies have been mandatory.
Senior Max Feudo gave the opening speech and is glad local veterans got the recognition they deserve.
"The veterans deserve the whole school's attention on Veterans Day, so I'm happy they [got] it," Feudo said.
The repeated program was brief and sobering. After welcoming everyone, Principal Bill Wiesbrook invited students and faculty to introduce their special veterans before the wind ensemble and advanced mixed choir performed pieces to commemorate those who were present.
Many people were in charge of planning out events for the morning including Karen Mathis, administrative assistant to Wiesbrook.
"We [had] many students with parents in the assembly who are currently, or have been, in service, and their child [had] the opportunity to introduce them," Mathis said. "It's a recognition day and an opportunity for everyone to know what people have given up for their country."
Senior Leo Kartsonas, whose father is a reserve officer in the U.S. Air Force, was able to introduce him this year and also participated in the assembly his freshman year. He believes the more people who get to view this kind of event, the better.
"[The assembly] broadens our horizons and makes us realize that there are people at school and in the community who have sacrificed a lot," Kartsonas said. "It helps us as individuals develop an appreciation for those who have served."
Central staff members who have served were also recognized, including science teacher Flint Collier, staff member Richard Reynolds, physical education teachers Jeff Yanke and Bill Salentine and communication arts teacher Rick Bain.
"It's nice to see and interact with those people who have served in different wars and different times of enlistment," Bain said. "Seeing other people who you work with, who you didn't know had served and that you have that connection with them is something I look forward to."
Bain enlisted in 2004 as an airborne infantryman and was deployed to Iraq in 2006 after completing combat operations training in Anchorage, Alaska. He then re-enlisted to go to the Old Guard in Fort Myers, Va., where he was a casket bearer at Arlington National Cemetery as well as a member of the vet unit as escort to the president.
"You choose to serve because you want to serve, not because you want to be recognized," Bain said. "It's great, and I appreciate it, but it was never the reason to do it. These days become difficult to deal with because the day becomes about you and not about the service, and while that is greatly appreciated, it's not the point. It's not something you have prepared for or can prepare for."
The concept that Americans need to "support their troops," is commonplace in society today, yet Bain stresses that assemblies like these help make it tangible for students.
"This is a lifestyle, a job, an option in the community that people don't necessarily know about, and it is a part of everything," Bain said. "The spoils reaped because of military service extend to every part of everyone's life."
Feudo, who recently received an appointment to the U.S. Naval Academy, is glad that Central puts on a program each year.
"The assembly allows the school to realize not only the importance of these veterans and what they have done for our country, but also the sacrifices they have made in order to keep us all safe and free," Feudo said. "I think it is an honor for our school to get the chance to talk with these veterans and understand their stories."
About the Contributor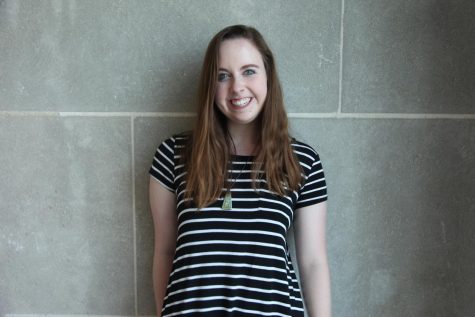 Claire Paschke, Entertainment Editor
Claire Paschke is a senior this year at Central and is pumped to be the Entertainment Editor! It's her second year on staff and she loves baking cookies and filling water bottles for her CT babes because hydration is important. Claire loves to watch movies and in her spare time you can find her baking bread at Great Harvest or destroying at bingo when she volunteers at St. Pat's. In the future, she wants to be an Environmental Engineer.