Head over to Central's best off-campus lunch spots
One of the perks of being a senior at Naperville Central is the privilege of traveling off campus during lunch. After talking with several seniors, the consensus when it comes to picking the best lunch spot was that it must be somewhere close, cheap and delicious.
Senior Maddy Engels and her friends shared their favorite lunch spots, which include Costco, Portillo's and McDonald's.
"Even if we don't actually buy food there, it's just close to school, and it's a nice place to just sit, relax and get those $1.09 ice cream cones," Engels said of Costco.
For those looking for Mexican food, senior Payton Nesci suggests Los Burritos Tapatios, located on 1232 Ogden Avenue. He recommends their burrito suizo, a burrito with melted cheese or a cheese sauce poured on top.
"If you're not getting the suizo, you're nuts," Nesci said.
Senior Olyvia McGuire prefers places that will get her in and out the door quickly. Panera Bread is one of her favorite lunch spots for this reason.
"I like that it's close and that I can order it online," McGuire said. "I can order it from the school, pick it up, come back and eat it at the school."
Others prefer the comfort of home, like senior Bailey Bergquist.
"We watch a lot of Netflix," Bergquist said."Sometimes we'll pick a movie and that's our movie for the week."
As for the food of choice, Bergquist enjoys meals from Trader Joe's.
"For your dollar, they give you a really good amount of high quality microwave food, so I don't even worry about the sodium when I buy from Trader Joes," Bergquist said.
Although seniors are only permitted to go off-campus during their lunch periods, some opt to bring lunch from home and go out with friends.
"I only buy lunch once every other week," Engels said. "We like to go off-campus, we don't like to spend our money. We normally look for places where we can get good food for a good price."
About the Writer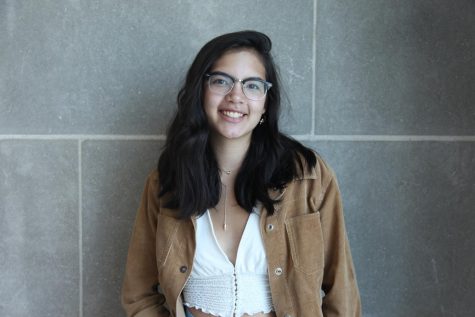 Madeleine Chan, Profiles Editor
Madeleine Chan is a senior in high school and is the Profiles Editor this year for Central Times. This is her second year on staff and she is so pumped to have an even better year! Outside of Central Times, you can find Madeleine being the secretary of Theatre Central and doing secretary things for the club (join Theatre Central). She also works at Everdine's grilled cheese in downtown Naperville and loves her dog.