Naperville's new establishment Smoothie King puts the 'fit' in 'fitness'
Marissa Laqui, Community Editor, Social Media Manager
October 3, 2018
Hang on for a minute...we're trying to find some more stories you might like.
Ranging at about 600 locations, Smoothie King has finally made its way to our beloved city just a few blocks away from Naperville Central on East Chicago Avenue. As a company, they aim to promote a healthy lifestyle for all their customers through their nutritious drinks and athletic atmosphere.
Walking into the establishment, I was greeted with a refreshing aroma of fresh fruit and protein powder. Their walls were covered with an abstract pattern of white and red tiling and the blenders were buzzing uncontrollably. Because their smoothie recipes are influenced by the idea of maintaining a healthy lifestyle, along with their fruit, veggie or nutty blends, they include high-quality vitamins, minerals, proteins and antioxidants.
The staff was very welcoming and helpful when it came to knowing the ounces of each drink size. Despite the crowded counter, they managed to speed through orders at a reasonable time. When ordering the Passion Passport smoothie, I was very skeptical about the supplements that were rumored to be blended into all of their drinks. While protein powder may be safe for the most part, high doses could have some unwanted side effects such as nausea, thirst, reduced appetite and fatigue.
But looking at their menu, they divided their drink variety into four distinct categories: Slim Blends, Wellness Blends, Fitness Blends and Take a Break Blends. Each category has specific drinks that fit your desired taste where you could enjoy a surplus of smoothies with or without the fitness enhancers. These workout supplements includes, but not limited to: fiber blends, herbal nutrients, electrolyte mix and raw plant based protein.
After receiving my order, I was quite happy with the flavor of the drink as I took a liking towards raw sugar cane as their natural sweetener. The service was fairly quick and did not exceed three minutes. I would highly recommend Smoothie King to those who are looking for a post-workout treat that is both healthy and can have the option of mixing workout supplements in your preferred drink. The price I spent was around nine dollars for their largest drink size of 40 oz.
Aside from the drinks, Smoothie King provides an overwhelming amount of protein powders, shaker bottles and nutritious snacks. Smoothie King truly lives up to their motto, "smoothies with a purpose," as a majority of their drinks contain a balanced variety of delicious and beneficial nutrients.

About the Writer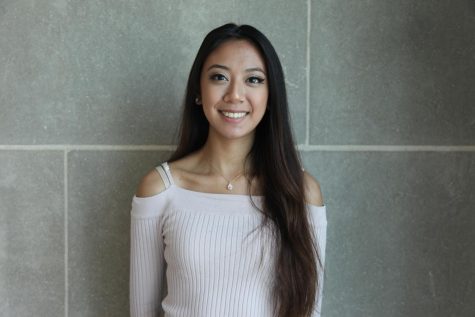 Marissa Laqui, Community Editor, Social Media Manager
This is Marissa Laqui and this is her first year on staff for Central Times. She has climbed her way to the top and has earned the roles of Social Media Manager and Community Page Editor. Outside of Central Times she is a major food enthusiast and runs her own food blog. She also is involved in the school's Literary Magazine Club and is currently President of her youth group. She hopes to start a career in the writing field and one day work for a media entertainment company.