Valerie Mejia: Tackling gender boundaries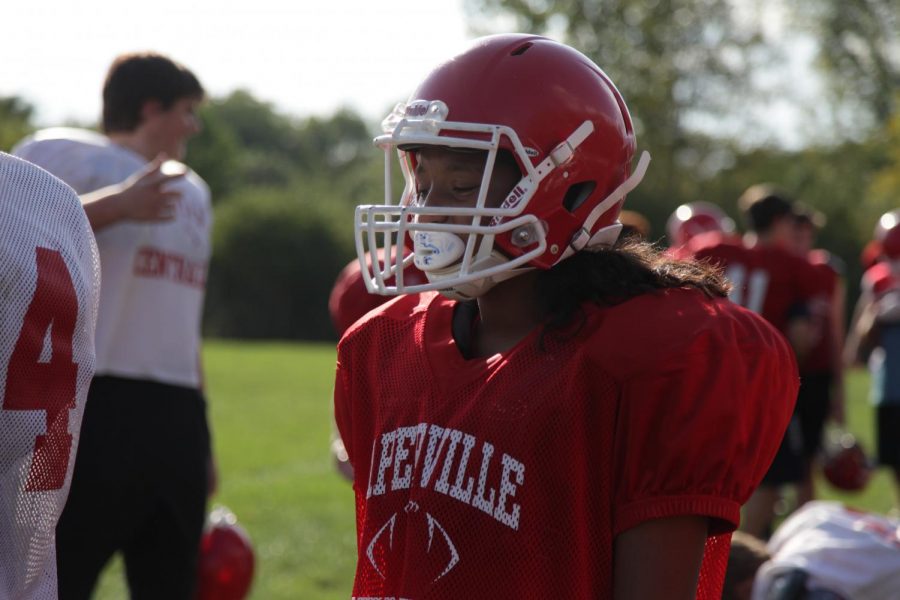 Alana Cervera and Sam Ruvarac, Online Managing Editor, Staff Writer
September 28, 2018
A quiet moment before the ball is snapped is a time where everything relies on a single action. The linemen are still and the only noise heard is the sound of the quarterback calling the play. He yells, "Set. Hike," and the ball is in motion. All of the energy is focused on the opposing team and getting to the end zone.
For freshman Valerie Mejia, the only girl on the Naperville Central football team, the adrenaline in this moment is the reason why she plays the game. She does not let the team intimidate her and uses it for motivation.
"I don't feel uncomfortable because I did it last year and I grew up with boys," Mejia said. "I don't feel uncomfortable with the tackling and all that. It just feels like home to me."
Because many boys are timid about challenging Mejia, she has an advantage at the beginning of the game. As a member of the tackle offensive team, she attacks right away, without fear of the opposing team.
"It takes them a couple seconds to figure out that I am a girl," Mejia said. "And when they do figure it out, they are a little hesitant at first, but then when they realize that I have no problem tackling them then they start to get more comfortable and start tackling me the right way."
Being the only girl in a traditionally male sport, Mejia says she faces struggles during practice that most athletes don't usually face.
"With the guys it gets irritating sometimes because they don't accept me there," Mejia said. "There is a lot of pressure that I have to do [the plays] right or the boys are going to blame me for ruining the game."
Although Mejia thinks that the boys are still adjusting to her gender, her coach believes she has assimilated well.
"The boys seem to have her as just another member on the team," said freshman head coach Rob Porter. "I don't think they have really opinion on her gender other than having a different locker room."
Mejia, who moved to Naperville in sixth grade from Chicago, doesn't see gender as setback for her sport. Instead, she sees football as a motivation in her life.
"I kind of feel more comfortable [coming] here from Lincoln [Junior High School]," Mejia said. "There [are] a lot of different ethnicities and types of people here accepting me as a football player."
Football isn't the only sport that Mejia has played. She continues to compete in gymnastics and kickboxing. When she was younger she participated in track, swimming, wrestling and dance.
Off the field, Mejia cites Companion Animal Biology as her favorite class. With a love for animals, Mejia knows she wants to go into the medical field.
With sports being one of the biggest parts of her life, Meija looks up to strong women athletes that have overcome discrimination due to their gender. One of her biggest role models is tennis star Serena Williams.
"I've been watching her play for a while and of course she doesn't play football," Valerie said. "[But] she does inspire me a lot. I'm not doing this for myself mostly. I'm doing this so girls know it's okay and that it's fine and they can do whatever they want."
Freshman Graham McAninch has been one of Mejia's teammates for two years and isn't phased by Mejia's addition to the team.
"I don't think much of it at all," McAninch said. "She acts the same on and off the team. She's kind and not a bad player. It took awhile for me to get used to it the first year and I think others will get used to being around her by the end of the year."
Mejia has played the sport since her eighth grade year and doesn't plan on stopping any time soon.
"If you're going to go into it, you have to have thick skin," Mejia said. "You can't be bothered by [the comments] too much or you will just want to quit. That's not a good thing because if you quit then that's just going to show them that you were just in it for a little bit. I don't plan on quitting any time soon."