La Journal Cafe: September Fashion Fads and Flashbacks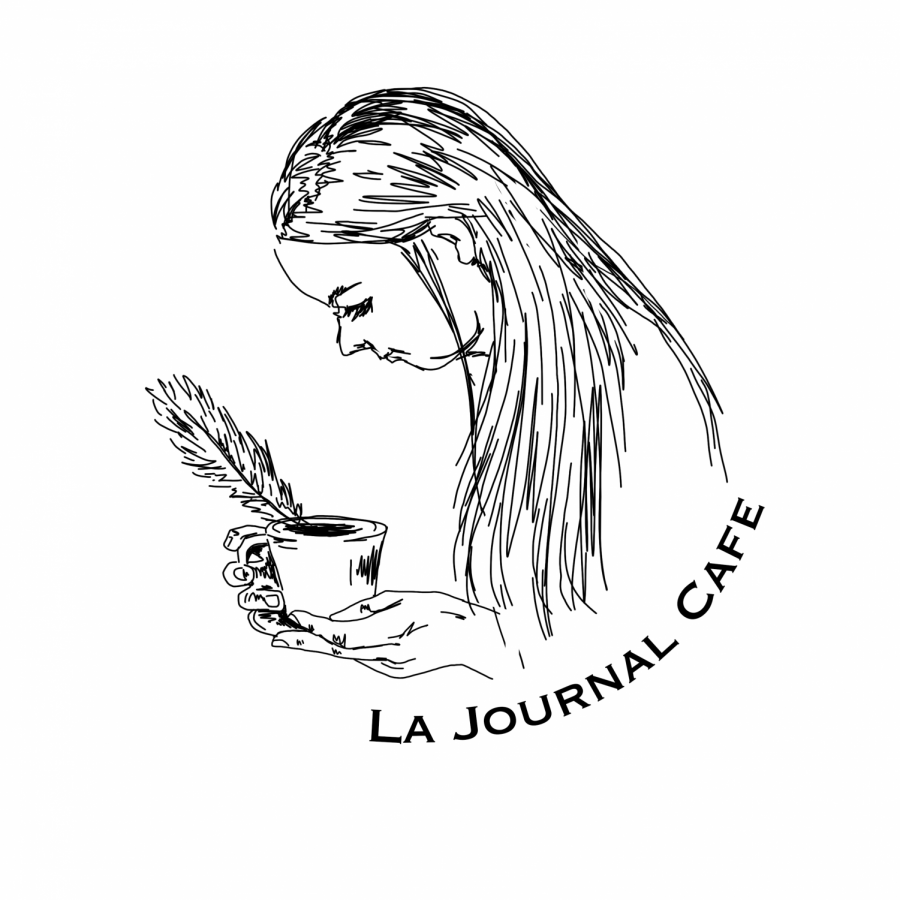 Marissa Laqui, Community Editor, Social Media Manager
September 28, 2018
As a second semester junior, stressed and feeling the pressure of testing and challenging school work, I started blogging. I wanted to be able to express my creative and curious outlooks on lifestyle topics that I found interesting. From food to fashion, La Journal Cafe has become the outlet for sharing my passions and perspectives towards topics that sparked my interests. This blog has been a way for me to not only express what I am enthusiastic about but a reminder that it is always important to find a creative outlet to distance yourself from stressful situations and focus on doing what you love and what you believe you're best at.
Ironically, the back-to-school season had me excited—for the clothing sales that is. Every year, my mom and I rally up all those store rewards and coupons and bust through the crowd of people who also want their fair share in clothing store deals.
After bookmarking inspirational outfits on Instagram and screenshotting my all-time favorites, I had a sense of what I wanted to look for in terms of my personal style for this season.
Perusing through the shelves of Urban Outfitters, Forever 21 and other stores, I realized that fashion trends had changed from what I remembered.
Being a newly minted senior, I would assume many of my fellow soon-to-be graduates would want to look presentable or be able to stand out in a crowd, at least when it comes to the way they chose to dress.
Evidently, many of the fashion fads of this month have really been kicked back to the future, while others were just so last month ago.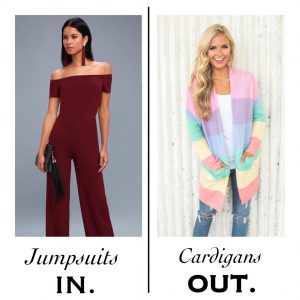 Jumpsuits in. Cardigans out.
Many of us have probably taken a liking to the flowy over-the-shoulder fabric, but over time many have come to the conclusion that cardigans are just too much fabric to handle.
People have been leaning towards a more minimal and accessible type of clothing and jumpsuits just make life so much easier.
With their variety in fabrics, designs as well as their subtle pockets, jumpsuits have made a comeback to today's day and age and have been seen on a majority of celebrities such as Kim Kardashian, Ariana Grande and Queen-B.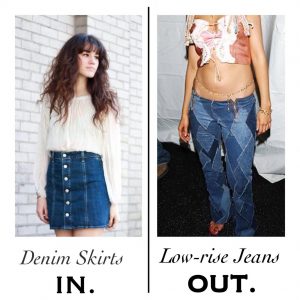 Denim skirts in. Low-rise out.
Low-rise jeans have made their mark in the fashion industry, but that mark has been long erased. Those hip-hugging, love handle exposing jeans just haven't been enhancing people's physical appearance. If anything, low-rise jeans show off an excessive amount of skin on a person and can be a major fashion sin.
While low-rise jeans of the 90s and early 2000s won't be back any time soon, another denim item of the two decades has slipped back into the fashion scene. Hugging over the hips and onto the waist, denim skirts enhance any body shape and size giving the ideal 'hourglass' look.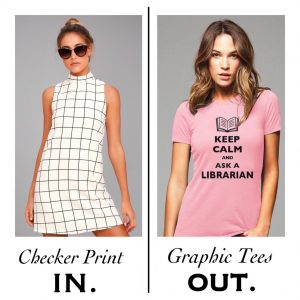 Checkered Print in. Graphic Tees out.
No one needs to know you don't need to be talked to before you have your morning coffee. That flip sequined, graffiti-texted shirt you got from Justice isn't going to cut it, at least not for this month. The flashy, distracting tops are better off used as reflectors on a bike than something you would wear on a regular.
The idea of simple yet subtle patterns on clothing has sparked the idea of taking well-known patterns of clothes and dimming it down, making it more easy on the eyes. Taking the plad design on flannels and simplifying the complicated patterns creates the look of checked and/or gird printing on fabric.
Grid and checkered print clothing have a very minimal appeal to them. Often found in black and white colors, the pattern itself has been popular among high-end stores such as fashion nova and can be found today in various fast-fashion retail stores.
Vertical Stripes in. Distressed T-Shirts out.
Those ragged, torn up shirts you bought for $60 dollars are far from 'holy' (pun intended). Paying more money for less fabric just isn't something many people would abide by. Distressed t-shirts stood as a one-hit wonder back in 2014. The fire that burned for them back then went out real quick after the prices skyrocketed and many people started to take matters into their own shirts and distress them themselves.
Vertical Stripes have probably made the biggest comeback this year. This simple yet chic pattern has the capability of being flexible in any color on any sort of clothing. From pants, shirts two-piece or one piece vertical stripes allows people to be creative in the outfits they put together. Vertical stripes also have the ability to create an illusion of a 'slim' figure by elongating the overall appearance.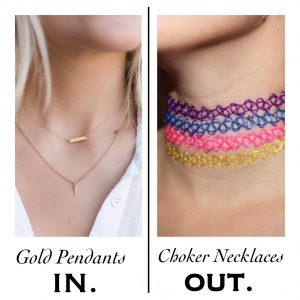 Gold Pendants in. Chokers out.
Those bedazzled, laced neck belts and stringed soda tabs really held onto their lasting title. Chockers have been a fad ever since the 19th century–I guess that's why they didn't stay as long as people hoped to. Chokers have slowly shied away from the spotlight as many people craved for something more bright and rich in jewelry.
Gold pendants came back to play as they are now considered the 'new' silver. Many people have been pairing up gold necklaces with every outfit as golden jewelry are considered a 'finishing touch.'
About the Writer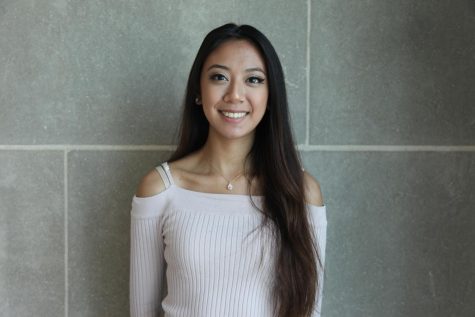 Marissa Laqui, Community Editor, Social Media Manager
This is Marissa Laqui and this is her first year on staff for Central Times. She has climbed her way to the top and has earned the roles of Social Media Manager and Community Page Editor. Outside of Central Times she is a major food enthusiast and runs her own food blog. She also is involved in the school's Literary Magazine Club and is currently President of her youth group. She hopes to start a career in the writing field and one day work for a media entertainment company.