Central community impacted by recent cases of hand, foot and mouth disease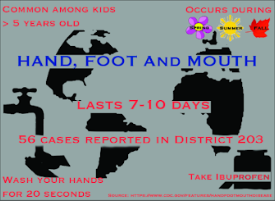 Alana Cervera, Online Managing Editor, Sports Columnist
September 25, 2018
There have been 56 confirmed cases of hand, foot and mouth disease in District 203 since the start of this school year, according to district officials who provided numbers after the Central Times filed a Freedom of Information Act request.
Twenty-eight of those cases were students from Naperville Central.
HFMD is similar to a common cold, spread through contact, saliva and respiratory droplets in air after a cough or sneeze. There's no vaccine or specific treatment for HFMD. The treatment for this illness is relatively simple. Symptoms can be reduced with ibuprofen or tylenol, soft foods, liquids and most importantly, rest.
With a rise in cases at school and nationwide, many rumors have circled, around making students question the school's sanitation and their own susceptibility, while teachers have wondered whether or not the disease can affect them as well.
Given the misconceptions about hand, foot and mouth disease, the Central Times is providing information to sort the facts from the fiction regarding this medical issue.
Myth 1: The school is not clean.
Central's custodial services clean washrooms, locker rooms and weight equipment on a daily basis. They sanitize handrails, door knobs and light switches, incorporating that into their daily routine as well.
Gary Gebauer, Director of Buildings and Grounds, explains additional actions his department has taken to improve student's health.
"With this new situation arising, the district maintenance department has tried out a fogging machine that we'll use in some of the areas of the building," Gebauer said. "[We] put a sanitizer in that and it kinda gets everything slightly wet. The sanitizer will kill anything on contact."
Because hand, foot and mouth disease is spread like a common cold, the origin of the illness is unknown.
"It's hard to say where the virus is actually coming from, but we do everything we can to minimize that," Gebauer said.
Therefore, it becomes everybody's job to protect themselves. Students are advised to cough into their elbow, correctly wash their hands with soap and water for 20 seconds, to not share food and drinks, and clean surfaces after use. Hand, foot and mouth disease is a virus and will spread just like anything else, even in clean conditions.
Myth 2: Most people with hand, foot and mouth disease are on a sports team.
Because most of the buzz surrounding this virus has been on student-athletes, many students believe it only exists on sports teams. In reality, statistics show the exact opposite.
"Less than 30 percent of students with hand, foot and mouth disease were football players," school nurse, Beverly Schulz said.
Central Times was unable to find out exact statistics on the demographics of students with hand, foot, and mouth disease and are unsure of how long the virus lasts.
Pediatric nurse practitioner Ashley Voit explains the effect of the disease, even after students recover.
"Typically it lasts about 7-10 days," Voit said. "Once your [sores] have resolved, you're less likely to be contagious, but you can be contagious for a while afterwards. You can still shed the virus essentially and spread it. It's a very contagious virus so it doesn't take much to spread it from one person to another."
Hand, foot, and mouth disease is most often found in daycares and kids under the age of five. A majority of cases are in children.
"It's [like] a cold," Mark Florence, head athletic trainer said. "And it presents itself like strep, with a fever and sore throat. As soon as the fever goes away, the result of the virus after the fever breaks, are the spots. They stay on the hands and feet and either in or around the throat. It's this virus. You don't know until after the fact."
Myth 3: Adults cannot contract this disease.
While HFMD is mostly seen in younger children, adults can still catch it as well. The Centers for Disease Control and Prevention adds that people can get hand, foot and mouth disease again. They're not immune to HFMD completely. They're only immune to the specific virus that caused their infection. But since hand, foot and mouth disease is caused by several different viruses, people can become infected later in the future.
Myth 4: HFMD is just at Central.
CBS News reported on several states and famous Major League Baseball players who have HFMD.
According to their article, "Doctors are seeing more and more cases of hand, foot and mouth disease – and children aren't the only ones being affected[…] Doctors are seeing outbreaks in Indiana, South Carolina, Tennessee and Virginia."
In addition, the New York Mets pitcher, Noah Syndergaard and New York Yankees starter, J.A. Happ contracted the illness as well.
HFMD is a nationwide problem, not just a Naperville one. Kids, teens and even famous athletes are being affected all around the country.
Truth vs. Lie
Senior Danielle Coudreat contracted HFMD mid-August this year. She experienced a fever, sore throat and sores around and inside her mouth. Coudreaut wants to people to know the disease is nothing out of the ordinary.
"Everyone's making such a big deal about it, but it's really like a cold," Coudreaut said. "The only thing that happens is the dots, which is different, but it's […] nothing to be scared about."
Amidst the rumors spreading around, Central Times works to clear up misconceptions about this contagious disease. Through this article, Central Times hoped to educate students, teachers, and faculty about this common disease.
Central Times reached out to head football coach Mike Stine, Athletic Director Andrew Lutzenkirchen and supervisor of health services Jeannette Harris, but all declined an interview.
About the Writer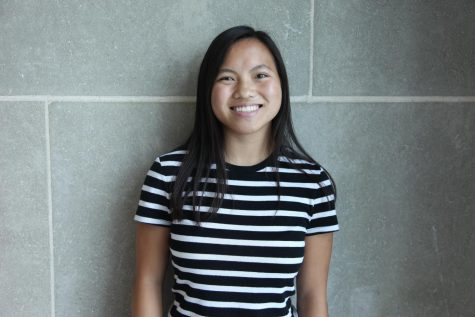 Alana Cervera, Online Managing Editor, Sports Columnist
Alana Cervera is a senior at Naperville Central and is a second-year staff member on Central times as the Online Managing Editor. She brings a positive attitude and writes stories from a new angle. Outside of Central Times she ballroom dances and dives for high school, constantly staying busy and active. She hopes to become a Nurse and start a career in the medical field after high school.