Commentary: Illinois Waterway Cleanup promotes unity and responsbility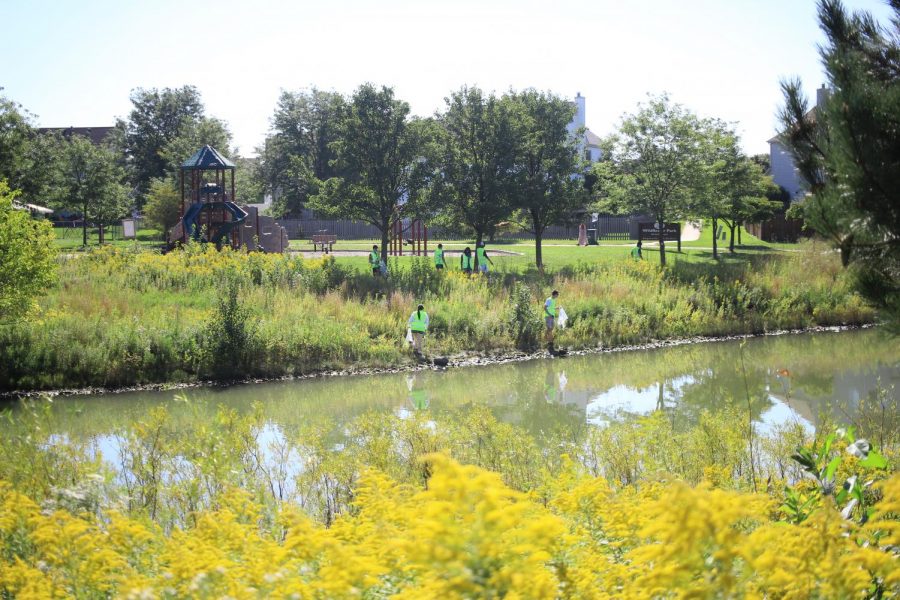 Jeffrey Huang, Correspondent
September 16, 2018
More than 100 Naperville Central students woke up to the early sky Sept. 15. Some of them biked to or were dropped off by parents at Knoch Knolls, others arrived at Central's bus circle to then be transported there.
The reason for this gathering? To clean our community's watersheds and roadsides, in the second annual Illinois Waterway Cleanup.
It was an event organized by various groups as part of efforts of more than a million others worldwide to make the Earth a cleaner place. Of the participants, many were members of at least one of the fifteen clubs involved. I, myself, attended the event as a member of the Congressional Debate team of our school. Many other kids, part of BPA, the Eco Club, DECA and more, joined the effort.
Upon arriving, we received a pair of gloves, a safety vest, a grabber and garbage bags. We were instructed to form groups of three or four with others, as well as to download the "Clean Swell" app developed by the Ocean Conservancy organization in order to document our cleanup.
Spotting three people I knew well within the crowd, we formed a team. After all talk and instruction ended, the participants gathered into waiting buses to be taken to their cleanup destinations. The four of us were assigned to a region without any bodies of water within sight.
We made our way from the firehouse to a nearby park, with only the sounds of our feet squelching on the still-wet grass from the day before; and a conversation between acquaintances keeping our mood up. Tiny insects swarmed around us, with the number seeming to increase as the day grew hotter. One of our group members left early, leaving the rest of us sweating profusely in the heat of the day.
I was assigned to record the trash we collected on Clean Swell, while others collected trash. The cleanup was difficult. Milk cartons, bags and various other pieces of trash, were trapped in places we couldn't reach without getting scratched by branches. Many small pieces of plastic, wrappers and foil were all over the place, as the result of being tossed around in the wind, being torn by tree branches and roughened up by rainfall.
We saw the remains of what would have been a styrofoam container once, now just tiny neon scraps scattered in dead grass and dirt. It was appalling that a lot of these you could find on the side of a street, unnoticed by anyone. A lot of the things we found were small fragments, once part of a whole.
Occasionally we came across intact glass bottles, bags and other odd items. Every one of them intrigued me as having belonged to someone before, albeit for a brief time. I imagined that a beer bottle may have been emptied and discarded on the roadside, or ended up in that spot through hundreds of small nudges made by wind, animals, and rain over the years. An empty bag of chips, left by careless hikers at the side of a trail.
Perhaps some people noticed the plastic bottle, dirtied by mud on the sidewalk, but none of them bent down to pick it up. All of these pieces of trash we picked up were small sins, tiny errors and thoughtless disposals. Things I, and many others were guilty of; things that could have and can still be prevented with only a little effort on our side.