'Kiss Me, Kate' kindles excitement
The cast of "Kiss Me, Kate," Naperville Central's spring musical, is nearly ready to debut on the auditorium stage. The complex production containing a "show within a show" will be performed four times on April 20, 21 and 22..
The show is directed by Michael Doman and music director Kelly Mielcarz and choreographed was done by Jean O'Connell.
When asked what word could be used to sum up the musical, senior Abby Brodnick said "Hilarious."
This is Brodnick's fourth and final performance in a Central musical. She plays the female lead, Lilli Vanessi, a Hollywood star, and Katharine, the role Lilli portrays in "The Taming of the Shrew." Although this is her debut as a lead cast member in a high school show, she is hardly inexperienced, with involvement in Lincoln junior high's musicals, as well as Kidz Kabaret and Magical Starlight Theatre.
"I'm involved in the school musical every year because music is what makes me the happiest, and the musical is an amazing way to make new friends who share a similar passion for music and performing," Brodnick said. "It is always the highlight of my school year."
The show is set in Baltimore and follows Lilli's relationship with her ex-husband, a producer and actor, Fred Graham, in and out of character Shakespearean comedy. They are cast as Katharine and Petruchio, who have their own complicated relationship within the show.
"It's been quite the challenge to find out how to portray both Lilli and Katharine and their unique qualities, but also find a connection between the two characters," Brodnick said.
The long months of preparation reach a peak at "hell week," the final days leading up to the performances in front of an audience. Going through the show with all of the components to work out the kinks is hard work, but it is as rewarding as it is stressful.
"Putting on our costumes and makeup and incorporating tech and the pit orchestra always rejuvenates the cast and gives us a boost of energy to pull through and work hard to make a spectacular finished product by the end of the week," Brodnick said.
Junior Ethan Smith who plays Fred Graham and Petruchio holds a similar opinion to the infamous week.
"Hell week is what is sounds like," Smith said. "Hell. However, it is also where the glue of the show puts it all together, so I definitely look forward to it each time it gets to be that time of the process."
He has a similar background to Brodnick, as both of them are involved in the choir and acapella groups at Central. Even with 12 musicals under Smith's belt, "Kiss Me, Kate" has been a learning experience.
"The best part about preparing for this show has been all the Shakespeare that I had to learn because I learned to be much more expressive because Shakespeare is all about expression," Smith said. "Without it, you can't understand him."
When the show was announced, Smith wasn't particularly thrilled and thought it was too old-fashioned for today's audiences to relate to.
"I have had such a great time with it that it's hard to remember the time I wasn't excited about it," Smith said.
The musical's many songs and lines can be taxing on vocal health, Smith notes.
"I think the music is really beautiful with a lot of beautiful melodies and chords," sophomore Chloe Hild said. "The music is very powerful. "
She praises Mielcarz's teaching ability as well as the vocal talent of the cast, in delivering the music.
Brodnick also mentions the musical's test to the physicality of the cast, particularly in her favorite scene of the show.
Brodnick looks forward to the extravagant fight scene between Katherine and Petruchio after Lilli finds a love note Fred had written to another woman and she storms onstage during the performance of "The Taming of the Shrew".
"It's been my favorite scene to rehearse because there are so many hilarious moments and coordination of movement on stage between Ethan and I that happen but it's definitely exhausting too," Brodnick said.
The costume design which is done by Kris Visher, is one of the components that Hild believes really sells their big production numbers.
"We put a lot of effort into what we're doing, and Mrs. Visher made beautiful beautiful costumes," Hild said. "We all have like our normal costumes, our "Too Darn Hot" costumes-which is one of our production numbers- and a Shakespeare costume."
Perfecting a musical is not easy work but Brodnick insists that the effort is worth it.
"The rehearsal process can be stressful and exhausting, but there is truly no better feeling than standing on stage in a performance with your best friends, pouring your heart out to an audience after months of working tirelessly.
About the Writer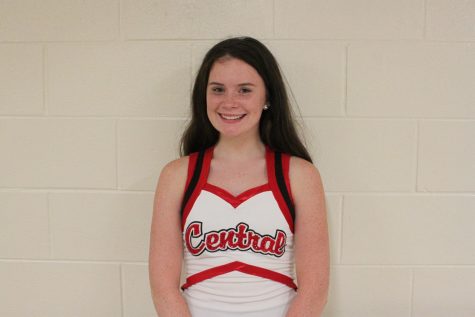 Megan Troke, Editorial Editor, Sports Columnist
Megan Troke is a senior at Naperville Central and is excited for her first year on the Central Times editorial board as Editorial Editor and Sports Columnist. She is excited to come up with new ideas every month for her sports column and getting more experience in journalism. Outside of Central Times, Megan is the captain of Orchesis and a member of the Varsity Arrowettes dance team. This fills up most of her time but she finds time to enjoy Netflix, her favorite show is Parks and Recreation and often rewatches the shows she loves. In college, Megan plans to study Political Science and Journalism and hopes to be on a dance team.
"Change will not come if we wait for some other person or some other time. We are the ones we've been waiting for. We are the change that we seek."
~Barack Obama
Contact Information:
[email protected]