Changes to district's printing procedures meant to reduce high consumption of paper, ink
In order to optimize paper and ink usage at Central, many changes have been made recently and in the past few years. District 203 has implemented a print optimization initiative to assure that each school's needs are met while being conscious of cost and environmental impact.
One of these changes has been replacing printers with copiers. Assistant Principal for Operations Carrie McFadden sees many advantages to this initiative.
"An office area could have a few printers, some color and some black and white, that were replaced by a Canon copier that would print in black and white but could print in color if selected," McFadden said. "We may be using similar amounts of ink but we are not buying cartridges for so many individual printers."
In addition to fewer ink cartridges being purchased, the use of paper is slowly decreasing. Teachers no longer have to print an individual document and separately make copies for their classes. Instead, files are sent directly to the copiers.
She notes that teachers are not the only members of the Central community that contributed to paper waste.
"At the end of the day there used to be documents that were printed and never claimed at all of our printers, but especially at the student kiosks in the hall and library," McFadden said.
Central has adapted to the change in the printing system, requiring students and faculty to type in their ID numbers before they can print. This prevents paper waste from forgotten documents and printing to the wrong kiosk.
According to McFadden, the Humanities and Communication Arts departments use the most paper in the building, although the amount school-wide has decreased.
"I do know that over the last two years we reduced the amount of paper we have purchased and used in the building," Mcfadden said. "I believe that Chromebooks and a greater number of teachers using Canvas has contributed to the reduction."
Students agree that the greater emphasis on online assignments and the availability of blended courses has allowed them to see improvement in being environmentally conscious with their paper usage.
"My blended AP Lang class is almost completely online, which really puts an emphasis on being environmentally friendly," junior Michelle Yuan said. "On the rare occasion we receive a paper handout, our teacher keeps the usage as the absolute minimum."
Freshman Danielle Pritchard sees students reducing efforts to be more green through their unchanging habits.
"Many teachers are eco-friendly, though many by accident, as using Chromebooks as a primary resource comes naturally to some," Pritchard said. "But for those of my teachers who actually put an emphasis on being earth[friendly itself, our student force is literally working against them by throwing garbage on the classroom floors and tossing completed assignments in the bin."
Although there has been a general positive trend in being cost and environmentally friendly, there is still room for improvement. McFadden specifies the efficiency of plastic bound "books" created by teachers due to how expensive they are.
"It is a great way to help students stay organized, but sometimes I wonder if giving the notebooks detracts from teaching organizational strategies," McFadden said.
Yuan noted the handouts she receives in her AP Physics class each unit aren't as effective as they could be.
"On average, I'd say a student actually fills out five to 10 percent of the entire packet," Yuan said. "The packets are unnecessary and a waste of paper."
As a greener outlook becomes more commonplace in the school, changes in printing strategies aren't where it should end, in Pritchard's opinion.
"An adjustment I think would make Central more eco-friendly would be pushing the importance of eco-friendly behavior as well as respecting adults and peers who have put an effort into those goals in the past," Pritchard said. "We need to actually change how we think before we can change how we act."
About the Writer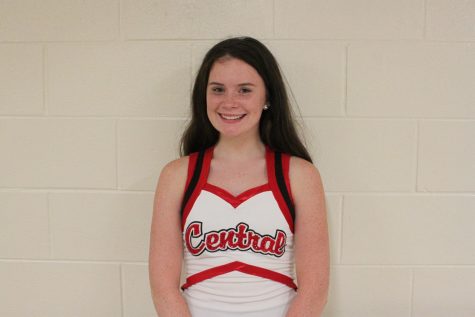 Megan Troke, Editorial Editor, Sports Columnist
Megan Troke is a senior at Naperville Central and is excited for her first year on the Central Times editorial board as Editorial Editor and Sports Columnist. She is excited to come up with new ideas every month for her sports column and getting more experience in journalism. Outside of Central Times, Megan is the captain of Orchesis and a member of the Varsity Arrowettes dance team. This fills up most of her time but she finds time to enjoy Netflix, her favorite show is Parks and Recreation and often rewatches the shows she loves. In college, Megan plans to study Political Science and Journalism and hopes to be on a dance team.
"Change will not come if we wait for some other person or some other time. We are the ones we've been waiting for. We are the change that we seek."
~Barack Obama
Contact Information:
[email protected]