Mikel Mays: CEO of Motivation Central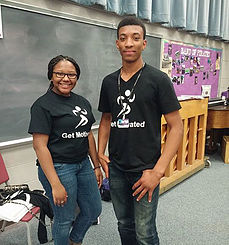 It is a fact of life that transition is difficult. Although there is no truly easy way to undergo large life changes, it helps to have a strong character and unfaltering passions.
Senior Mikel L. Mays transferred this year to Central as a senior from Merrillville High School in Merrillville, IN. From the outside, he seems like a typical student, but in reality he spends his free time in a very atypical way. Mays is the leader of his own business, Motivation Central.
According to Mays, Motivation Central was founded for the purpose of encouraging and teaching people of all ages to be positive and find their true potential in life.
"I've seen how words have an effect on how people behave, and we have a lot of negative words that are said about people," Mays said. "That takes a toll on how they act and develop in society. I want to have a positive impact."
Mays has done several large events with the Merrillville community since he began Motivation. One of his first was a talent show called You Have A Dream. Along with the talent show, Mays provided a meet and greet, positivity merchandise and spoke on the topic of people fulfilling and identifying their purpose.
A more recent event he did was with the Merrillville Cafe. Mays was inspired to start Motivation Central after he noticed the amount of viral negativity in popular culture.
"I was scrolling on the news and I saw so much hatred and things going on, and all of it was negative," Mays said.
After receiving a donation of $256 from his stepfather, Apostle Marlon D. Hester, Sr., in 2015, Mays began by selling T-shirts with positive messages in his community.
"When people wear a shirt, everybody sees it and is affected by what is on it," he said. "That's why I put up a positive message."
While he has not yet done any events in the Naperville area, he says that it is a goal of his to do so.
"It's all about what they allow me to do," he said. "I mean, I'm always open."
Mays was very involved in his old school. He was president of his junior class, drum major for the marching band and had been getting certification in Indiana to become a youth pastor. Central is different from Merrillville in many ways, making it difficult for him to adjust.
"Central is like Merrillville with an update," Mays said. "The school size is about the same, but everything is futuristic."
Although he is a relatively new student, Mays has gotten involved in school activities. He is in Central's Jazz Lab band, Bible Club and says that he is looking forward to going to Musician's Club meetings in the future.
"There are more clubs, people here are very welcoming to new ideas and new students, and I
really appreciate that," Mays said.
His class schedule includes INCubator, Central's new entrepreneurship-centered business class. There, he says, he has learned many things that help him improve and expand Motivation.
"I learned a lot, and it helped me add on to the information that I already had," he said.
Mays is thankful for all the opportunity that he has found after moving to Naperville.
"This is a move that I needed and it has opened up a lot of new doors and connections for me, and I would like to say thank you to everybody that has welcomed me," he said.
Although he was admittedly overwhelmed with the size of the student body, Mays has made strong friendships since he came. One of the first people he met was junior Angelena Sichelski from his AP Language class. In that class, he met some of his first friends at Central thanks to an inclusive culture.
"I think that [Central students are] very welcoming," Sichelski said. "I know with Mays that my class welcomed him with open arms, and he got to show his big personality to everyone. It was a really nice experience."
His peers were not only welcoming of his character, but also of his passions.
"When he told me about Motivation Central, I thought it was such a good idea that I had never heard from another student before, and he has a lot of passion for it," Sichelski said. "It's inspiring, and I think that he is going to be so successful someday."
Mays has many people to thank, including his mother Cheronda Hester and father Michael Mays. He also credits much of his success to his religion.
"To God be the glory," he said. "He kept me when everything was falling apart, and now all of my endurance has paid off."
Mays' experiences in his own life and with his clients have taught him that everyone has a story to tell and that everyone can be great. He wants everyone to know this.
"If you have been through anything that may have stopped you, hurt you or made you feel uncomfortable, just know that if you don't give up it will work in the end," Mays said. "You just have to stay strong. There may be a blurry vision at the end of the tunnel, but I promise you will get there."
Anyone interested in hiring Mays for an event, personal mentoring or wanting to purchase merchandise can visit his website at www. motivationcentral.org.