Christkindlmarket kindles holiday cheer for Naperville families
The night was unseasonably warm. Even though it was the last weekend of November, I was wearing a sleeveless sweater, despite protests from my mom and friends, and I felt confused as to why I was surrounded by festive decorations and colorful lights as we walked through Naper Settlement. Regardless of the effects climate change has had on historically frigid fall nights, I was transported to a Christmas wonderland.
Christkindlmarket has become a holiday tradition in Chicago, and last year it opened a second location right in Central's backyard. On a typical day Naper Settlement is visited by elementary school kids on field trips, history buffs interested in returning to a simpler time or tourists walking the paths through what Naperville may have looked like before it boasted an impressive nine Starbucks locations.
But from Nov. 24 through Dec. 24, it is transformed into an outdoor German market offering "gifts and beverages and holiday cheer," according to the Christkindlmarket website. Booths fashioned to mimic traditional German architecture and decorated with garlands, wreaths and lights house German vendors as well as Naperville institutions like SaraBoo Creek and Le Chocolat.
The holidays often prompt New Years resolutions to join a gym or prescribe to a rigorous diet after indulging in the treats the season has to offer. There is no better place than the Christkindlmarket to participate in gluttony. The Sweet Castle, which originates in Neidenbach, Germany, offers a selection of gingerbreads, German cookies, chocolates, cake and other sweet treats. Austrian, Polish and Belgian cuisines are also featured throughout the market. Amidst Polish sausage and gulasch, vegetarians may enjoy the Champignon House from Unna, Germany. White mushrooms pan-seared with different spices and topped by a choice of creamy garlic or herb sauce are a popular choice at holiday markets throughout Germany.
A German festival would be incomplete without beer, and the Christkindlmarket is no exception. If you are of age there are multiple vendors to enjoy an authentic German alcoholic beverage.
The month-long celebration of Christmas doesn't have to be celebrated with over stuffing yourself with European delicacies. There are many other vendors who offer traditional German ornaments and souvenirs. My personal favorite was Kathe Wohlfahrt of America, partially due to the fact that it was one of the few enclosed and heated vendors at Christkindlmarket.
Inside you will find beautiful handcrafted wooden winter scenes and crystal music boxes, amongst many other German souvenirs.
However, I don't know if it's the most enjoyable event for high schoolers. Perusing through artisan soaps, chocolates and ornaments is not everybody's idea of a fun Friday. Most of my friends were a little bored and wandered off. Sophie Michael, who had been to Germany over the summer, and me, who has similar interests as my grandma, stayed behind to admire the craftsmanship of the ornaments.
For me the largest drawback was the photographic quality of the lights and market. Much of the time was spent stopping, taking a selfie, redoing it 10 times because "I look SO ugly," stopping, bothering strangers to take the picture and wandering off to the next photo opportunity. By the end of the night, I began to refuse to partake in capturing this nice night with my friends and insisted I would just be designated photographer.
I definitely want to revisit the market. It was a nice change of pace from the stress of school and non-German activities I participate in. The enjoyable atmosphere prompted my friends and I to begin yodeling as the market closed and blast traditional German music on our way home.
About the Contributor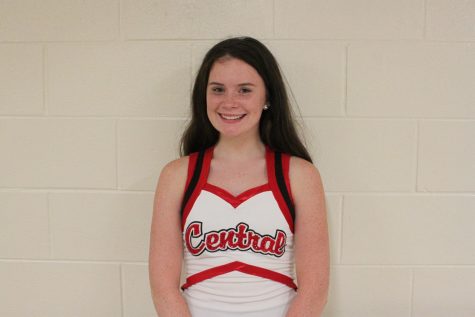 Megan Troke, Editorial Editor, Sports Columnist
Megan Troke is a senior at Naperville Central and is excited for her first year on the Central Times editorial board as Editorial Editor and Sports Columnist. She is excited to come up with new ideas every month for her sports column and getting more experience in journalism. Outside of Central Times, Megan is the captain of Orchesis and a member of the Varsity Arrowettes dance team. This fills up most of her time but she finds time to enjoy Netflix, her favorite show is Parks and Recreation and often rewatches the shows she loves. In college, Megan plans to study Political Science and Journalism and hopes to be on a dance team.
"Change will not come if we wait for some other person or some other time. We are the ones we've been waiting for. We are the change that we seek."
~Barack Obama
Contact Information:
[email protected]