Review: Taylor Swift's 'Reputation' has been better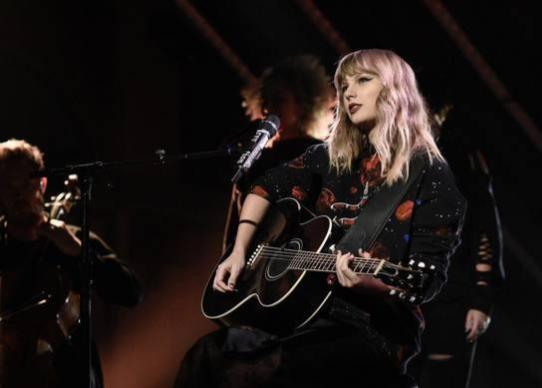 Ana Turner, Business Manager/Opinions Editor
November 13, 2017
My love affair with Taylor Swift first started when I was sitting in the back of my mom's silver minivan on the way to kindergarten with "Teardrops on my Guitar" blasting through the radio. It was a chart-topper, but there was something different about her music that made it stand out from all the other mainstream songs.
Although "Teardrops On My Guitar" first sparked my love for Swift, it wasn't until her album "Fearless" was released that my love for Swift became irreversible – I was hooked.
I feel as if Swift and I grew up together. As I aged and changed, she did as well. Her music first started as innocent and sweet, singing about the pain and love she felt from her middle school crush. As I grew up she grew up with me, and that was reflected in the new albums she released every two years. Her music always related to what I was going through in that time of my life. I felt as if she captured what I was feeling in her lyrics like no one else could.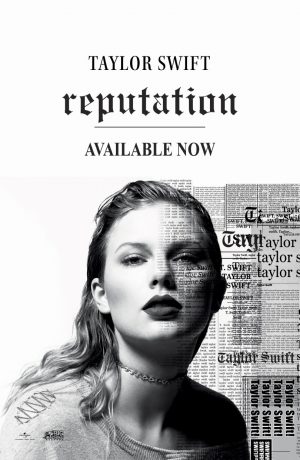 I think that is the reason she has always been so successful. So many young teenagers can relate to her songs about heartbreak and love. She feels like the best friend you never had.
That's why I had such high expectations for her new album "Reputation," but sadly it was a letdown. Don't get me wrong. I will always stand by Taylor Swift, as I have so much respect for her songs that have gotten me through my whirl of adolescent years, but "Reputation" left a bad taste in my mouth.
Swift has been plastered in the media for being known as playing the victim, and although I try not to get too caught up in those allegations, she obviously did. When she first released "Look What You Made Me Do," I was elated. I would finally had a new song to put on full blast in my car and sing my lungs out to while aimlessly driving around. But that was not the case with this song.
As harsh as it may seem, "Look What You Made Me Do" is by far her worst song. When I put in my headphones to listen to it, my heart broke. This was not the relatable music I was looking forward to. It was filled with anger and was something that I couldn't – nor did I want to – relate to. The melody was terrible and was not something I wanted to dance around to at midnight, like I did with her previous songs. She seemed to be portraying a character, one I felt she was nothing like.
Although the lead single broke my heart, it did get slightly better from there. Three additional singles hit streaming services prior to the album's release: "…Ready For It?," "Gorgeous" and "Call It What You Want." These songs gave me hope for her new album. They were very different from her past country songs, but similar to "1989," so I ran with it. And I'll still jam out to them, but the songs aren't magical in my mind.
When "Reputation" was finally released, I freaked. I was a little annoyed that I had to shell out $15 to hear it, but I reminded myself that this was Taylor Swift, the singer I have loved since I was six, and quickly typed in my password and charged $15 to my dad's credit card.
I listened to the whole album in one night.
I am still confused about how I feel.
Some of the songs are amazing. They are similar to her past album and are truly poetry. "New Year's Day" and "Getaway Car" are beautifully written and remind me of the Taylor Swift I once knew.
Most of the songs are built on a techno-pop type of melody with relatable lyrics. Although I enjoy them and will continue to do so, they feel like a continuation of "1989" instead of a brand new ideas for a brand new album.
I only have real issues with a couple of the songs on the album. Like I said previously, "Look What You Made Me Do" has a terrible message and an even worse beat. I will continue to skip that song whenever it comes on because when I listen to Taylor Swift I want to relate, not become angry and seek revenge.
Another song I am not the biggest fan of is "End Game." Although I enjoy Future and Ed Sheeran a lot, their song with Swift seems like any other Top 40 tune on the radio. It seems to blend into the background. The beat is very catchy, but they lyrics are nothing special.
Even though "Reputation" was highly anticipated, it only lived up to some of my expectations. I was expecting a very relatable breakup type album, but instead it was all very jumbled. The message of the album is very unclear. Most of the songs are still beautifully written, but some lack depth and seem as if they are just quick, catchy beats that will play on the radio for three months before we forget about them.
The album is still new music from Taylor Swift, so I will still listen to the track on repeat for the next two months. But "Reputation" does not live up to any of her past albums.