Emily Wilkinson: Her journey to performing at the U.S. Army All-American Bowl
Five-year-old Emily Wilkinson sat in the audience with her parents at a Drum Corps International show in DeKalb, Ill., excited for what she was about to see: a drum corps group about to march onto the field. As they performed, she closely watched the show on the field, fascinated by the whirling flags of the color guard.
Inspired by this performance and by her parents' involvement in various marching programs, Wilkinson decided at that moment that she wanted to spin flags, just like those performers. At that age, she committed to something she would continue throughout middle school, high school and beyond.
Color Guard organizations and marching band programs have been major elements in Wilkinson's life. With some days more packed with rehearsals than others, she adjusts her schedule to make sure all her school work is completed.
"It's hard to manage time between guard and school," Wilkinson said. "If I know I'm going to have a busy week, I'll generally try to get work done on the days that I don't have rehearsal. I'm pretty good about not pulling all-nighters to study or do homework."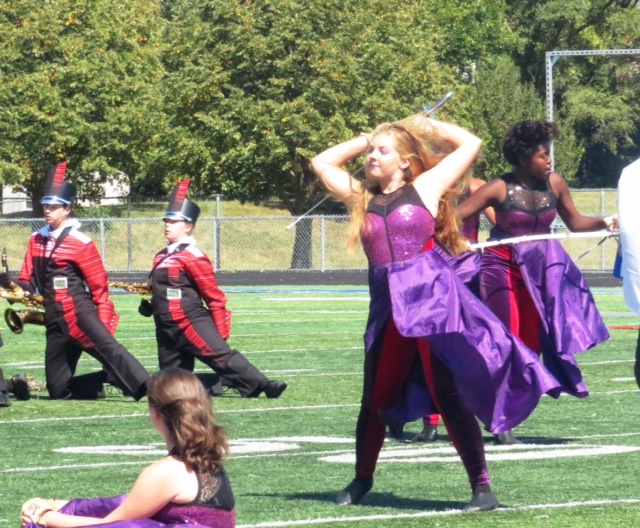 Wilkinson joined the Steperette Cadet Color Guard at the age of eight. Four years later, she began competing. As a freshman, she joined the Marching Redhawks and the Colts Drum and Bugle Corps and has continued to participate in these groups throughout high school.
After spending a majority of her life in various marching programs, Wilkinson has dealt with many type of people. Because of these experiences, she has learned to handle criticism.
"I've had to deal with people trying to break down my confidence in my abilities and convince me that I couldn't ever achieve the things I wanted to," Wilkinson said. "I overcame them by doing everything they told me I wouldn't be able to do. Success is the best revenge."
Success was all she had to show them when she auditioned for the United States Army All American Marching Band (USAAAMB) and was chosen as one of 125 members from all over the country, an opportunity desired by more than 1,300 high school seniors nationwide.
Wilkinson auditioned for the Color Guard section of the USAAAMB and was competing against 500 people for one of 25 color guard spots in the band. She is the first senior from Central to be selected into the program.
On Thursday, Oct. 12, Wilkinson's immediate family and her marching band family gathered in the Little Theatre to witness her induction into the USAAAMB.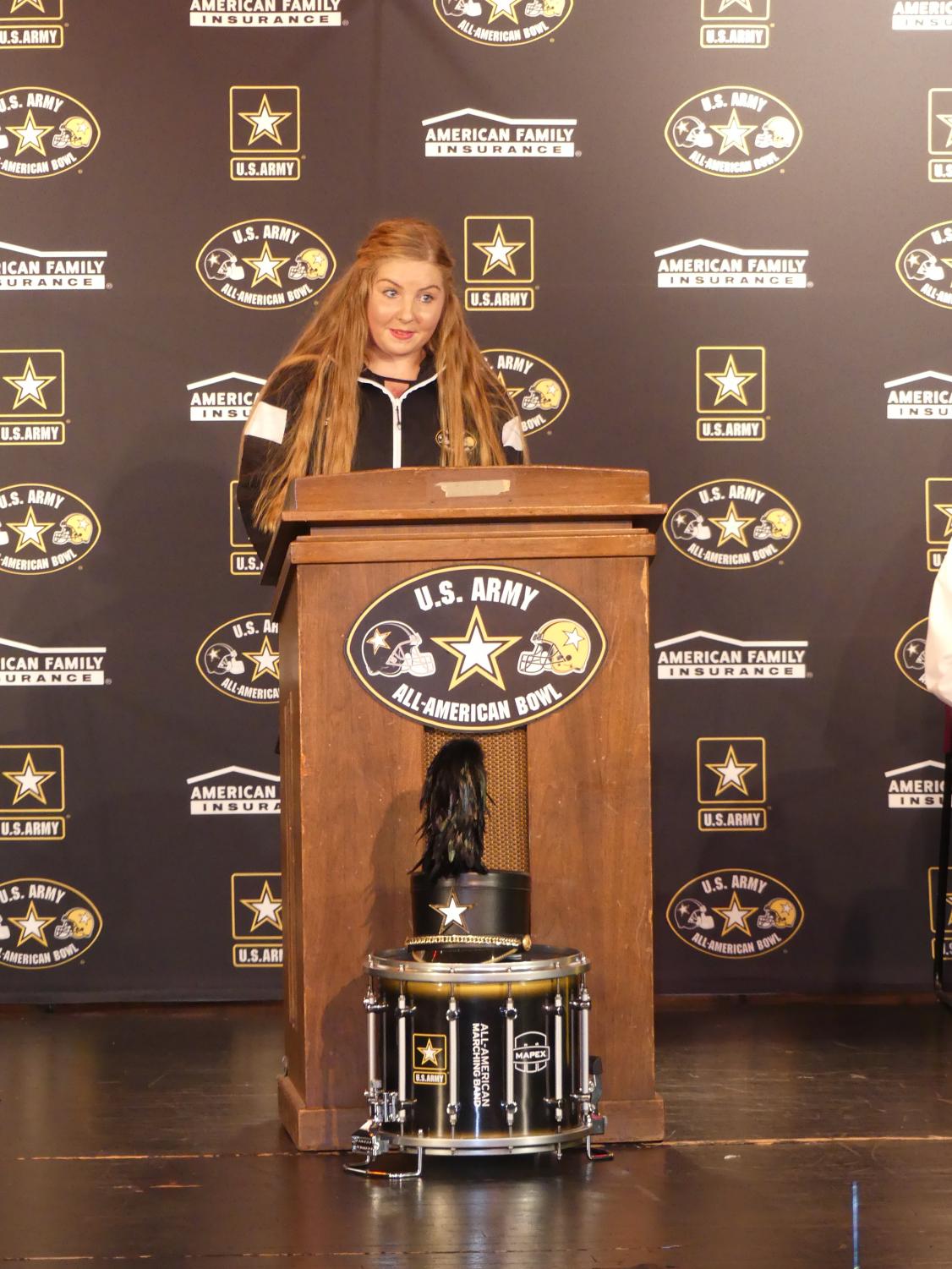 "Part of our slogan is 'We are a band, we are a family,'" Marching Redhawks director Brandon Estes said. "Just like any other family, when celebrating one of your family members, you want the rest of the family to be there to support them. This was Emily's moment, so it was important to have the rest of her family — her immediate family and her marching band family — to be there to support her in her moment."Photo Courtesy of District 203
The USAAAMB recruits seniors in high school who are active members of their school's marching program. Representatives from the U.S. Army travel around the country, inducting new members into the band. If accepted, members travel to San Antonio, where they will rehearse and perform at the All American Bowl on Jan. 6, 2018.
"It's not about their musical or dance achievements," Estes said. "That is an important factor, but it's who they are, their character. They're going to be representing not only our band program but our school and our community. [I would consider] someone who is trustworthy, someone who displays the character that we would want to represent Naperville."
Estes felt that Wilkinson displayed all these qualities and felt she was well suited to represent the school community.
"We're super proud of Emily [and] all of her acomplishments," Estes said. "She has worked hard to get where she is. I think she is well deserved of this recognition and I think she is going to represent Naperville Central and the Naperville Central Marching Band very well."
Principal Bill Wiesbrook believes that Wilkinson's achievement shows how prestigious Central's marching program is.
"This provides evidence that our marching band is a top-notch program and evidence that Central is filled with outstanding students," Wiesbrook said. "With the right attitude, effort and determination, our students can do special things."
Wilkinson is currently on her second year teaching young spinners at the Steperette Cadet Exhibition Guard and plans to continue participating in Drum and Bugle Corps until she reaches the age limit, 21. She also plans to teach in the future.
"When I get into college, I'll probably find a high school program to teach at and spread my knowledge," Wilkinson said.
Having come so far in her color guard and marching career, Wilkinson reflects on the important lessons she will carry on into the future.
"I have had some doubt in my ability in the past years and this [achievement] helped me boost my confidence in performing and spinning," Wilkinson said. "Persistence and dedication is key. Taking what people said and using it to fuel my determination is what got me to where I am today."