Rising pop stars In Real Life visit Naperville Central
Sophomore Grace Carlson stood on the Little Theatre stage, her foot bouncing with excitement.
"Okay guys, meet Brady, Drew, Chance, Sergio, and Michael," Carlson said to a fidgeting room filled with her classmates.
She stepped off the stage, and the curtains parted to reveal the five members of the boy band In Real Life, seated on stools and ready to perform. As the band members started to sing, the audience broke into loud cheers.
In Real Life visited Naperville Central to perform their new single, "Eyes Closed" and answer student questions. They also gave a sneak preview of a new Christmas cover which comes out in early November.
The boys won ABC's summer reality television series "Boy Band" and stopped in Naperville during their first national promotional tour. "Eyes Closed" debuted at number 9 on the iTunes chart upon release.
The members of In Real Life, or IRL as their fans call them, are Brady Tutton, Chance Perez, Drew Ramos, Sergio Calderon and Michael Conor.
"We called the band In Real Life because at the end of the show […] we wanted to transition from being not just a boy band but a real group," Conor said. "We wanted people to see not just what we're like on the show but what we're like in real life."
The boys' ages range from 15-19 years old. Each shared his background with the Central audience.
Connor, 17, raps and has played the violin since the age of six. Tutton, 15, has a background in musical theatre and acting, with credits that include voice over work on the children's television show "Doc McStuffins." Calderon, 17, plays the guitar and Perez, 19, auditioned for "America's Got Talent." Ramos, 19, grew up singing in his church and has a background in leading worship.
Not all students were able to attend the performance. The show was an exclusive event for students from sophomore journalism classes, choir and student media. After watching the group's new video and experiencing a live acoustic performance, students were able to ask questions. To end the event, students were allowed to come up to the stage to meet and take pictures with the band members, who shared stories with their fans and gave advice to aspiring musicians.
"When I was younger I always wanted to be a singer," Tutton said. "But I never thought it was realistic. I said no to 'Boy Band' originally because I thought it was unrealistic. But they called back and I said yes but I almost gave up on the whole thing. You never know what's gonna come out of something so always give it a hundred percent."
They also discussed the struggles balancing school and the band.
"We have teachers [who] travel with us," Tutton said. "We're enrolled in online school. It's hard though. It takes a lot of self discipline. We try to make if fun but it's still very hard."
Having In Real Life at Naperville Central, students said, did make school fun. "I was very overwhelmed when I saw them," Carlson said. "I literally could not stop smiling. It was crazy. I asked myself, how is this my life right now?"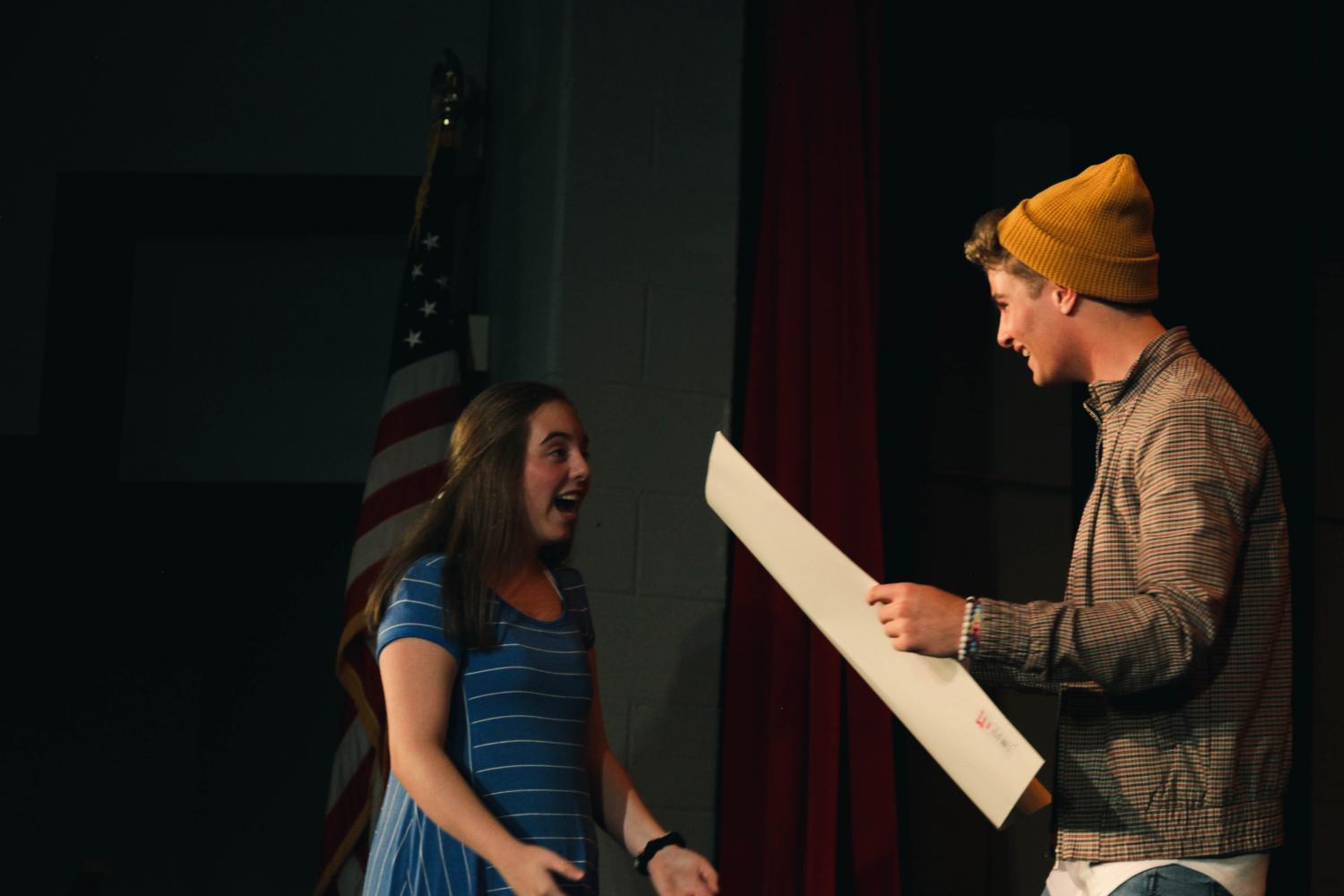 As the final question during the post-performance Q & A session, Carlson asked Tutton to Central's homecoming dance by presenting him with a poster.

"I was shaking so bad," Carlson said. "I was very nervous. I was shocked by his reaction. I can still see the image in my head perfectly."
Carlson is not yet sure if Tutton will attend Homecoming but he did post on his Instagram story, showing Carlson's poster, tagging her and telling his followers to "throw her a follow." Carlson said her phone has been "blowing up" ever since.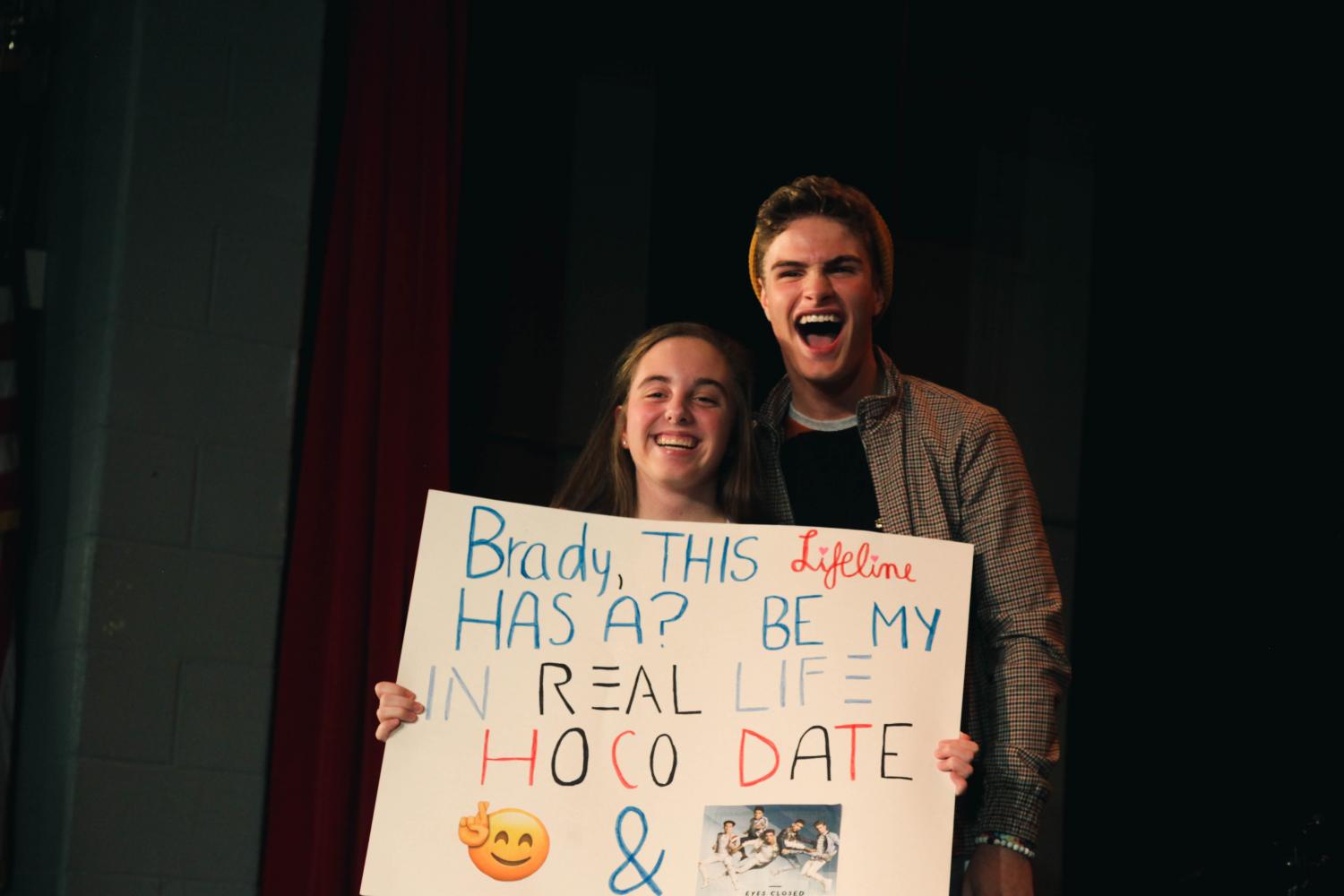 Unlike Carlson, who watched the show each week during its summer run and voted frequently, sophomore journalism student Alan Wandke had no previous knowledge about IRL. He saw this as an opportunity to see the boy band and get first-hand journalism experience.

"I thought [the performance] was cool," Wandke said. "I wanted to go and see what it's all about. It was a unique experience. I don't regret going."
Towards the end of the event, IRL admitted to high hopes that their group would have a long career in the music industry. They also believe their band stands out in comparison to others.
"We have a lot of different elements in our group," Conor said. "We're not trying to be like past boy bands. We're just trying to make good music. It's gonna be us no matter what."