Male athlete of the year: Christian Nussbaum
Hang on for a minute...we're trying to find some more stories you might like.
This year's Central Times male athlete of the year is Christian Nussbaum.
Nussbaum, who is continuing his football career at Wheaton College next year, has contributed to the athletics program a great deal. Through the athletics program, Nussbaum has learned life lessons and valuable leadership skills.
As a freshman, Nussbaum played on the football team and competed on the wrestling and track teams. As a three-sport athlete, his schedule was hectic, but he found time to finish his schoolwork, maintain a social life and get a sufficient amount of sleep.
"It's tough to do sports and do well in school," Nussbaum said. "You have to set a very tight schedule and stick with it. As long as you do that you should be fine. Sometimes, though, after a hard practice or game, I'm just too exhausted to do anything else."
This year, he achieved sixth at the state wrestling tournament.
Mujtaba Ahmed, a senior wrestling teammate of Nussbaum's, explained his rise at the state tournament as predictable.
"He's the hardest worker on the team and he always pushed himself farther than most people can comprehend," Ahmed said.
Joe Lopez, Nussbaum's wrestling teammate, thinks of Nussbaum as a role model for all future athletes.
"When he makes a goal in his mind, he will do whatever it takes to make that goal," Lopez said.
Nussbaum's athletic abilities have also translated into success off the field. In addition to having captain roles on the football and wrestling teams, he is also a part of J. Kyle Braid Leadership Foundation (JKB) and Younglife as well as numerous volunteer organizations.
"Being a student athlete, I try to take a leadership role in whatever I do and that's just important to me," he said. "I think those skills will become valuable later in life, especially when I start my career."
His success in high school football has led to a Division III offer to play varsity level as a center.
While he is ending his wrestling career after high school, Nussbaum is thankful for the opportunities wrestling provided him.
"My true passion is football, and I just want to be involved with the sport as long as possible," Nussbaum said.
Student athletes are high achievers at Central and Nussbaum is a great example.
When asked about any lessons he has taken away from high school athletics, Nussbaum simply replied: "Once you've wrestled, everything in life is easier."

About the Writer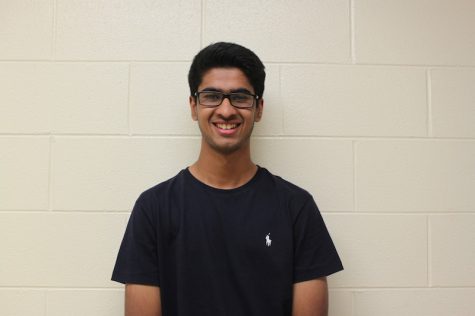 Zain Habib, Business Manager, Staff Writer
Zain Habib is a senior this year and it is his first year on the Editorial Board as Business Manager and Staff Writer. His passions are the stock market,...