My experience at World Youth Day
It's been nearly five months since I left the country for the first time and travelled to Poland for World Youth Day (WYD). With the weather getting colder, I wanted to remind myself of those sweltering days spent walking, riding, and walking some more around some of Poland's most unforgettable destinations.
Every two to three years the Catholic Church hosts an event called World Youth Day. It was started by Pope John Paul II in an effort to revitalize the Catholic youth and remind them that they are not alone. It is held in different locations around the world. This past summer, the latest WYD was held in Krakow, Poland. Each WYD has a theme, and as 2016 was the Jubilee Year of Mercy the theme was "Blessed are the merciful, for they shall obtain mercy." The fact the it was held in Poland, the birthplace of Divine Mercy, made it all the more special. The two messengers of Divine Mercy, St. Sister Faustina Kowalska and St. Pope John Paul II, were the special patrons of the event.
I attended the event through my church, St. Peter and Paul. We travelled all throughout Poland, but I've only included pictures of the time we spent at the actual World Youth day.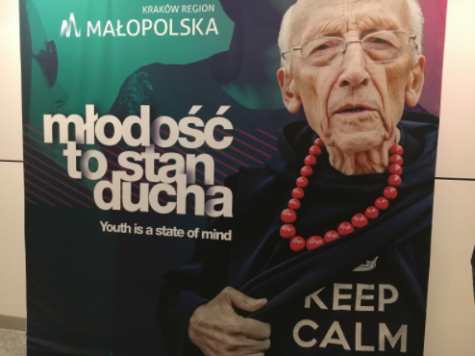 "Youth is a state of mind." The entire country of Poland got in the the World Youth Day celebrations. This sign was in the lobby of John Paul II Airport in Krakow and was part of a national marketing campaign for the event. Most towns we passed through were decorated with Polish and Catholic flags on the lamp posts, and tourists attractions such as the Wieliczka Salt Mines and Auschwitz were modified for the increased number of visitors.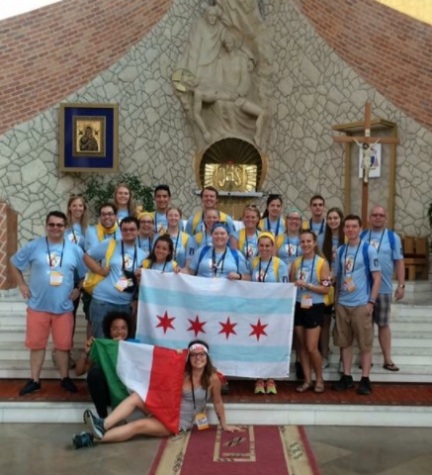 This is my group on the first day of WYD events. Our two priests who led the trip were both from Poland, and this picture was taken in one of their home parishes. He said, "My class was the first to make our First Communion in this parish, so you can see how young it is." "Or how old it is," our amazing tour guide Gosia quipped back. We started making friends with people from other countries, as illustrated by these Italians who photo-bombed us.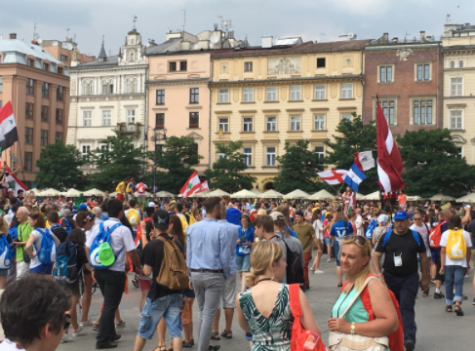 We milled around downtown Krakow during the first day, talking to the other pilgrims and exchanging small tokens such as rubber bracelets, pins and keychains. The city center was essentially barricaded for the event; most businesses had given employees the week off due to the difficulty of commuting. To put this in perspective, the normal, population of Krakow is around 700,000, and it was hosting well over 1 million pilgrims.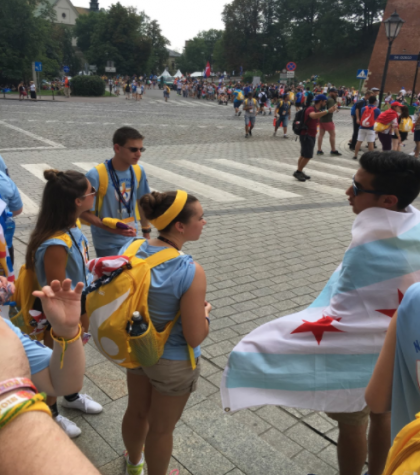 Between Catechesis in the mornings and the events in the evenings, most people hung out in the main square of downtown Krakow. This was a time to mingle with other groups and eat lunch.
Talking to and making friends with people from all over the world is a traditional part of the WYD experience. During our trip we exchanged small gifts, Snapchats, and took selfies with other young people from Australia, Italy, France, Portugal, the Philippines, Zimbabwe, Brazil, Argentina, Germany, Canada, Mexico, Pakistan, India, Switzerland, Ireland, Spain, South Korea, Egypt, China and many others. Shown above are me and some other people from my group with a guy from Portugal.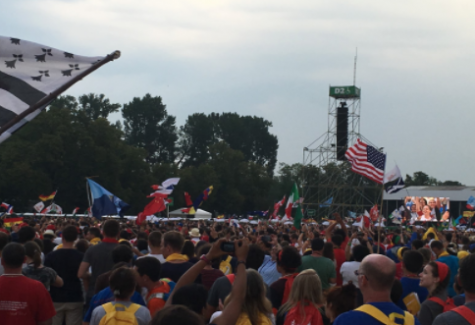 On the first night of WYD we had an opening Mass led by a prominent Polish cardinal. The music was fabulous and sound system amazing. The white building in the background is the alter/stage, and the crowd stretched behind us for almost a mile and in an enormous semicircle around the stage. Over one million people went to the four evening activities.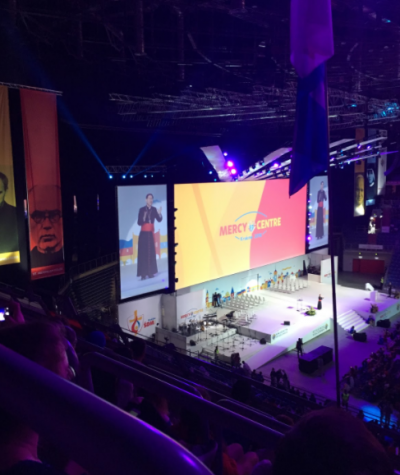 In the mornings, various groups provided Catechesis, divided by language. My group was in the largest English speaking venue, Touron Arena (rechristened "Mercy Centre" during WYD), which was organized by the Knights of Columbus and the Sisters of Life. We listened to talks and had Mass with groups from America, Great Britain, Ireland, the Philippines, Canada, Australia, and various African nations.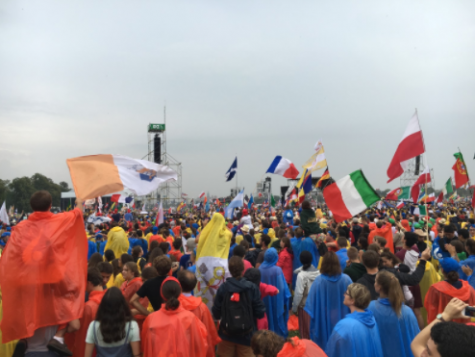 Pope Francis arrived in Poland on the second day of WYD and on the third night he led us in Mass. Before going up to the altar he wove through the crowds, which surged up with everyone trying to catch a glimpse of him, as shown in this picture. Many people were chanting "Papa Francesco!" and singing. It was a joyful celebration all around!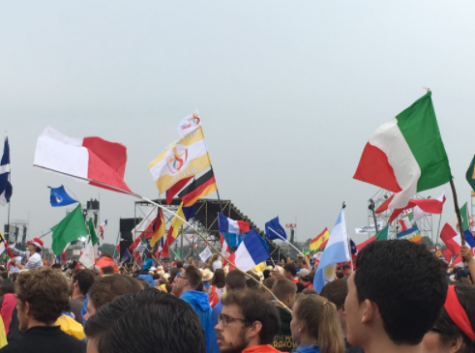 See all the different flags was my favorite part of the trip. I got chills seeing the flags of nearly every country in the world waving in time to the music. The word "Catholic" means "universal", and nowhere is that exemplified better than at WYD.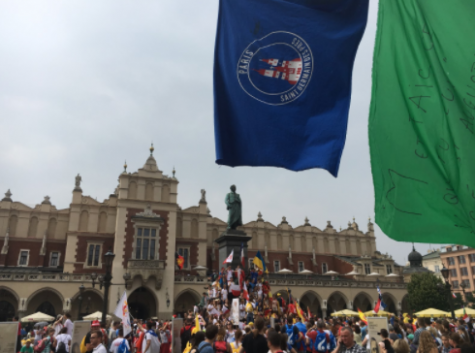 Another photo of the main square in Krakow. That statue in the middle was constantly covered with people waving flags, chanting and singing. Whenever an American group would pass by, those up on the statue would start chanting "USA USA USA!"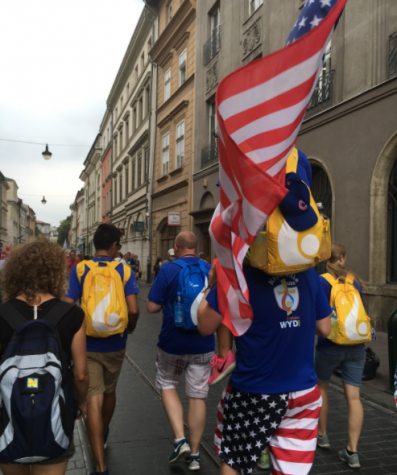 And speaking of flags, we finally got one! After one of our group traded away our Chicago flag, we hunted for an American flag to replace it. We checked everywhere, including the US Consulate, but they had already given all of theirs away. Ian McGee eventually managed to buy one off someone, and from then on people started noticing us. Countless times other groups would start chanting "USA!" when we passed. To make a statement, Ian carried Lauren, the smallest girl in our group, on his shoulders.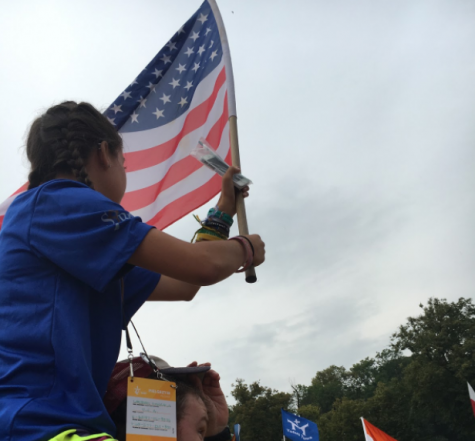 We finally had a flag to wave along with everyone else at Stations of the Cross that night!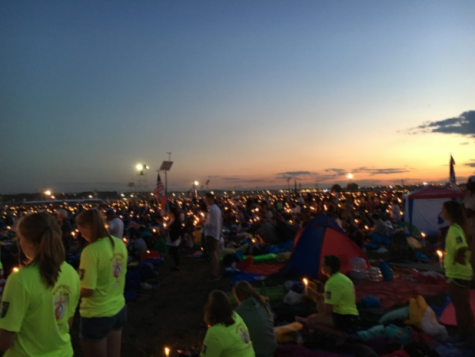 The grand finale to WYD is an overnight vigil with a closing Mass the following morning. We walked four hours to a field outside of Krakow, because the park where the other events were held wasn't going to be large enough for all the people expected to come. Pope Francis gave a beautiful sermon telling us young people to be active and alive in our faith. This was followed by Eucharistic Adoration and Benediction with a candlelight vigil. The evening was closed out by a concert featuring prominent Christian artists.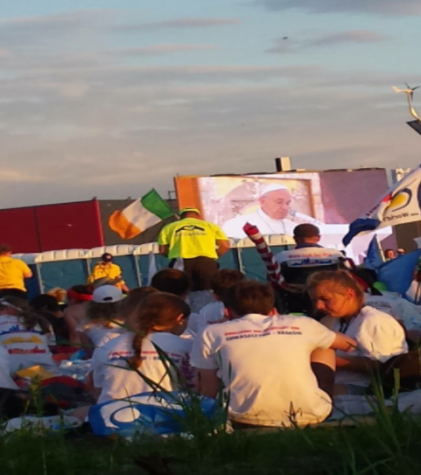 "Dear young people, we didn't come into this work to "vegetate", to take it easy, to make our lives a comfortable sofa to fall asleep on. No, we came for another reason: to leave a mark. It is very sad to pass through life without leaving a mark. But when we opt for ease and convenience, for confusing happiness with consumption, then we end up paying a high price indeed: we lose our freedom." – Pope Francis, WYD Vigil address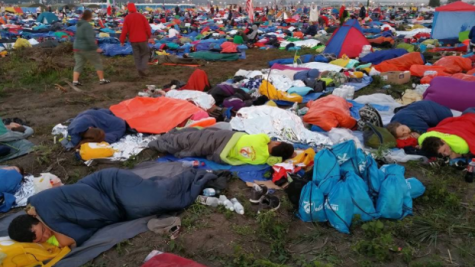 This picture was taken around five in the morning by one our priests who led the trip. They had just returned from picking up food for us, which was in those blue bags. Polish authorities estimate that between 2.5 and 3 million people attended the closing Mass later that morning.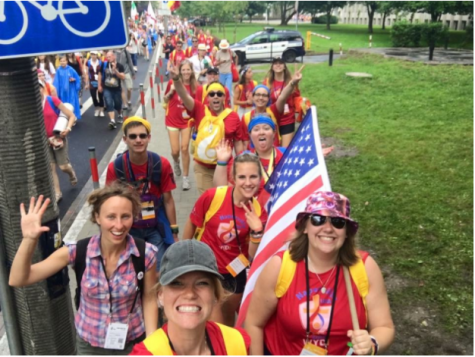 The trip entailed a lot of walking, but people managed to make it a great time. We sang, cheered, clapped, danced and played music. The atmosphere of joy and mercy was something I doubt I will encounter again. Thanks to everyone who made this trip a possibility and let's get ready for Panama 2019!
All photos by Virginia Aabram.