District updates Chromebook for security, privacy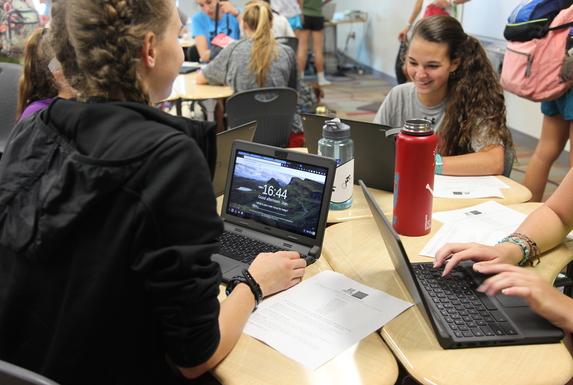 Recent changes to the chromebooks at Central have stirred questions among students and staff. Along with small software updates, significant changes with an online handbook and logging on have been made.
A new update on the google chromebooks has a link to an online version of the student handbook. All of the information usually only printed in the student handbook is now online are readily available.
The online handbook idea was decided with Central administration last spring. Many goals could be accomplished with this one solution.
According to the district's Director of IT  Joe Jaruseski, "Easy access to the handbook from student's Chromebooks, possible reduction of annual printing expense, paper saving and one less book to carry during the school day were primary considerations."
Another aspect of initiating an online handbook was that if any policies changed, the online version is at easy access to change if necessary.
Many students noticed the update made in August that automatically logs students offline each time they close their chromebook.
"I think [the new update] is beneficial because the battery will last longer" Sophomore Marina McCormack said.
Before the update many students were missing Chrome updates because they did not log out for weeks at a time. These updates were missed because the chromebooks are only automatically updated when they are relog into the District Google EDU domain.
"Things change very fast in the Internet space, so to ensure student data privacy and be vigilant in our inbound threat mitigation, the timely and automatic application of Chrome OS updates to our student's Chromebooks is critical." Jaruseski said.
When this update was initially executed, each time a student closed their chromebook lid all of the tabs the student had open closed.
"It was really frustrating to have that happen especially when  was doing homework," McCormack said, "it would take more time to restart and also all of my tabs would close so my work or research could be lost."
When students responded negatively, this update was edited immediately. This situation led to the IT department deciding to make sure they announce any planned changes in the future; in order to avoid more chaos.
"I know someone who closed their Chromebook and their scholarship application got deleted" Junior Carly Auld said.
Other software updates are applied to the Chromebooks on a regular basis. With the new update logging students out every time the lid is closed, these updates will be guaranteed to each Chromebook.
These regular updates help with security and functionality purposes along with improving access to sites on the Chromebook.
The regular Chromebook updates are keeping students up to date and resulting in positive outcomes. "I can't think of any changes that would be much more helpful because the Chromebooks are already pretty good" McCormack said.