Athletic Hall of Fame 2015: Bob Sterr
Bob Sterr, who coached at Naperville Central for 32 years, was recently inducted into the Naperville Central Athletic Hall of Fame. Other notable inductees were Owen Daniels, who plays for the Houston Texans, and Tim Lavery, who played on the Cubs.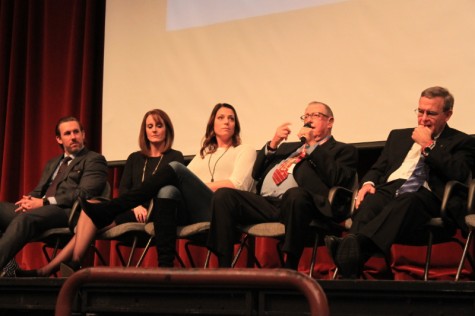 Growing up, Sterr played baseball, football and basketball. He was never a star athlete, and later found that he preferred coaching.
In his time at Central Sterr worked as a math teacher, and in his early years of teaching he pioneered the Honors Algebra courses. Sterr reflects fondly on his experiences at Central.
"The people I worked with were very dedicated to academics and sports," Sterr said. "I was very fortunate to be there."
While at Central, Sterr coached Sean Payton, who is now the head coach of the New Orleans Saints NFL Football team. He also coached fellow inductee Owen Daniels on the basketball team.
"When you coach for so long, you see so many good athletes and good people that do everything you want them to do, and are just great players," Sterr said.
Of all his experiences, Sterr mostly remembers those he worked with, and sometimes against. He commended campus supervisor Dave Dillon during the Q&A for his time with him. He also says that some of his best friends are the former coaches at rival schools in Naperville that his teams played against.
At the end of the Q&A session, the question was posed what he would tell his 17 year old self.
"You need to be yourself, but also listen to others above you," Sterr said. "Do everything that you can and don't limit your outlook."