Don't Lose Heart
I was a gymnast for nine years. That's over half my life. From age six until 15 years old, I ate, breathed and slept gymnastics. I traveled across the country and competed every month.
To give you an idea of how involved in gymnastics I was, I never did PE in junior high. Lexi Swanson, my former teammate, and I sat in Lincoln Junior High School's library and had a study hall during our PE period. I got permission from the principal to be exempt and never stepped inside our gym.
I didn't even fitness test. I never experienced running the pacer and mile or push-up and sit up tests.
Going into high school, I continued gymnastics and was shooting for a collegiate career. I switched gyms and was under strict Olympic Chinese coaches at a gym called Legacy Elite. I practiced six days a week and left school early to attend them. I really had no life at school.
This was until I was forced to quit gymnastics because of a back injury later freshman year. I believed my life was over. I was constantly defined by gymnastics and didn't think I'd ever recover from this loss. I eventually did and am where I am today because of it.
I reflect and have learned that being in a highly competitive sport gave me so much, but took away quintessential experiences from my childhood.
Awkward PE periods playing dodgeball with jerky boys and running the pacer for the first time in sixth grade were something I never had. I look back to middle school and cannot think of a memory of the stereotypical, normal experience in PE.
This was translated into freshman year where I had no lunch period and had a straight six period day of classes. I went to class, practice and then home. I definitely regret getting out of school early because I know what I missed looking back now.
After I quit gymnastics, I felt I could never be a true athlete again. What could better than flipping on a four-inch piece of wood everyday?
I thought nothing.
But I was totally wrong.
How about dancing a two-minute ballroom routine in two-inch heels? Or diving off a one meter board praying you don't smack or land back on it?
My athletic experiences were not confined to just gymnastics. They never were. I just didn't believe what anyone else told me until after I quit.
What seemed like the worst experience freshman year turned out to be one of the best things that's ever happened to me.
My social life blossomed after quitting, and I tried new things in the next three years of high school. A whole new world opened up to me.
Ballroom dancing, writing for Central Times and diving my senior year: I learned my athletic ability is not confined to one area and it doesn't define me as a person.
I'm so much more than just what I compete in. The trophies I win, medals I earn or plaques on my wall are nothing compared to the person I am today. I'm faithful, optimistic, friendly and outgoing because I quit gymnastics.
Now don't get me wrong, I had these qualities while I was in gymnastics, but I amplified these even more after.
Quitting gymnastics made me faithful, hopeful and eager to try new things.
The trials in our lives, whether athletic or not, continually push us forward. They make us better and who we are after is our new definition.
Being able to pour out my heart and speak my mind in these columns has given me new experiences. I never thought I'd be writing about sports, much less have my own column.
So what's better, doing giants on the uneven bars, flipping backwards toward a one-meter diving board, or writing a flawless sports column?
I cannot decide. My heart's fallen in love with all three.
About the Writer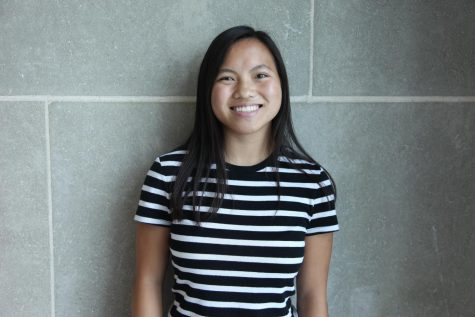 Alana Cervera, Online Managing Editor, Sports Columnist
Alana Cervera is a senior at Naperville Central and is a second-year staff member on Central times as the Online Managing Editor. She brings a positive attitude and writes stories from a new angle. Outside of Central Times she ballroom dances and dives for high school, constantly staying busy and active. She hopes to become a Nurse and start a career in the medical field after high school.