Column: The sport watching experience
Maggie Dalton, Head Photo & Art Editor, Community Editor & Columnist
February 20, 2020
Over winter break I went to my first NBA game. I saw the Chicago Bulls play the Atlanta Hawks. Growing up, I had been to a lot of White Sox and Blackhawks games but never a Bulls game.
I always really enjoyed going to sports games because the game always felt so different in person. The atmosphere in sports games are intense, exciting and keep you on the edge of your seat. Being in a large arena with thousands of fans changes the experience.
Professional sports games' experiences can differ because of the sport, age or where you are sitting.
Sitting closer to the game doesn't necessarily always change the sports game experience, but sitting in certain areas of arenas or stadiums can require more attention from the viewer.
For example, sitting close to the baseline at a baseball game requires more attention in order to be safe. A few years ago, I got to sit pretty close to the baseline at a White Sox game. A couple of fly balls flew into the seats near me so we knew we had to watch the game and be aware. It can also be exciting to be so close to the players. Sitting further away from the action can allow you to put some of your focus towards crowd participation.
Age can definitely impact the experience you have at a sports game. All sports games have little events in between periods, halves, quarters or innings. Guaranteed Rate field, where the White Sox play, has an area specifically for little kids. There are different stations and games that the kids can play if they are in a certain age range. Since baseball games are pretty long, they have more activities for young children.
Having been to Bulls, White Sox, and Blackhawks games, I have realized that the sport you are at can really change the atmosphere. While I can't speak for how Chicago Bears games create a different experience, I'm sure it is different due to the fact that NFL teams play once a week, which is less often than other professional sports.
White Sox games are pretty laid back in comparison to different sports, with breaks in between innings, pitches, and batters. The amount of runs can differ from game to game. Baseball games are more social than other games. You can talk with the people you are sitting with more because most hits don't have a corresponding run. If someone is on third base, then you pay more attention. This is similar to a football game, because you pay more attention when the team is closer to the goal line.
After my experience at a Chicago Bulls game, I thought that it was also laid back, but for opposite reasons as baseball. NBA teams are averaging around 112 points a game. The game can get pretty repetitive when 200 points are getting scored. The game really gets intense in the last quarter when the teams are still neck and neck. It can also be exciting to see a team make a come back.
The Bulls game I was at was not very eventful. There were some good dunks and three point shots, but Trey Young from the Atlanta Hawks was hurt so the Bulls were winning by a decent amount the entire game.
Blackhawks games had always been my favorite games to go to. Blackhawks fans are usually pretty rowdy. The fast paced game and low scores keeps you on the edge of your seat. Almost every time someone has the puck there is an opportunity for a goal to be scored.
All sporting events are different so unless you hate all sports in general, there is a sport for you to watch. I enjoy watching sports on tv, but being there at the arena, stadium or field can make such a difference.
About the Writer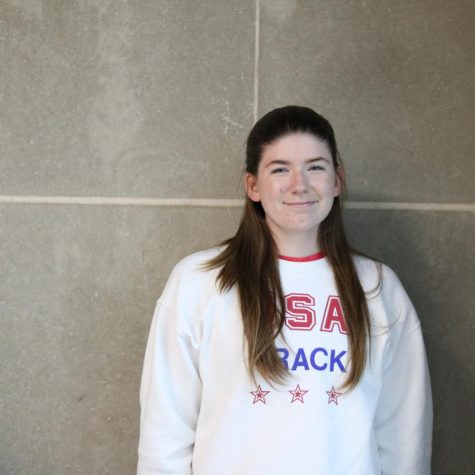 Maggie Dalton, Head Photo and Art, Community Editor & Columnist
Maggie Dalton is a senior at Naperville Central High School and Head of Photo and Art. This will be her second year on staff. She loves the friendships and community in the Central Times. Maggie runs cross country and track as well as participating in Student Advisory Council. Outside of school Maggie leads church retreats, hammocks, and plays ukulele. In the future, she hopes to become a high school Social Studies teacher.