A love letter to cross country
Maggie Dalton, Head Photo and art, Community Editor & columnist
November 14, 2019
My cross country season recently came to an end. I crossed the finish line for the last time with mixed emotions. Already, I wished I had another season ahead of me. Cross country gave me life-long friends and the knowledge and confidence that I can do anything.
I never ran cross country in middle school. I always thought that it was a very independent sport. You're scored in teams but it's really just you running by yourself. However, I couldn't have been more wrong. In soccer and basketball you may only get to have conversations with your teammates during water breaks, but in cross country you could have a 70-minute run where all there is to do is talk to whoever you are running with. The girls on the team knew more about my life than anyone else.
I don't know if I found people exactly like me in cross country or if through the amount of time we have spent together and other girls' personalities have merged into one. I'm not "fast" in comparison with the other girls on the team, but I never felt less than them. Even if our goal times were different, we all did the same workouts, went on the same runs, and tried our best.
My teammates also pushed me to try harder and do better. In workouts, a girl would run up to another and say "you got this, stay with me." My freshman through junior year, I ran the cross country races all by myself. At the DuPage Valley Conference cross country meet, my friend, Kylie Johnson, and I ran the race side by side. At some points, one of us would pass the other. When I was behind her, I pushed myself to stay with her. When she was behind me, she pushed herself to stay with me.
In my sophomore year DVC race, I got a personal record for my three-mile time. Throughout my junior and senior year, I strived to break my personal record. A week before my last race I ran 13 seconds slower than my personal record. This meet's racecourse was flat and fairly fast. My last meet was on a harder course with a huge hill that I would have to run up twice. I thought I was going to finish my season without breaking my personal record from sophomore year.
As I was warming up for the race, I told myself that I had to break my personal record. I wanted to be able to say that my last race was my best race.
I stood behind the starting line right before the race started. I was so nervous that I wasn't going to end cross country on a high note.
Then the starting gun went off. I had started my last cross country race.
I started out faster than usual. Already, I thought I was doomed to tire myself out before the third mile. By the time I rounded the first corner of the race, all my doubts were gone. All I thought about now was running.
Even though I probably looked like I was in pain and exhausted, on the inside I had the biggest smile. I was over the moon happy. I was so grateful for my last four years of cross country. I was grateful for all the things and people it had given me. I was running this race for them as well as myself.
I was getting to the finish line and I could see the clock. I ran with every ounce of energy that was left in me. I saw the time on the clock as I ran by the finish line. I was 11 seconds faster than my personal record. I had done it. I had broken my personal record. I gave other teammates that finished with me hugs and high fives. We were all proud of ourselves and each other.
As I walked back to the starting line to grab my sweats, I realized that I didn't have to break my personal record to have ended on a high note. For four years I showed up to practice, worked hard, and had fun. I couldn't have asked for a better way to have spent my last four summer and fall seasons.
About the Writer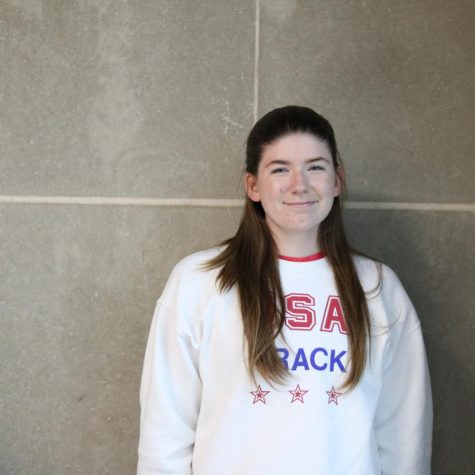 Maggie Dalton, Head Photo and Art, Community Editor & Columnist
Maggie Dalton is a senior at Naperville Central High School and Head of Photo and Art. This will be her second year on staff. She loves the friendships and community in the Central Times. Maggie runs cross country and track as well as participating in Student Advisory Council. Outside of school Maggie leads church retreats, hammocks, and plays ukulele. In the future, she hopes to become a high school Social Studies teacher.