New Year's Resolutions: to set or not to set?
It's that time of year again when we reflect on memories from the past year and look forward to what the upcoming year has in store. As I ring in the New Year, an overwhelming hope sweeps over me, and with that hope comes a new sense of resolve…and usually, a list of New Year's resolutions.
In years past, I have sat myself down on New Year's Eve and scribbled down a bucket list of overly ambitious and vague goals for the next year. In my momentary burst of elation, I overlooked the fact that my goals lacked specificity and accountability. Yes, my goals carried a sense of purpose and self-direction, but after a few months, I noticed that my burst of inspiration would fade, replaced by a gnawing sense of despair and frustration. When revisiting my list of New Year's resolutions a year later, I'd realize that I achieved less than half of them.
The sad thing is, I'm not alone in the situation I described. A Forbes article from January 1, 2013 cited a research study that estimated just 8 percent of people achieve all of their New Year's resolutions. Yikes.
So, this week, I've given some serious thought as to whether or not I want to set New Year's resolutions. At first, I was a bit hesitant about it based on how previous years of New Year's goal setting have gone. Talking to my friends and family and reading about the statistics, setting New Year's resolutions seems almost ironic when goals from the beginning of the year are tragically broken in the middle of the year and lead to a sense of defeat. If you know me though, I'm an obsessive list maker and goal setter, so completely scrapping New Year's resolutions doesn't feel right. In my eyes, to stop setting lofty goals altogether would be to give up on self-improvement and give in to apathy. Instead, I've decided to scrap the traditional kind of New Year's resolutions I write and replace them with revamped, more achievable ones.
Before I craft my list of New Year's resolutions, I've decided on a simple (and somewhat cliché) theme that I want to encompass 2014. I want this theme to motivate me throughout this next year, to invigorate my spirits when I'm feeling down, and to stick with me regardless of what happens. For 2014, my theme is to embrace change, embrace every moment, and embrace the important people in my life. The coming year will feature my last semester in high school and my first semester in college. The coming year embodies many 'lasts', but it also embodies many 'firsts.' The coming year will introduce me to a college I can call 'home' and hundreds of eccentric, diverse students. As I encounter these new situations, I'm determined to embrace the changes and live in the moment without thinking about the future too much, but at the same time, I always want to remember my friends back home and keep in touch with my family.
After picking an overarching theme for the year, I'm starting on my list of goals now. Although I haven't finished the list yet, I am following a list of guidelines I've pieced together from various sources. Hopefully, this might help you progress your New Year's goals as well:
Clarity and Direction: Before jotting down a goal, it's important to truly think about the purpose behind each one. Asking yourself 'why?' is the million dollar question. If you know the objective behind each goal and you truly care, that will serve as willpower to fuel your progress. Yes, people and circumstances change, so it's totally acceptable to pivot your goal to fit what you want based on your situation and resources.
Community and Accountability: One of my main problems with goal setting is that I like to keep my goals private. Sharing them with others is a little embarrassing for me. But as I've learned over time, without at least one person to keep you on track, it's nearly impossible to achieve a huge goal. Harnessing your community of family and friends is great to get advice too. It's surprising how much support you can get if you just try.
Specificity and Tangibility: Don't set vague, general goals like "do well in school" or "get fit." Instead, think about how you can quantify these goals and measure them in bite-size pieces.
Come up with short-term goals: It's awesome to set long-term goals, but long-term goals are only manageable if you split them into smaller goals that have measurable results. Take your goals in stride—one week at a time and one day at a time. Be realistic with what you can accomplish on the short-term level, so that once you achieve a smaller goal, you can celebrate and motivate yourself to keep at it.
Apply a theme to your goals: If you do decide to keep a theme for 2014, make sure you relate it to your individual goals. Usually, if your theme is broad enough it can encompass any goal you set. During the moments you want to give up, your theme might just act as a pick-me-up.
In reality, these hopeful resolutions shouldn't just be set on New Year's day, but all year-round. Still, in my mind setting New Year's resolution isn't overrated. After all, why not take advantage of the renewed optimism to get pumped for the upcoming year? Give it some thought.
Leave a Comment
About the Writer
Emily Zhen, Managing Editor, Opinions Columnist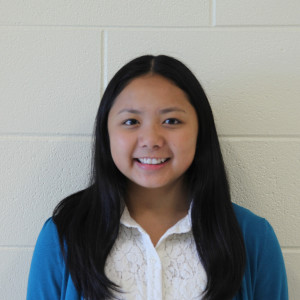 Email:
[email protected]
Favorite Quote:
 "Do you ever have nightmares that you don't align to baseline grid?" - Mikayla Ostendorf
Best CT Memory:
 Walking down the San Antonio Riverwalk with the rest of the CT staff at convention last year. It was absolutely picturesque at night, and we ate at a great Tex-Mex restaurant called Iron Cactus. They had the best guacamole that we sat there eating for a whole hour.
A word that describes me is... 
enthusiastic because I'm passionate about the activities and organizations I'm involved in.
My interest in journalism is...
 news and opinions writing.