Facilities manager retires after 29 years at Central
November marked the 29th year Gary Gebauer has worked at Naperville Central. After being the facilities manager for 15 years, he has decided to retire. Gebauer began as a custodian and since then, he has worked as the swimming pool operator, managing the renovation construction in 1992 and in his last position as facilities manager.
"I was always trying to move forward and do the best I could in whatever I did," Gebauer said. "My goal was to always improve [Central]. It became my home. I took pride in this place, and I wanted always to make it better and better and better."
Some of the toughest times of his career came while managing the renovation construction in 1992. At times, he worked 15 hours a day but still found it rewarding.
"Making it all come together gives you the feeling you did something worthwhile, and [I] take pride in the building and what we were able to change here," Gebauer said. "We do a lot of really big events [at Central] and it's sometimes very challenging, but a lot of positive things come out of that."
A popular event held at Central is the Turkey Trot where, this year, over 7,000 people participated in the run. Gebauer puts in a large amount of work to coordinate everything and ensure it works smoothly, but he finds fulfillment in how much it helps the community. He also finds satisfaction when people compliment Central because he directly played a part in how it looks today.
"A lot of people, [including] state inspectors, come through and say this is the nicest high school they've ever seen," Gebauer said. "To hear that and know we're on the right track, I take pride in that."
The person taking over the position of facilities manager is Cuauhtemoc Zarate, who has worked closely with Gebauer and at Central for nine years.
"Because of [Gebauer's] vision and something he saw in each individual … I have a good group of guys I can work with and I can build on that," Zarate said. "Now it's my turn to see that vision and put the right people in the right job I see fit."
Zarate began at Central as a sub-custodian and that will influence him now as a manager.
"I think [being a custodian] helped out tremendously," Zarate said. "Not only because I know the guys, I can relate to them because I have done their job to some capacity or another."
Gebauer was an important influence on Zarate and the people he worked with.
"When we all got together to say goodbye to Gary, I told him to look around," Zarate said. "Because of him, he had an impact on so many people's lives, the community and the building."
Zarate views Gebauer as his, and many others', mentor and is very appreciative of everything he has done.
About the Writer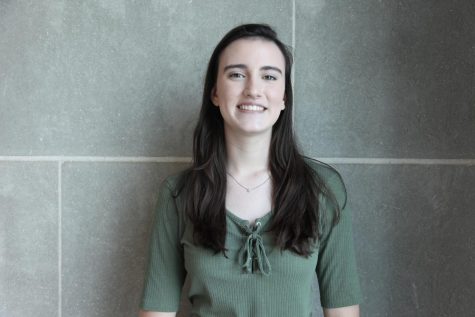 Abby Rohe, Staff Writer
Abby Rohe is a senior at Naperville Central High School. This is her first year being apart of the Central Times Staff. She hopes to learn more about journalism and the process of creating a newspaper. After high school, she aspires to become a Physician Assistant.