Central's Adapted PE program hosts 13th annual dance competition
Hang on for a minute...we're trying to find some more stories you might like.
It's not every day that students get to see their favorite staff members bust a move in the hallway. Modeled after ABC's "Dancing with the Stars," this year Central's Adapted P.E. program is celebrating its 13th year of Dancing with the Staff during the month of December.
Designed as a fun team-building activity, each adapted tribe has the opportunity to choreograph a dance to a song of their choice and then perform it with a faculty member. Each adult is allowed to watch the dance once through to get a feel for the moves but must perform it live for the camera without practicing.
"The first year we did Dancing with the Staff I made videos, and it was before cell phones so I videotaped all the dances," Adapted P.E. teacher Pat Adamatis said. "They were so funny that I edited out the best part of each dance and put them together into one clip."
This clip was then played in the old cafeteria during lunch, where students were able to vote for their favorite performances.
"The whole school got involved, and it revealed a whole new side to these teachers, these janitors, custodians and secretaries," Adamatis said. "The entire school was talking about it. I made this huge disco ball with lights for the winner, and I made a big deal about who would win. The teachers started getting really competitive."
It has been a challenge trying to find a platform where students can view the dances and vote.
"It's hard for me to find a place to play it because you really need the music," Adamatis said. "I may try to put it online and do a Google vote. I'm still brainstorming."
As a tradition at Central, many students hope Dancing with the Staff continues on after Adamatis retires at the end of the year.
"I think it's a really important event that Mrs. A started but hopefully continues on," junior Joanna Huang said. "It helps get teachers and faculty involved with Adapted P.E."
Credited with breaking down school boundaries, Dancing with the Staff has helped shaped the special needs community over the years.
"Pulling teachers and other faculty and showing them what we are about is everything," Adamatis said. "Once they come once, they want to be in it again because it's so fun. They get to see the cooperation with the peers and the special ed kids which is something I get to see every day. I see all the positives and I talk to the parents and that's what drives me, the friendships and relationships."


About the Writer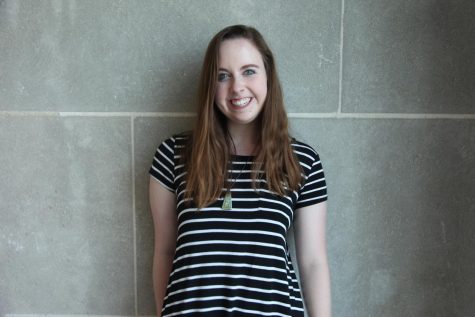 Claire Paschke, Entertainment Editor
Claire Paschke is a senior this year at Central and is pumped to be the Entertainment Editor! It's her second year on staff and she loves baking cookies and filling water bottles for her CT babes because hydration is important. Claire loves to watch movies and in her spare time you can find her baking bread at Great Harvest or destroying at bingo when she volunteers at St. Pat's. In the future, she wants to be an Environmental Engineer.