Snowball retreat empowers Central teens
When sophomore Katarina O'Kulich attended her first Operation Snowball on a chilly October weekend, she fell in love with the relaxing setting that Camp Henry Horner provided.
"It's very peaceful," said O'Kulich. "The camp isn't too big, and it feels far away from 'real life' even though it is only a little over an hour away."
Naperville Operation Snowball has been around since 1985, and has utilized Camp Henry Horner in Ingleside, Illinois as a backdrop for the "teen-led, adult-supported," wellness based retreat.
"It's right in the middle of the woods, off of the highway," senior teen leader Kevin Otto said. "You're sort of in this really beautiful, natural, serene area and it's just very refreshing."
The organization brings together teens from Naperville Central, Naperville North, Neuqua Valley, Metea and Waubonsie Valley for a weekend that focuses on substance abuse prevention and creating new relationships through student-led workshops, skits and activities.
"It's a really fun weekend where you get to make friends from all around Naperville and try all sorts of new things," said Otto. "If you're going through some things, it can be a really cathartic experience. If you're not, it's still a really fun and positive time."
Taking place in both the fall and spring, each weekend is three days long and is led by a handful of student and adult staff members.
The retreat aims to help build students' confidence, and arm them with the skills and resources they need to be happy and healthy, as well as help them create new friendships.
"It's a place for teens to come together and really connect with one another," said Traci Fertel, Naperville Central's Snowball Coordinator. "Snowball allows people to realize that they are not alone and they aren't the only people who feel a certain a way."
After initially being a Snowball adult participant, Fertel took over as Central's coordinator.
"I was drawn to it because we needed a wonderful prevention activity that could help all kinds of people," Fertel said. "I thought it was important to have a place for everyone where they could feel accepted and work on ways to make good choices and be healthy."
Fertel believes there are benefits for all participants, both teens and adults.
"I love the idea that it gives teens here a voice to say they can take care of themselves," Fertel said. "We need a place where teens can realize that they can be that positive voice. I love that people who wouldn't normally be in a position of leadership can get those leadership skills and experience."
Students can apply to be on staff after participating in their first weekend. After being interviewed, staffers attend weekly planning meetings three months prior to the retreat. They are then partnered with an adult who they collaborate with to plan and run a small group that serves as a home base for participants during the week.
Staffers are encouraged to get creative with the types of team-building activities they chose.
"My co-facilitator, Mazz, and I had spent months planning for the event so that the people in our small group would have the best time possible," junior Mo Augello said. "Our small group was outer space themed so on our last night together Mazz took us outside to look at the stars. As we were all star gazing, he pulled out a surprise for all of us. He bought us a star. He told us no matter where we were, we would be able to look up at the sky, and remember this moment and remember that we will always be there for each other."
Some people believe that Snowball is only a retreat for students who are struggling with illness or substance abuse but Otto emphasized that this is not the case.
"I feel like most people think it's only for mentally ill kids or kids who have issues at home with their families," Otto said. "Though a lot of people on the weekend do go as a form of group therapy, a big theme on the weekend is that it's OK to be OK. You don't have to have certain problems to go on the weekend. It's a time for positive people that just want to have fun and make friends."
Augello agrees and believes that teen leaders help to make sure the weekend is fun for everyone involved.
"Snowball is a place for everybody," Augello said. "Everyone on staff trains for months in advance to make sure that no matter the person, no matter their background, if they are a stranger or an old friend, to make sure that everyone feels loved and welcomed."
About the Writer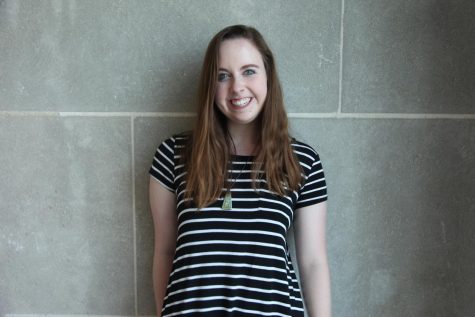 Claire Paschke, Entertainment Editor
Claire Paschke is a senior this year at Central and is pumped to be the Entertainment Editor! It's her second year on staff and she loves baking cookies and filling water bottles for her CT babes because hydration is important. Claire loves to watch movies and in her spare time you can find her baking bread at Great Harvest or destroying at bingo when she volunteers at St. Pat's. In the future, she wants to be an Environmental Engineer.