Naperville students make snow day video with superintendent
Ten Naperville Central and Naperville North students, along with both school mascots, collaborated with Superintendent Dan Bridges to produce a video informing students about the criteria used to determine whether or not there is a snow day.
On Nov 1. at 7 a.m. the students met with Bridges to shoot the video in one of the board rooms in the district administration building.
Communications Manager Jen Hannon describes the reason behind the video and Bridges' involvement in it.
"We decided to do this video project because students and parents are often wondering how a decision is made to cancel or delay school during a severe weather day," Hannon said. "Superintendent Bridges wanted a fun, kind of tongue in cheek video including high school students and both high school mascots to demonstrate a few of the factors he considers when we need to cancel school."
Factors that must be taken into consideration include the bus routes, windchill and extracurricular activities.
Bridges was the driving force behind the video's production. He came to Hannon's department asking how to go about making a funny and informative video. Hannon and her team brainstormed and came up with a script in one
hour.
CBS2 meteorologist Mary Kay Kleist makes an appearance in the film She did a fake weather report for the video in order to make it more realistic.
The filming is complete, but the video editing is still in progress. Senior Mike Rapsys is producing and editing the film for Bridges. Although the editing is not finished, the video is estimated to be two to three minutes long at the most.
This video will be done before the first snow of the year. It will not only be posted on social media and the District 203 website but will also be sent to 22 other schools. Bridges will post it on his social media, showing it to all students and parents.
Senior Maria Rottersman worked with Bridges and was included in the video.
"I just think I've never really met Bridges and what a funny guy he is," Rottersman said. "He's willing to make fun of himself and he's super casual. I expected to be intimidated by him, but he's super nice."
North senior Vincent Roberts, who was also part of the video, described his favorite part of making the video and what it was like to be featured in a video for the school district.
"My favorite part was getting to meet all the Central people," Roberts said. "I don't get the opportunity to see them that often and so coming together to make a video for [District] 203 was cool."
About the Writer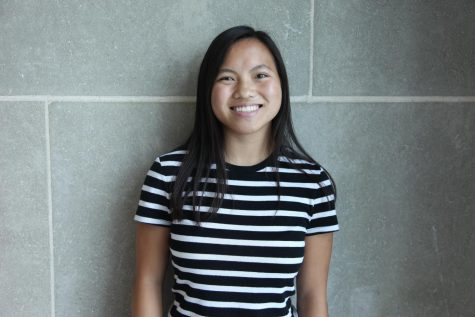 Alana Cervera, Online Managing Editor, Sports Columnist
Alana Cervera is a senior at Naperville Central and is a second-year staff member on Central times as the Online Managing Editor. She brings a positive attitude and writes stories from a new angle. Outside of Central Times she ballroom dances and dives for high school, constantly staying busy and active. She hopes to become a Nurse and start a career in the medical field after high school.