Central hosts annual Veteran's Day assembly
Veteran's Day. A day to remember all those who have lost their lives in order to protect the United States from harm. A day to remember all those who have lived to tell the tale of war. In remembrance of those who served, Naperville Central had an assembly on Nov 11.
The assembly started off with the Wind Ensemble playing patriotic music while everyone was getting seated.
"The music was amazing and wonderful," Michael Gallagher, major, said.
After everyone was seated, the veterans were introduced, with the theme of their respective branches as the principal introduced them to the audience. Then the pledge was said, and the choir sang the national anthem. WIth that, speeches were delivered by the daughters, sons and grandchildren of those who served.
The most notable speech was given by senior Erin Gallagher, the daughter of Major Michael Gallagher, about her life as the daughter of a someone who has served.
After the speeches, questions from the students of Central were asked to the veterans, who answered with amazing answers with the insight of a person who has served.
To cap the assembly off, the Wind Ensemble played moving, patriotic music.
"[Veteran's Day is a] day to remember those who have we don't think about, but are very important," Alan Wandke, freshman, said.
About the Writer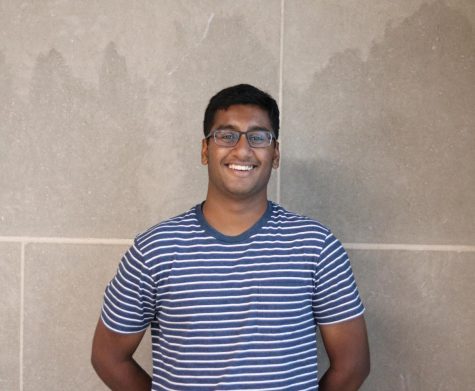 Prem Chandrasekar, Managing Editor
Prem Chandrasekar is a senior at Naperville Central. This is his second year of staff as a Staff Writer, and his first year as a Managing Editor. Prem plays on the tennis team, is involved in JSA and Merry Tutor. In his spare time, you can see Prem binge watching Arrested Development or coaching tennis for kids with Down Syndrome. In the future, he hopes to attend the US Air Force Academy.