Upcoming Drumshow prepares to get 'happy'
Drumshow will be held on April 11 at 7:30 p.m. and April 12 at 3:00 and 7:30 p.m. All cast members are currently selling tickets. Tickets will also be sold in the cafeteria the week of April 7.
Emily Zhen, Managing Editor, Opinions Columnist
March 26, 2014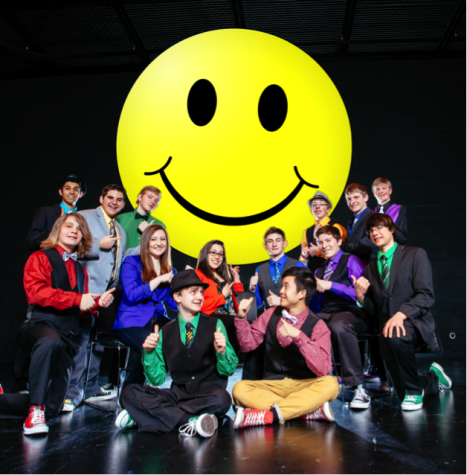 Featuring a diverse array of percussion ensemble music, singing, dancing and more, the annual Drumshow draws an audience of about 2000 people every year. Started in 1994, the popular performance will showcase the talents of 13 Central percussionists this year, along with a bass player, dancers and singers.
Director Ben Wahlund describes the annual Drumshow as a mix between Cirque Du Soleil, Blue Man Group and Drum Line.
Wahlund has served as director for nine years, along with assistant directors Brandon Estes and Brad Stirtz. When directing Drumshow, he keeps two main factors in mind: the "educational needs" of the percussion students and "audience appeal."
Senior Rebecca Paras, who has been part of Drumshow since freshman year, loves its exciting nature. Her original inspiration to try out for the show came after seeing her older brother perform in it.
"It's high-level, it's energy and it's high quality music," Paras said.
The theme of this year's show will be "happy." To accommodate this theme, Wahlund revealed that a large, yellow smiley face will be painted on the auditorium stage and the Drumshow cast members will dance to the song "Happy" by Pharrell Williams. Other theme-related surprises will be uncovered during the show.
Even the guest performer this year is extraordinary, according to Wahlund.
"This year, we can [also] look forward to a great guest artist performance, a world-renowned steel pan player," Sam Cohn, sophomore Drumshow cast member, said.
As director, Wahlund views these experimental risks as chances to "responsibly explore" and "think outside the box."
The Drumshow audition process starts in November, when interested students are given a set of pieces to learn and practice for audition day. In December, three experienced percussionists come to judge in a blind process where the judges can hear, but not see the students. Rehearsals start right after winter break in January and are held every weekday morning at 6:10 a.m.
"We usually rehearse one to two pieces every day," Cohn said. "Sometimes we rehearse quartets and trios…at the same time. Our director largely depends on students self-directing."
Cohn enjoys Wahlund's teaching style both for Drumshow and when taking private percussion lessons with him.
"He is very witty, so we definitely have some laughter during rehearsal, but when you get down to it, he expects a lot of things from us," Cohn said. "He runs on the philosophy that practicing is not rehearsing. Practicing is learning your part when rehearsing is learning how to play your part in relation to other parts."
From four years of Drumshow performances and early morning rehearsals, Paras can attest to the "family" feel of the Drumshow cast. She adds that each year brings a distinct group of people, personalities and strengths.
"Every year has a different dynamic to it," Paras said. "Wesley, Rishi and [I] were the youngest ones in the group and now we are the oldest. Now the group is full of younger kids and we have a feeling we're mentoring them. This year, I feel like we are very strong in our music playing."
Wahlund agrees with Paras' insight about this year's strong musicianship. He also appreciates the consistency and professional behavior exhibited by this year's cast members.
This year's show will be held on April 11 at 7:30 p.m. and April 12 at 3:00 and 7:30 p.m. Ticket sales will begin online on March 24 or from Drumshow cast members starting March 20. Tickets will also be sold in the cafeteria the week of April 7.
When watching the show, Wahlund would like to remind the audience to be unafraid to participate.
"Drumshow is way better than Friday night television," Wahlund said. "It's just straight up fun."
Update: Since the article was written and published, there have been several changes to the Drumshow that were not reflected in the print version of the story released on Tuesday, March 25. The Great Music Education Experiment is no longer occurring during this year's Drumshow, and due to an injury, junior Danielle Breeden will no longer be performing a balance beam routine, according to senior Drumshow cast member Wesley Lo. The Central Times apologizes for any misunderstanding and printed the online version of this story to reflect the changes to the show. Thanks for understanding!