Review: Up and coming Conan Gray comes to Chicago
Maggie Dalton, Head Photo and art, Community Editor & columnist
December 1, 2019
On Nov. 1, I went to the House of Blues in Chicago to see Conan Gray on "The Comfort Crowd Tour."
At 8 p.m. UMI, a Lo-fi R&B artist, opened the show. She sang a few of her singles, a cover of "Put Your Records On" by Corinne Bailey Rae, and the songs off of her new EP "Love Language."
She sang with a band and utilized a voice changer at times. She made an effort to connect with the audience by having them breathe with her. Her songs and voice were very chill and soothing. She performed for about 45 minutes.
At 9 p.m., Gray walked on stage singing one of his many singles, "The King." Gray is an artist that falls under the dream and indie pop genres.
His music contains layered vocals to create an original sound. This was his second tour and third time performing in Chicago. Along with his two tours, he performed at Lollapalooza this last summer.
Gray performed all of his released songs along with a cover of "Burnin' Up" by the Jonas Brothers, an unreleased original song from 2017 named "I Know A Place" and a song off of his unreleased album. He had a band with someone on drums, guitar, and keyboard.
Gray played guitar, his performance was energetic, and he connected with the crowd well. His songs' emotional range is what made his concert great. One minute you could be blissfully nostalgic swaying and angrily fist pumping the next.
My favorite part of the concert was during Gray's performance of his unreleased song "The Story."
This story follows Gray and his friends' lives in high school, explaining the hard times they endured. Gray performed this song with a guitar by himself. The crowd stood in silence, listening to the meaningful lyrics. The song conveyed so much emotion it made me tear up.
The concert was very enjoyable. The energy and music were dreamy, nostalgic and emotional.
Gray's original sound, personality and ability to make the audience feel the emotion in his songs are sure to take him places. His new album is sure to be a hit. When Gray comes back to Chicago, I will make sure to buy some tickets.
The concert was amazing and my final rating reflects that: 9/10.
About the Writer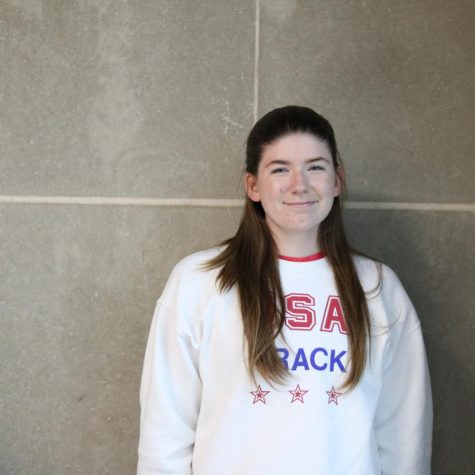 Maggie Dalton, Head Photo and Art, Community Editor & Columnist
Maggie Dalton is a senior at Naperville Central High School and Head of Photo and Art. This will be her second year on staff. She loves the friendships and community in the Central Times. Maggie runs cross country and track as well as participating in Student Advisory Council. Outside of school Maggie leads church retreats, hammocks, and plays ukulele. In the future, she hopes to become a high school Social Studies teacher.