Theatre Central delights with vintage murder mystery
Theatre Central's 2018 spring mainstage, "The Game's Afoot," directed by Susan Johnson and senior Abby Peterson, is a 1930's murder mystery filled with dangerous deception and backstabbing betrayal. Filled with surprising twists and turns, it will keep you on your toes the entire evening.
Written by Ken Ludwig, the show takes place at the lavish Connecticut mansion of William Gillette — a famed actor praised for his role as Sherlock Holmes — who is played excellently by senior Alex Jech. A group of his fellow castmates come together for a weekend of fun, but when one of them is brutally murdered things take a sinister turn. Gillette then takes it upon himself to embody his inner detective and search for the true killer.
Jech is accompanied by a highly talented group of actors who help bring this story to life. Junior Bailey Bergquist plays Gillette's exuberant and hilarious mother Martha, adding an element of comic relief to a dark storyline. One of the most memorable scenes to me was when Martha has one too many sleeping pills and must keep her cool around the no-nonsense Inspector Goring, played by junior Nora Lullo.
The show features many Theatre Central veterans, including senior Peri Griffiths who plays the cunning Madge Giesel and junior Angelena Sichelski, who embodies the fiery and flirtatious Daria Chase. But it also features the mainstage debut of freshmen Lauren Gilfillan, who does a fabulous job playing the role of young newlywed Aggie Wheeler.
The costume crew headed by junior, Iva Petrova, and sophomore Grace Johnson, did a great job and I loved all the extravagant evening gowns and 1930's glamour. The crisp button downs and long satin gloves added a depth to the show that made me forget I was watching a high-school production.
The set was also well done; the hidden bar that appeared from a push of a button, along with the golden chandelier, was amazing to experience, transporting me to another time period. Scenic designer Andy France and technical director Nick France, along with all members of the tech crew should take a bow for a job well done.
"The Game's Afoot," directed by Susan Johnson and senior, Abby Peterson, is running March 10 at 7:30 pm in the NCHS auditorium. Tickets are $5 at the door.
Everything about this performance, from the ominous lighting to the beautifully performed scenes make it a must-see for this weekend. Unpredictable and darkly funny, Theatre Central dazzles with this latest performance.
About the Writer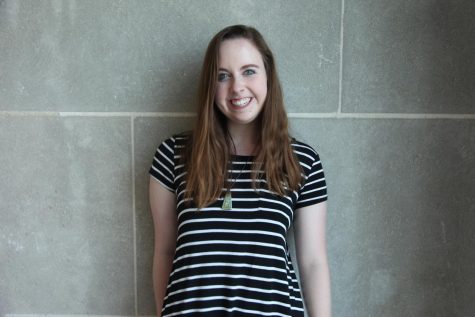 Claire Paschke, Entertainment Editor
Claire Paschke is a senior this year at Central and is pumped to be the Entertainment Editor! It's her second year on staff and she loves baking cookies and filling water bottles for her CT babes because hydration is important. Claire loves to watch movies and in her spare time you can find her baking bread at Great Harvest or destroying at bingo when she volunteers at St. Pat's. In the future, she wants to be an Environmental Engineer.