75th Golden Globes acknowledge social issues
Before the show even started, my Instagram feed was flooded with pictures.
The 75th Golden Globe Awards were held on Jan. 7 2018. The big winners of the night, "Three Billboards Outside Ebbing," "Missouri" and "Big Little Lies" shared the stage with the many attendees supporting the TIME'S UP movement.
Frances McDormand won Best Performance by an Actress in a Motion Picture-Drama for her role of a mother attempting to solve her daughter's rape and murder in the film "Three Billboards Outside Ebbing, Missouri." The movie won four awards in total, including Best Motion Picture-Drama, Best Supporting Actor (Sam Rockwell), and Best Screenplay (Martin McDonagh).
"Many of you know I keep my politics private, but it was really great to be in this room tonight," McDormand said in her apropos acceptance speech.. "And to be part of the tectonic shift in our industry's power structure. Trust me, the women in this room tonight are not here for the food. We are here for the work."
While women were notably not included in the nominations for Best Director of a Motion Picture, female focused storylines dominated the winners of the night.
"Big Little Lies," which tells the story of the ugly truth underneath the surface of a seemingly perfect Calif. town, took home the most awards for the small screen, winning Best Television Limited Series or Motion Picture Made for Television. Both Reese Witherspoon and Nicole Kidman were nominated for Best Actress in a Television Limited Series or Motion Picture Made for Television, with Kidman taking home the Golden Globe. In addition, Alexander Skarsgard won Best Supporting Actor and Laura Dern won best Supporting Actress, in the television category.
For her portrayal of a high school senior in the coming of age film "Lady Bird," Saoirse Ronan won Best Performance By an Actress in a Motion Picture-Comedy or Musical. The movie also took home the award for Best Motion Picture-Comedy or Musical.
Anyone watching the awards show or red carpet took notice of the many nominees and guests dressed in black. This was done in response to the TIME'S UP social media campaign "on Sundays we wear black."
The goal of the organization is to raise funds for a legal defense team for men and women who have been victims of sexual harassment or other injustices in the workplace, as well as awareness to the widespread issue that has been highlighted in the #MeToo social media movement and the ousting of prominent men in Hollywood.
The home page of the website, www.timesupnow.com, states, "the clock has run out on sexual assault, harassment and inequality in the workplace. It's time to do something about it."
Acceptance speeches throughout the night mentioned the movement as well as empowerment of women in general. Oprah, the first black woman to be the recipient of the Cecil B. DeMille Award delivered a speech which reached out to both women and African-Americans.
"What I know for sure is that speaking your truth is the most powerful tool that we all have, and I'm especially proud of all the women who have felt strong enough and empowered enough to speak up and share their stories," she said.
The uniting and dynamic nature of the speech resulted in a standing ovation from the audience as well as rumors of a possible 2020 run for president.
Her words were the powerful bookend to a night centered on raising awareness for the mistreatment of women, and sometimes even men, in workplaces across America.
"I want all the girls watching here and now to know that a new day is on the horizon!" she said. "And when that new day finally dawns, it will be because of a lot of magnificent women, many of whom are right here in this room tonight, and some pretty phenomenal men fighting hard to make sure that they become the leaders who take us to the time when nobody ever has to say 'Me Too' again."
You can learn more about TIME'S UP and how to donate at www.timesupnow.com.
About the Writer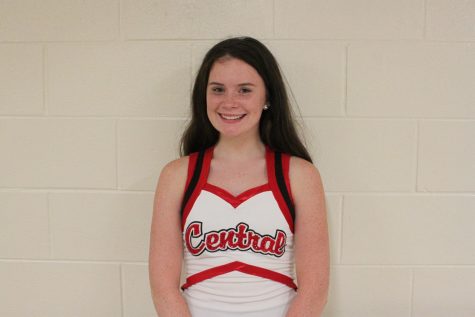 Megan Troke, Editorial Editor, Sports Columnist
Megan Troke is a senior at Naperville Central and is excited for her first year on the Central Times editorial board as Editorial Editor and Sports Columnist. She is excited to come up with new ideas every month for her sports column and getting more experience in journalism. Outside of Central Times, Megan is the captain of Orchesis and a member of the Varsity Arrowettes dance team. This fills up most of her time but she finds time to enjoy Netflix, her favorite show is Parks and Recreation and often rewatches the shows she loves. In college, Megan plans to study Political Science and Journalism and hopes to be on a dance team.
"Change will not come if we wait for some other person or some other time. We are the ones we've been waiting for. We are the change that we seek."
~Barack Obama
Contact Information:
[email protected]