Blue Eyed Garden pursues passion in music through local performances
People seated at Empire, a restaurant in Downtown Naperville, focus on the stage in front of them, cheering as band Blue Eyed Garden charges onto the stage. Everyone grows quiet as lead singer, senior Rachel Fockens, steps to the microphone.
This is a typical Tuesday night for the band, which performs at open microphone night at Empire every Tuesday.
"We're good friends with the guy who hosts it, so we get on the list early and then we get to play for everybody," junior Maggie Smith, the band's drummer, said. "It's a lot of fun."
The band is comprised of Smith, Fockens, sophomore guitarists Cam Kiefer and junior high student Levi Hansen and senior bassist Gavin Williams.
The name Blue Eyed Garden was inspired by the eye color of the band members. Almost all of them are blue-eyed.
"We've gone through a couple of different names," Smith said. "We originally chose the name Rage Cage Animal when we had a different line up of people in our band. It didn't really fit us [anymore], like at all. This past summer over the Fourth of July we went to this event, a music thing with a bunch of friends. It was there where we were like, let's just change our name. Rachel really wanted to incorporate the word garden into the name and most of us have blue eyes so we called it Blue Eyed Garden."
They play a large selection of music that varies from performance to performance.
"We go anywhere from Led Zeppelin to more punk songs," Smith said. "It's kind of a little bit of everywhere."
The band members' favorite song to play is called "Romantic."
"It's really loud and then gets really soft, and then it gets really loud again," Smith said. "It's one of our favorite songs to play because it reaches everywhere."
Blue Eyed Garden does not just work on originals.
"We're writing some originals, but for right now we're just performing covers so we can get our name out there," Smith said.
The band members met at School of Rock and came together around their love of music.
"[School of Rock's] main group [is] the performance group, and you just get together with people […] and play one big show," Smith said. "But then there's the select group [called] the house band, which is the most talented, most respected students. They get to play together and promote School of Rock. So we're all in house band and we were like, 'Hey, let's all get together and do this.'"
They all bonded through their passion for music.
"It's funny 'cause none of us are very athletic, at all, so then it's like most people that aren't athletic just go to something else," Smith said. "To just put all of our creative elements together is a lot of fun and just to really share what we all do and combine our interests is just really cool."
Blue Eyed Garden performs all over Naperville.
"We've played at a couple block parties, my backyard," Smith said. "We play for everybody. A couple weeks ago we opened for this band called Ethel Shank and that was a lot of fun."
They've learned a lot from being in a band together.
"Two people in our band left and we had to replace them," Smith said. "We usually didn't work well together so it caused a rupture in the structure of our band 'cause we all liked different types of music, but now we have two other people in the band that connect everyone. So now we're all on the same page about where we are as a band. You just need to learn to cooperate with others."
Blue Eyed Garden has shared many memories together as well.
"We all went to this music thing to support our other friend's band on the Fourth of July and we all just hung out and just had a great time and watched fireworks together," Smith said.
Smith gave advice to aspiring musicians.
"Keep trying," Smith said. "Keep going. Don't give up. You will get there eventually."
Smith lives by her own words.
"As a musician it's really hard to get out there," Smith said. "And you're just like, what's the point if I'm not gonna get there? But you just gotta remember something will happen. An opportunity will come up. It's not about getting famous or having money. It's about doing what you love."
The band's future is currently at a standstill.
"We may be recording, we may not be recording," Smith said. "Since Rachel is going to college in less than a year it's kinda all up in the air. We're just doing it for fun."
About the Writer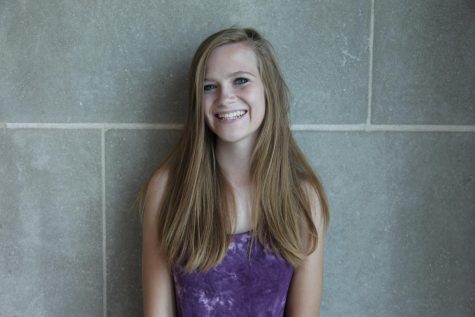 Noelle Schwarz, News Editor
Noelle Schwarz is a senior at Naperville Central and is excited about her second year on the Central Times editorial board as a News Editor. She's looking forward to getting to tell people's stories that don't normally get heard and to give a voice to the students at Central. Outside of school, she likes to kayak, play the ukulele, write stories, and work on films. In the future, Noelle plans to become a film producer.