Board candidate overview: Thomas Andrew Binkowski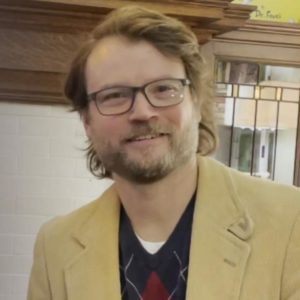 William Tong, Online Managing Editor & Editorial Editor
March 9, 2021
Introduce yourself. What do you do?
I go by my middle name, Andrew. I am a professor of computer science at the University of Chicago, [and] my academic research is focused on computational drug discovery. I went to [the University of Illinois]. I got an undergraduate in chemical engineering. I have a PhD in bioengineering [and] did my [postdoctoral] work at Argonne National Lab for about 15 years. I was on a national science foundation grant that was aiming to integrate computer science into math curriculum in K-12.
What do you hope is accomplished by the board if you're elected?
It would be nice to include junior high and maybe even elementary school [students] as student ambassadors on the board. It's my own personal bias, but I think that we should try to figure out integrating more computer science as a core competency. It's ubiquitous across all learning in all jobs. We have the infrastructure advantage of everybody having a computer. We [also] need to define new digital citizenship standards for everybody. [Students] would get [assignments] on websites that had advertisements that weren't appropriate, had to use their Google logins to log into or collect information about your Google suite account. We should encourage teachers to work together [and] develop the curriculum that they're going to give to our kids and not just cut and paste together stuff they find. [And], no matter what school looks like next year, if it's remote, hybrid or in-person, we have to have snow days, [for] in-person [and] remote learners.
What are your thoughts on the current district COVID-19 response? What is going well? What would you change?
It's been confusing. I think a lot of it has to do with the communication. They would just say, 'we're following this metric this week.' They just waited it out long enough until it seemed like it was okay. For such a world class school district it seems that we were caught off guard. There might be some things that were, from an educational standpoint, an improvement, [like block scheduling or asynchronous Mondays]. My niece goes to Naper Elementary School, and their fifth grade was so crowded that they [are] at Washington Junior High. There are definitely options and flexibility, [but] It just seems that there hasn't been a real concerted effort to actually try to figure anything out.
Are you in support of mandatory COVID testing or a mandatory COVID vaccine requirement from the state for students to learn in-person next fall? (Aside from medical or other exemptions?)
Getting a vaccine for children is not realistic by next fall in any way. They just started doing clinical trials on it. They wouldn't even have approval yet. It ultimately should rest in the family whether or not they want to pursue that. [The district has] offered the testing, [and] the percentage of the community [that] has opted into it is very low. That sends a message that this is something that the community doesn't want.
If elected, how do you think the board would address issues with teacher fatigue and excess teacher turnover?
The district did say that they were planning to go back full time next year, [and] that their goal is to try this year, too. Hopefully, that excitement for going back to school will make everybody forget the misery for the past 11 months. The only thing that the board can do is celebrate the teachers as much as possible [and] make sure that they have the resource available to them.
During the Aug. 17 meeting, the current board passed "Resolution affirming the authority of the superintendent to implement Return to Learn plan for 2020-2021 school year." Any thoughts?
I don't think it makes any sense whatsoever. It is not clear what purpose that actually served. There [were] no other school districts around us that did anything similar. If there's a legal reason for it, they should just say with transparency, 'we have to do this because we don't want to get sued.' The other thing that was even weirder about the whole situation is one of the board members objected to it. Paul Leong said no. If this was something that was mandated by the state, then you're suggesting that he went against state law. It just seemed like they weren't up to actually addressing the situation, and they didn't want to bear the culpability of [an] unhappy community.
How can we as a district address issues regarding racism, bias, diversity, equity and inclusion?
At the very top level, it starts with identifying the right teachers. There's definitely a gap in addressing parents in their home. A parent can laugh or say: 'that's not important. Don't worry about that. That's not really how it happened.' Parents are the first teachers of their kids, [and] making parents more aware ultimately is going to help.
One last thing: why should people vote for you?
I'm a parent of four District 203 students. I have first hand experience of what's happening in the district. I've been actively involved since my oldest daughter was in kindergarten, volunteering on a weekly basis for the past 10 years inside of schools. I'm also a teacher. I know what it's like during remote learning. I am familiar with curriculum development, design, execution and pedagogy. I'm also a scientist who's spent almost 15 years doing drug discovery research. I can read the scientific papers [and] put them together. It gives me experience and objectivity, the kinds of things the school board needs to become a world-class school district [again].
Find out more about Andrew Binkowski: