Naperville Central welcomes new staff members for the 2019-2020 school year
New staff member Taylor Heatherly shares a few fun facts about herself with the Central Times
Q: So you work in the English department, correct?
A: Yes.
Q: What classes will you be teaching this year?
A: I'm teaching four sections of English 1 and one of Senior Rhetoric first semester, and then I'll teach World Lit next semester.
Q: What is your educational background?
A: I attended Baylor University and I got my degree, Bachelor of Science in secondary education, English language arts, and reading. I also just got my master's in writing, rhetoric, and discourse from DePaul University.
Q: What were your jobs prior to coming to Central?
A: I worked at Wheaton North, where I used to teach AP Language, so hopefully I'll eventually get to teach that again.
Q: What are your hobbies or interests outside of your work?
A: I really love being social. I love hanging out with friends. I also really love working out, like weightlifting and yoga. I like being active and playing soccer. Other hobbies I have are eating. I love trying out new restaurants, writing, and reading.
Q: What influenced you to become a teacher?
A: Well, ironically, a lot of teachers at Naperville Central influenced me to become a teacher. A really cool story is that I actually took Senior Rhetoric (it was called Essay Writing at the time) with Mr. [Barry] Baldwin. (Note: Heatherly graduated from Naperville Central.) I took it second semester because I was working on scholarship essays. At the time I was contemplating physical therapy because I loved being active, or maybe starting my own non-profit because I loved event planning, or I wanted to be a teacher, but on my piece of paper I found that it said, "come back, you're going to come back and be an NCHS teacher" and it was the coolest thing. So that's that. I just had a lot of really, really good teachers, and I just think words are so powerful, and I love analyzing things, and I also thought, "what is a profession where I can help people the most?" And so here I am.
Q: What philosophy do you hold about teaching, and what can your students expect from you this year?
A: Students can expect a lot of energy. I love to make things fun. I also love to ask difficult questions and just kind of get to the nitty-gritty because I love getting people to realize how much of what we're teaching them applies directly to their life. My teaching philosophy is really to use language to empower students and help them realize how much Communication Arts will lead them to be happy and successful.
About the Contributor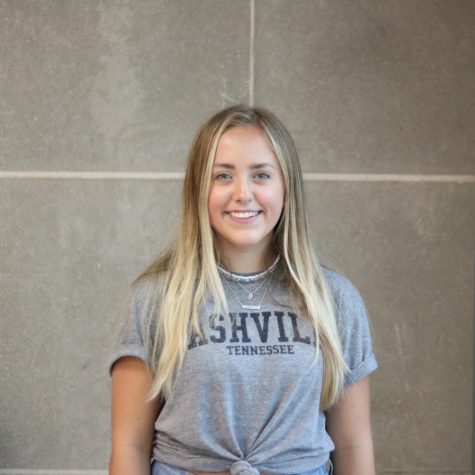 Emily Brodzinski, Staff Writer
Emily Brodzinski is a senior at Naperville Central and is a Writer. This is her first year in Central Times and she is very excited to see where it takes her! Outside of Central Times, she spends her free time listening to music, spending time with her friends and family, and babysitting from time to time. She is looking forward to a great year in Central Times and hopes that it will help guide her towards a successful career as a journalist in the near future!