Diving state champion Sydney Dusel shares her story
Two years ago, diving wasn't anywhere on Sydney Dusel's radar. At the time, the Central sophomore was a nationally ranked gymnast training at level 10, the stage before Olympic level.
​But a severe back injury forced Dusel to quit gymnastics right before high school. Her diving journey began soon after.
​This season, Dusel became the first female diver in Central history to win the diving state championship. Her score of 450.55 points set a school record, topping New Trier senior Juliette Corboy by 24 points. This was Dusel's first year competing at the state swimming and diving meet, held from Nov. 22-23 at New Trier High School.
"If I didn't get a back injury, I would never have started diving," Dusel said. "I was literally in love with gymnastics, but after I got my back injury, I knew I had to move on and do something else."
After a 10-year-career in gymnastics, Dusel's mom signed her up for diving lessons. Now, she competes in national meets, placing second at the 2013 Amateur Athletic Union (AAU) National Championships in her age group.
"When I started diving I was still trying to practice gymnastics, but once I knew that if I didn't stop gymnastics that my back would have progressively gotten worse, I dedicated all my time to diving and practiced really hard to get where I am now," Dusel said.
Looking back on the past two years, Dusel only wishes she started diving earlier. After she stopped gymnastics, Dusel took a six-month break before beginning to dive, but she says she "lost a lot" in those six months. It was time that could have been spent training and moving forward.
Still, Dusel attributes her diving success to her gymnastics background and experience, which prepared her both physically and mentally for her new sport. The agility, flexibility and strength from floor routines in gymnastics helped with Dusel's diving twists and flips. Dusel says that her long and lean body type helps her enter the water with minimal splash. The mental toughness Dusel developedfrom gymnastics applies to her mentality on the edge of the diving board.
A host of physical challenges have helped Dusel improve her mental game even further.
​The day before Sectionals, Dusel recalls throwing up and feeling absolutely sick. She stayed home from school and diving practice. Even after resting, she still felt sick on Saturday. But Dusel refused to let her health stand in the way of her road to a state title.
​"I definitely did feel kind of sick, but I knew that I had to compete well to go to State for my teammates, so I just had to keep it up," Dusel said.
​Even with this mental toughness, Dusel admits that the nerves still affect her. Her teammates, family and coach helped her overcome this pressure during State.
​"Between every single dive [teammate Sophia Heiserand I] would go to the locker room and listen to music and dance," Dusel said. "A few moments before the dive, we'd talk to our coach about what to do to make our dives the best."
​Dusel adds that when she first started diving, she didn't know how to handle the nerves.
​"[During meets,] I was on my phone texting my friends saying how bad I was doing and that negative attitude showed in my dives," Dusel said.
​This year, she avoids distractions on her phone. Instead, she focuses on each individual dive, especially on "getting more height from the board."
​Dusel's goals for junior and senior year include improving on her personal diving records, winning State again and placing well in national meets.  She hopes to continue diving in college and to go as far as possible.
Leave a Comment
About the Writer
Emily Zhen, Managing Editor, Opinions Columnist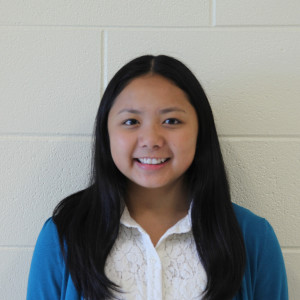 Email:
[email protected]
Favorite Quote:
 "Do you ever have nightmares that you don't align to baseline grid?" - Mikayla Ostendorf
Best CT Memory:
 Walking down the San Antonio Riverwalk with the rest of the CT staff at convention last year. It was absolutely picturesque at night, and we ate at a great Tex-Mex restaurant called Iron Cactus. They had the best guacamole that we sat there eating for a whole hour.
A word that describes me is... 
enthusiastic because I'm passionate about the activities and organizations I'm involved in.
My interest in journalism is...
 news and opinions writing.