Breaking the Ice: Two Central students share their passion for figure skating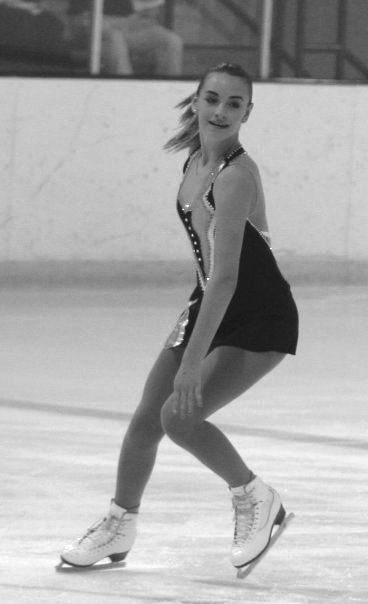 While most teenagers have never heard words "salchow" and "lutz" before, these terms are used every day for a few Central stu­dents.
For sophomore Kasey Smith, waking up before dawn every day is a regular routine, since she figure skates by 6 a.m.
"I have to skate in the morn­ing because of track," Smith said. "Normally, I skate every day for two hours."
Freshman DeeDee Leng's sched­ule allows her to leave school early because of her skating.
"Everything I do has to work around my sport," Leng said.
Although Leng and Smith have different schedules, they still share the same passion: skating.
"I love it," Leng said. "I enjoy all of it, and making new friends is awesome."
Both Leng and Smith started skating at a young age. Smith began skating at the age of four, while Leng started at the age of five.
Smith recalls watching skat­ing on TV and wanting to try it.
Leng became involved after a friend invited her to a public skate, where anyone can go skate for a low cost.
Despite the differences in the beginning, they both began skating competi­tively.
"I tried so many sports; [skat­ing] just fit," Smith said.
Leng admitted that skating was not on her priority list when she was younger.
"It wasn't my first choice," said Leng, "but I kept going back for more."
Smith and Leng spend time conditioning off the ice for better strength. Both Smith and Leng perform various cardiovascular exercises and weight-lifting.
Leng also does pilates and ballet to help her be more graceful on the ice.
Compared to other sports, Leng feels that skating is more rigorous and competitive.
"Most of it is similar: the training and the hard work, plus the time," Leng said. "Skating is a year-round sport; we get ready for competition.
"We have to train for half a year before we are well-prepared. We are always learning new 'tricks' so we're competitive in our level."
Recently, Leng competed at the U.S. National Cham­pionships in Cleveland, Ohio for figure skating. She re­cently won the Junior Ladies Champion title, the second highest level out of the eight different levels.
Smith said her biggest accomplishment was winning nationals for her synchronized skating team.
"It was the best feeling in the world," Smith said. "I couldn't stop smiling that day.
"I love the feeling of competing, especially if you do well."
Although both Smith and Leng like competing, they both know there are some drawbacks to the sport.
Smith dislikes waking up early to practice, especially since she has track in the afternoon, she said. Leng also said not having a social life is a drawback about figure skating.
"I love my school friends, but it's hard with my wacky schedule to find time, and my skating friends live far away," Leng said. "There's a lot of parties and hanging out time that I miss out on, but in the end, it's all worth it."
Despite these sacrifices, both Smith and Leng enjoy the sport.
Smith particularly enjoys competing, especially after winning nationals for her synchronized skating team, a team that performs various skating moves at the same time.
Leng finds jumping and making new friends as a high-point about skating.
Although Smith loves skating, she feels other people do not appreciate the sport enough.
"A lot of people don't give it enough credit," Smith said.
Leng said some people don't under­stand how challenging skating is.
"There definitely is a different schedule," Leng said. "Athletes all know there's a lot of sacrifices that comes with it.
"There's a lot of traveling for competitions, eating in the car and being organized. I have awesome and sup­portive friends and teachers. It helps a lot."
Although few teenagers understand the language of a figure skater, the sacrifices and determination it takes to succeed is just as important as any other sport.
Alex Higgins
Opinions Editor