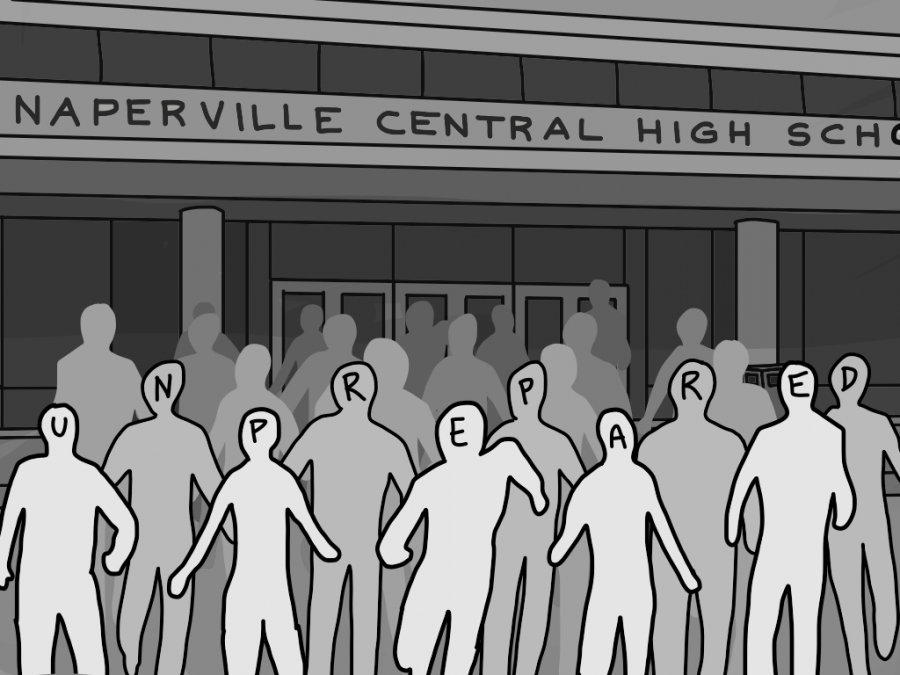 Art by Isabel Zhou
It could happen anywhere.
That's what many students across the country, even here in Naperville, were afraid of after Nikolas Cruz killed 17 at Marjory Stoneman Douglas High School in February of 2018.
It could happen here, but we're unprepared.
Naperville District 203 high schools experienced three shooter or bomb threats within the first two months of the school year. Thankfully, no one was hurt, but they've disrupted multiple school days and caused mass panic.
American students face unacceptable risks to their safety in the learning environment. Some of our grandparents worried about nuclear destruction while they were in school. They would be heartbroken if they knew that we now have rogue school shooters and anonymous bombers to fret about instead.
Similarly heartbreaking, however, is that there are students in our community and around the country who think that sending threats is a funny prank or can get them out of school. They don't recognize the consequences of their actions. The Oct. 18 shooting threat to Naperville area high schools caused two-thirds of the Central student body to leave campus. Not every student thought the threat would come to pass, but the situation frightened many students and their families like never before.
Making people fear for their lives isn't humor. It's terrorism.
Recurring threats also create a "boy who cried wolf" effect. When students and adults become desensitized to them, believing more and more that nothing will happen, schools become even less prepared in the event of a real emergency. While it's true that law enforcement and school officials have protocol to take every repeated threat seriously, an overly skeptical attitude could cost lives.
Naperville Central and District 203's response to the Oct. 18 shooting threat also left students and families on edge. The administration's methods of trying to keep students calm caused more harm than good. They were aware of the threat at the start of the school day, but did not address students about it until more than two hours later. In the event of a real emergency, this delay could make a huge difference. Regardless of why the decision to wait so long was made, it allowed rumors to spread and anxiety to build up.
Administrators' actions also sent mixed messages about whether the threat was valid. Students weren't officially supposed to leave the building, but the school still permitted a jumbled exodus of hundreds of students throughout the morning. While the deans tried to streamline the dismissal process inside the building, personnel out in the parking lots were checking to see if students had passes, sending them back inside if they didn't and adding to the confusion.
The worst problem: an actual active shooter could have waltzed through Door 1 amid this chaos and confusion. Based on data from Education Week's school shooting tracker, Naperville Central would then have been the site of America's 24th school shooting this year.
Every time school shootings take the limelight, the conversation always centers on gun regulation. And while there should be national changes made to firearm access, there are other actions we can take that are easier to get behind.
Law enforcement and school administrators have to share as much information as they can with students and families as soon as possible. Especially with the Oct. 18 threat, when students may have overestimated the risk level, explaining exactly how and why we were safe could have kept people more at ease and prevented the massive student outflux that day, which in itself was a safety concern.
A more systemic solution lies in how we fund police. These threats were perpetrated through digital means, but cybersecurity is a weak spot for American law enforcement. A 2018 Center for Strategic and International Studies survey of American police departments found that only "58 percent felt their department has access to the resources needed to meet their digital evidence needs."
It is essential that law enforcement continue to successfully apprehend the individuals responsible for these threats, or they'll continue to happen. To achieve that goal in the age of the internet, social media and VPNs, policymakers must bolster divisions in charge of cyber investigation.
Not every school year at District 203 starts off with three shooter or bomb threats, but 2021 serves as a reminder: it can happen anywhere. Before it's too late, let's make the changes so schools are safe for students.