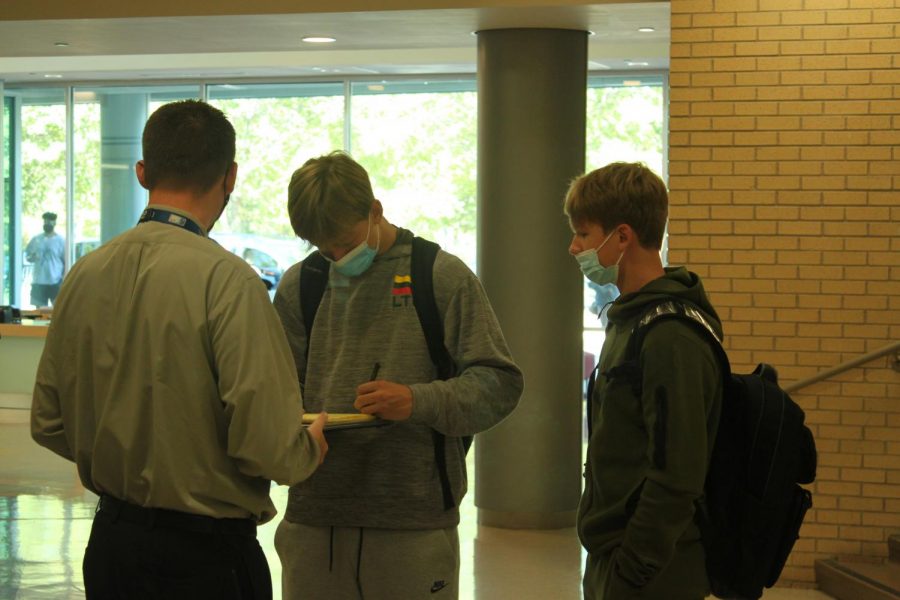 Cameron Rozek
An anonymous shooting threat message that circulated social media on Oct. 18 prompted Naperville Central administrators to put the school on a "soft lockdown."
While students were not allowed to leave campus for lunch, blended or physical education classes, anxiety about the potential threat caused a mass exodus of students in the middle of the day. More than 1,900 students had parents call in early dismissal or late arrival that day, compared with less than 500 the Tuesday prior, attendance specialist Liz Fox said.
District 203 and Naperville law enforcement officials discouraged making these kinds of threats to the community in a Oct. 20 message.
"We encourage parents to have open and honest conversations with their children about the seriousness of making threats against an individual or a school community," they said.
Many students said they did not feel safe after seeing the Oct. 18 threat.
"They are coming up to Naperville high school @ 12 to shoot it up tell the school ASAPPPP," the message said.
Especially as the clock ticked toward noon and the front entrance of the school was packed with students trying to leave, anxiety filled the air.
"School is generally a very packed place," said sophomore Violet Whelchel, who left campus early because of the threat. "Watching everyone stand by the front doors and everyone leaving was scary."
School and district administrators did deem the school to be secure as students were leaving campus, said Principal Bill Wiesbrook, who became aware of the message at around 8 a.m.
"We have a police presence at school all the time," Wiesbrook said in the morning of Oct. 18 as the situation unfolded. "Officer [James] Tanksley, our School Resource Officer, and Naperville Police Department leadership is aware of that message. There's an increased police presence at our school. Along with our 12 campus supervisors and administrative staff, we're confident this is a very safe place."
Even for students who stayed, there was still a sense of confusion.
"The mood of the building itself was different," said sophomore Alex Kang, who stayed on campus the whole day. "Everyone was kind of in this weird state where they had no idea what was going on."
The message was the third threat to disrupt learning at a Naperville District 203 high school this school year. A bomb threat was emailed to Naperville North High School on Sept. 22, and another threat spread via social media on Oct. 15. Both incidents resulted in cancellations or evacuations at the school.
The Naperville Police Department, with the help of other agencies, identified a juvenile from New York responsible for the Oct. 15 threat, Superintendent Dan Bridges said at the Oct. 18 Board of Education meeting.
"I have already communicated to law enforcement my intent to seek justice to the fullest extent allowed by the law," Bridges wrote in a Oct. 20 message to the community.
The district plans to communicate with state's attorney offices in DuPage County and the county in which the identified individual lives to find out what charges could be pressed for that case.
Local and state law enforcement, as well as the FBI, are still investigating the Sept. 22 bomb threat.
District administrators are currently in a stage of internally debriefing these incidents, Executive Director of Communications Alex Mayster said.
"We get together with the group that was involved and talk about what went right, what went well, what we could adjust next time," he said. "There's going to come a time where we'll look into more formal changes."