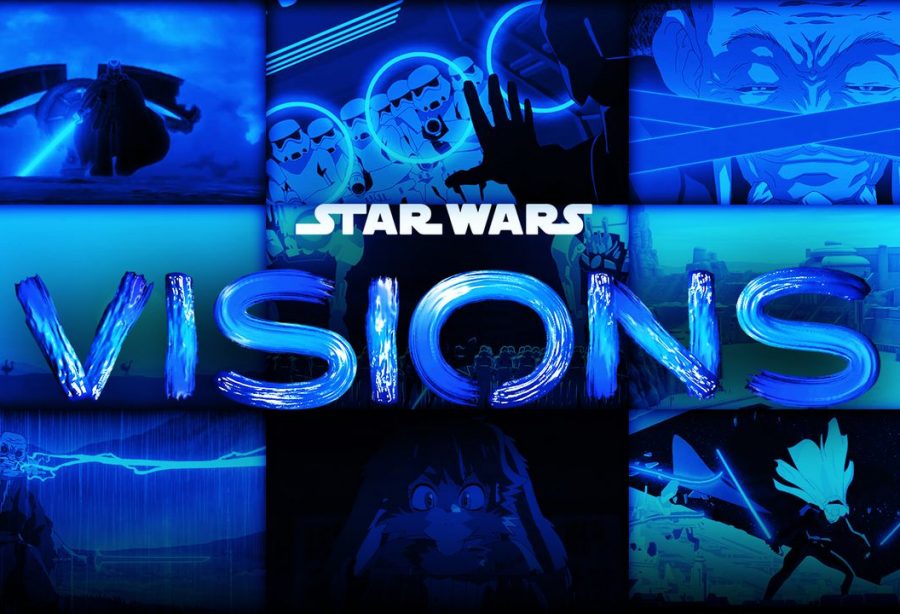 Photo credit: Disney
"Star Wars: Visions" made its debut on the popular streaming platform Disney+ on Wednesday, Sept. 22, becoming the first official collection of "Star Wars" anime that viewers can watch in both English and the original Japanese. To many, it came as a welcome change. I would wholeheartedly agree.
"Star Wars: Visions" is a collection of short episodes, each created by different studios with their own individual takes on the Star Wars universe. Following independent story lines, each studio was encouraged to be creative and outgoing, and the result was absolutely fantastic. Although I have never been able to enjoy anime, I still found the varying artistic styles intriguing, and far more engaging than the different anime that I have attempted to watch and failed to complete. This collection didn't feel like anime, but rather a collection of art created to reflect a vast cinematic universe that has existed for over four decades.
From the very beginning, I was impressed by the stunning combat found in episode one, "The Duel." Director Kamikaze Douga's take on the lightsaber and its many functions was alluring and gave depth to the typically overused "wandering stranger" trope, which tends to follow a fairly consistent storyline revolving around a mysterious hero who saves a small but threatened town. This episode was definitely one of my favorites.
With episode two's complete lack of an interesting plot, I would consider it to be the worst episode of the series by a landslide. I found it off-putting, and the music video style of the episode towards the end completely ruined any chance of enjoying the episode or getting anything out of it. In comparison to the other episodes of this series, there was a clear lack of substance. I was also very unhappy with the re-use of the planet Tatooine as a setting for the episode.
Episode three, "The Twins," took on a very different, more colorful artistic style than episode one. This installment was definitely a welcome change and succeeded in bringing artistic interpretations of Star Wars to a whole new level. Exploring new dimensions of unseen corners of Star Wars lore, this episode explores the conflict of two twins, torn between good and evil in a gripping battle for control over the entire galaxy. While this concept has been explored before in the Star Wars cinematic "Sacrifice," the creator's interpretation of the "Evil Twin" conflict was thrilling, exciting and developed with artistic maturity.
Episode four, "The Village Bride," had my attention from the very beginning of the episode. With its mesmerizing music and stunning visuals, this episode explores the history and present of a distant planet plagued by the controlling presence of a powerful enemy. The thing I enjoyed most about this episode was the way in which the studio, Kinema Citrus, challenged the viewers' perceptions by offering multiple points of view in the narration of a single story. Throughout the episode, these perceptions change until they eventually meet, resulting in a quick and action-packed final duel that gracefully concludes the episode. My one issue with this episode is the amount of similarities to episode one. However, there are enough differences to make the episode feel unique.
"The Ninth Jedi," the fifth episode of the series, had visuals that I really enjoyed, featuring a unique plot that was well developed and kept me interested from beginning to end. The combat in this episode was my favorite out of all the episodes, as the creators, Production I.G., opted to trade the cartoonish approach for a more realistic take on lightsaber duels. The story of this episode was also really enjoyable, following the experiences of a revolutionist and his daughter in the fight against a sinister darkness, it remained consistent with the timeline and general structure of the canon Star Wars universe.
Episodes six and seven, "T0-B1" and "The Elder," were by far my favorite of all the episodes. With vastly different styles of animation, conflict, music and storytelling, these episodes rose to the challenge of creating Star Wars stories that captivated audiences without the obvious appeal of previously known characters. My interpretation of these episodes ends here, as it is much more enjoyable to experience all the elements of these wonderful episodes firsthand.
To put it bluntly, episodes eight and nine were disappointing. With boring plots, weird animation and unimpressive levels of engagement, this series as a whole proved to be a serious hit or miss for me.
Ultimately, "Visions" is not the show to watch if your interest in Star Wars lies in the cohesive story laid out in the nine movies that have been released throughout the years. Instead, I would consider "Visions" to be a series dedicated to expression and cultural understanding. To those of us unfamiliar with anime, this series serves as an introduction to a vast world of creators with portfolios full of beautiful art, stunning visuals, captivating music and intriguing stories. I would highly recommend watching this series and discovering what makes art like this individually enjoyable.