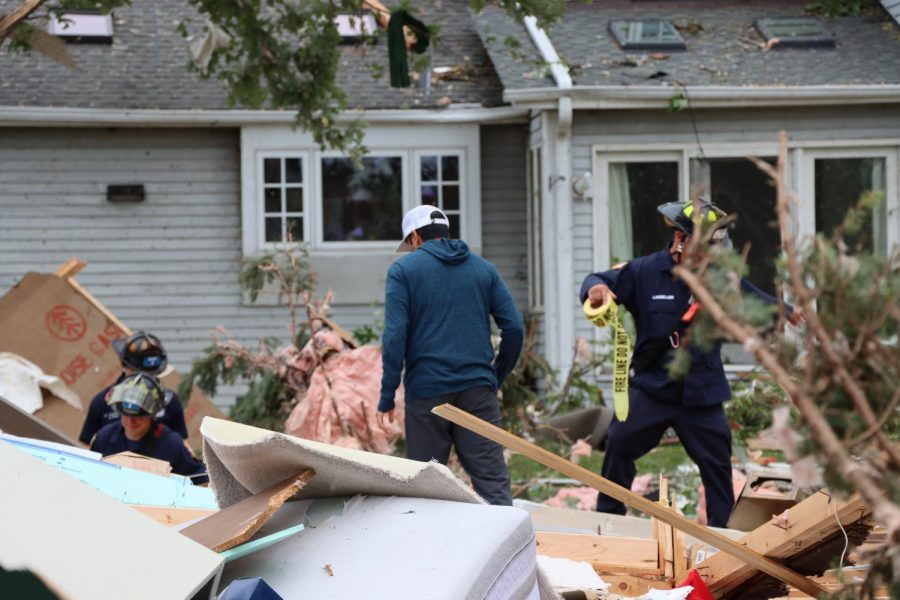 Katie Dalton
Less than an hour before midnight on June 20, as the wind howled and thunder rumbled, sirens began to wail. That was when longtime resident and Naperville Central staff member Katie Long Piper rushed her family down to the basement.
"Literally not even 15 seconds [after,] a sonic boom went off," she said. "You could just hear things breaking upstairs… moving around. It just sounded devastating."
However, what was eventually confirmed to be a tornado didn't just leave broken glass and furniture in its wake.
"I went up to check my bedroom, and I could hear the gas hissing and I could smell it," Long Piper said. "I came downstairs and yelled 'we've gotta get out of here now.' The neighbor down the street was like, 'get everybody out; those gas leaks [are] everywhere!'"
As she and her family hurried across the intersection to a neighbor's home, she noticed that the house right next to hers had been completely blown into her backyard, torn apart by the violent storm.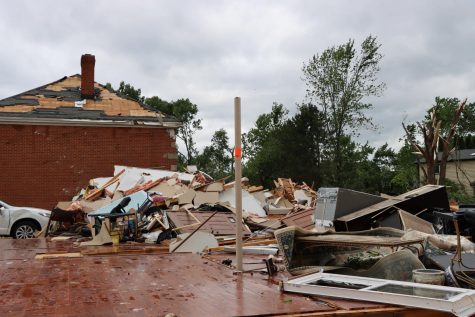 At approximately 11:10 p.m. Sunday, a tornado the National Weather Service has classified as EF3, with wind speeds of about 140 mph, touched down in Naperville, severely damaging portions of the University Heights, Cinnamon Creek, Campus Greens, Maplebrook and Winding Creek neighborhoods. The storm then traveled east, producing further damages to homes in Woodridge, Darien and Burr Ridge.
According to updates from the City of Naperville, as of 10:30 a.m., five residents were injured and taken to Edward Hospital, with one listed in critical condition. In total, 450 households were left without power, though crews had restored power to 150 households by late Monday morning. Several roads are still closed off due to fallen debris, which city crews are still working to clear.
Sunday night's tornado left many homes near Ranchview Elementary with shattered windows, dented siding and missing walls. (Katie Dalton)
The city's Transportation, Engineering and Development Business Group has determined the tornado left 16 homes uninhabitable. At around midnight, Naperville District 203 opened up Ranchview Elementary School to serve as emergency shelter for displaced families after being contacted by the fire department to do so.
"I think we had five or six families overnight," said Pat Nolan, Director of Building and Grounds at District 203. "Most of the families have been able to get to their houses to see what condition they are in."
These families were given an opportunity to grab what personal items may have been left before situating themselves at a hotel, family member's house or other residence.
Along with the police and fire departments, Red Cross volunteers also arrived on the scene immediately to help out families impacted by the tornado.
"Some of our volunteers came in the middle of the night after the tornado hit," said Joy Squier, American Red Cross Chief Communications and Marketing Officer for Chicago & Northern Illinois. "They were helping residents who were displaced with next steps in terms of housing, what they can do for temporary assistance until they can figure out longer term solutions."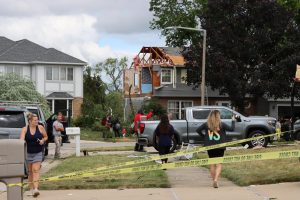 Residents are expressing gratitude for the overwhelming community support they have already received.
"I appreciate the outpouring from the community," Long Piper said. "Especially [from] students at Central, who have contacted me, so willing to help clean up."
Central Times will continue to update this story as it progresses.