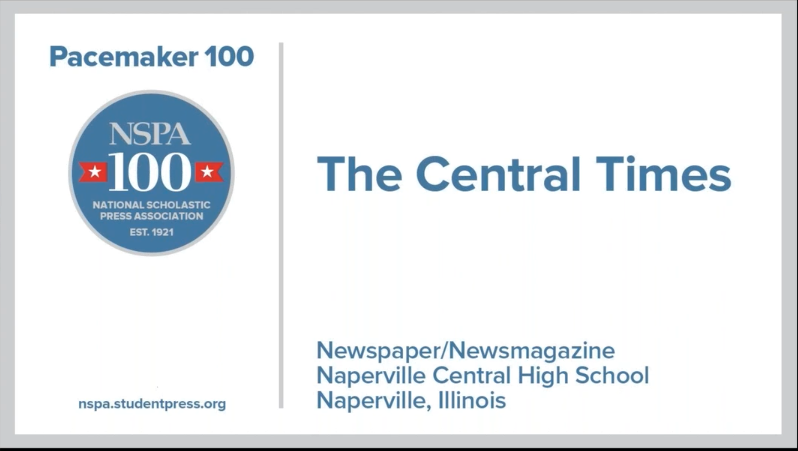 As a kickoff to its centennial year celebration, the National Scholastic Press Association has unveiled a list called "The Pacemaker 100" to recognize the high school publications most recognized by the organization in the past century with its prestigious Pacemaker Award. The Central Times, Naperville Central High School's student-run newspaper, was included in the list.
Only three newspapers from Illinois made the top 100 list. Two literary magazines and one yearbook contributed to Illinois' six total publications recognized.
The NSPA was founded in 1921 and began awarding its Pacemaker Award in 1927. Frequently referred to as "the Pulitzer Prize of high school journalism," the award is given to scholastic publications in the categories of newspaper/newsmagazine, yearbook and literary arts magazines, and has expanded in recent years to award broadcasts, websites and specialty publications.
The Central Times earned its first Pacemaker award nomination in 1992 and picked up its first of 13 Pacemaker Awards in 1994 under the leadership of faculty adviser Linda Kane. The publication's most recent newspaper Pacemaker Award came in 2014, with an additional nomination for its website in 2019. Keith Carlson has served as the paper's adviser since 2008.
NSPA ranked all publications using a point system to recognize publications for both their Pacemaker nominations and wins, and identified individual publications from schools separately. After identifying a top 10, the remainder of the list is presented alphabetically by state.
In recognition of this achievement, the NSPA will present Central Times with a commemorative plaque at one of its upcoming national high school journalism conventions in Philadelphia or Los Angeles. A statement issued by the NSPA also indicates that the newspaper will be featured in an upcoming commemorative book called "Empowering Student Journalists." Click HERE to watch a video presentation of the unveiling of The Pacemaker 100.