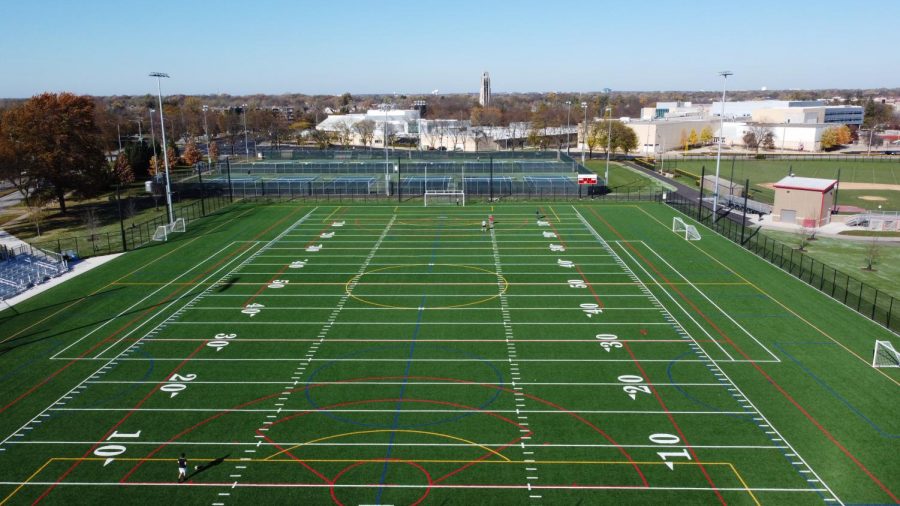 Jeremy Zhao
The Naperville Park District added a new multipurpose turf field to Knoch Park next to Naperville Central High School's baseball field, softball field and tennis courts over the summer.
The field is open year-round to the community and will also serve as another option for Naperville Central athletics to hold practices and games.
"This is certainly a community asset that's available," Brad Wilson, Naperville Park District's Director of Recreation and Facilities, said. "It is going to benefit not only the school district programs, but the park district and community athletic organizations, along with residents as well."
The new multipurpose field is the third public synthetic turf field added to Naperville, along with Nike Sports Complex and Commissioners Park. The field will allow greater access of a turf field to residents from the Naperville Central area.
"The fields that we have at Nike Sports Complex, as well as the fields that we have at Commissioners Park, are both very heavily utilized by not only individuals who come out and use the field on their own, but also the scheduled use by park district programs as well as athletic organizations," Wilson said. "So certainly we see that the new field will be just as popular."
Naperville Central athletics will utilize the field starting in the spring season of 2021. Naperville Central High School Athletic Director Andrew Lutzenkirchen sees the field as an opportunity to hold more athletic events in the same timeframe.
"It allows us more flexibility for makeup games, especially at the varsity level, where we could possibly play two JV games out on the new turf field and a back-to-back girls varsity soccer [game] followed by a varsity lacrosse game in the stadium at the same time," Lutzenkirchen said.
The Naperville Park District and District 203 partnered in a plan to build the turf field while both owning a percent of the field time.
"The park district does own more of it," Lutzenkirchen said. "They paid a higher percentage of it. So that's kind of how the time is broken up, based on the amounts that each entity spent."
Junior boys varsity lacrosse player Evan Amato, who hasn't played since he tore his ACL his freshman year, is excited to utilize the new turf field for the 2021 spring season.
"I'm super excited about the new turf field," Amato said. "I've already played on it multiple times, and it's a total game changer, not only for performance but also injury prevention."
The Naperville Park District and District 203 also see this as another opportunity to grow and improve their collaborative efforts.
"This is another great example of government entities between the school district and park district being able to partner together to benefit the community overall," Wilson said.