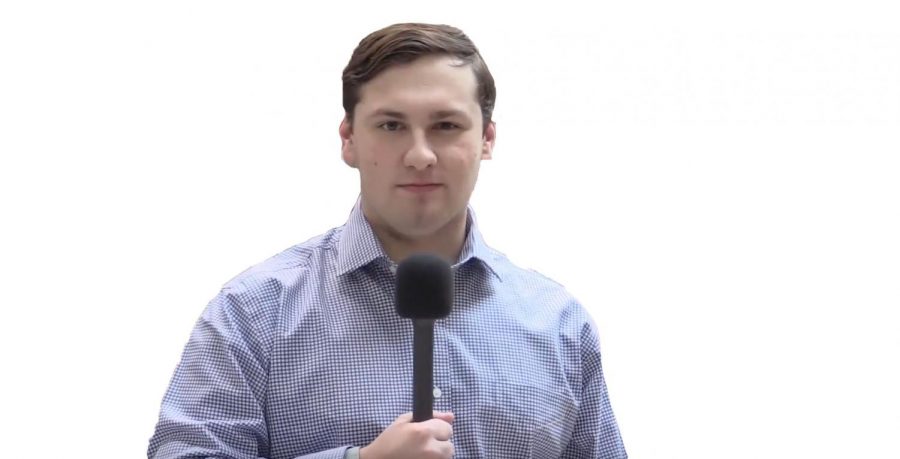 Danielle Pritchard
"Good Morning Redhawks and welcome to 'Cole in the Cafe!'" It's the phrase that captures Naperville Central every month. The man behind the mic is senior Cole Jable.
"Cole in the Cafe" is a segment on Hawk TV every month that pulls opinions from students in the cafeteria on a current topic.
"It's just kind of a light-hearted comedy segment like 'Drew and Drew,'" Jable said.
Drew and Drew was a comedic news segment.
"Cole in the Cafe" is the third edition of the cafe series on Hawk TV, following "Sam in the Cafe," and then "Jack in the Cafe" after the hosts graduated.
"[The staff] was talking about bringing back a comedy segment and wanted something like 'Jack in the Cafe' because that was a fun segment," Jable said.
Jable's work on his segment brought a fresh new face to the cafe series.
"Everybody wanted to be in 'Sam the Cafe' because it was different," Hawk TV adviser Katie Long Piper said. "When Cole came around, he upped it…he brought in more of his personality and really brought in the humor of the whole talking to people in the cafe."
However, Jable was assigned to the cafe segment completely by chance when he didn't have a story one month during his sophomore year.
"I usually did band stories and there wasn't anything going on," Jable said. "So I said, 'sure why not, I'll do Cole in the Cafe' and then we started planning."
That decision led to Jable becoming well known throughout Central.
"A lot of the times, I'm just sitting around when someone just says, 'Look! It's Cole in the Cafe!'" Jable said.
However, it has not just Central that Jable has impacted. He also impacted many in Hawk TV.
"He's hardworking, serious, driven and caring…he's got a yin and a yang about him," Long Piper said. "I am proud, humbled and inspired by him."
While "Cole in the Cafe" segment is only around a minute long, there's a lot of work that goes into it.
"I'll talk with my cameraman about a day to shoot and talk about some questions that might be good candidates," Jable said. "We then go out and film, and then I edit the segment and turn it into our lead editor."
However, Jable stresses the need for professionalism when filming.
"Everybody expects [when] you film, you go on, but that's not always the case," Jable said. "People like to act up in the background. I immediately cut that out because I don't want people to look stupid on camera."
While many know Jable as the man asking questions during lunch, he has many hobbies that he participates in outside of school.
"I'm in a lot of the bands of Central, like jazz band, steel band and in a couple acapella groups," Jable said. "I also love the outdoors…I recently got my Eagle Scout, and I like to go kayaking."
Jable says that being part of the Hawk TV has shaped him into a better person.
"It's definitely given me more appreciation for things," Jable said. "Being able to just have something to go to, like we need a break is great…for the January segment, I wrote four stories, filmed three and edited three so it was a tight month plus finals on top of that…and that made me realize that I need to step back."
Jable's work in Hawk TV doesn't just include editing, filming and being the star of "Cole in the Cafe." He also pushes the club to a higher quality.
"He's very knowledgeable with computers and equipment and really helped the club grow on the technology side," Long Piper said.
Jable plans on majoring in cybersecurity and network engineering at Purdue University, and even though he doesn't plan on doing broadcasting in college, Hawk TV will always be in his heart.
"It's made [high school] a lot more enjoyable because it's a lot of fun, and of course I met some amazing friends along the way," Jable said. "One of my biggest regrets in high school was not joining Hawk TV right off the bat."
Jable also plans to pass the cafe segment to anyone who is interested in Hawk TV next year.
"Make sure that you can keep yourself in check because having a good stage presence is one thing, but having that stage presence be you is a different thing," Jable said.
"Cole in the Cafe" has become more than just a segment, but a whole tradition every month in Hawk TV.
"This thing was not meant to be about 'Cole in the Cafe,' it was meant to get opinions from the school as kind of a joke and now we have what it is today," Jable said.
Struggles with "Cole in the Cafe" arise when people don't see Cole as Cole.
"I try not to be as much 'Cole in the Cafe' in my daily life as I normally would because I don't want to seem like I'm 'Cole in the Cafe' all the time," Jable said.
Long Piper is grateful for Cole's impact on Hawk TV and hopes that he continues to spread the word about Hawk TV this year.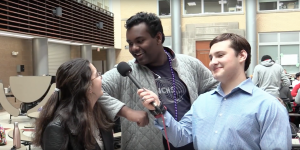 "He works so hard on getting the word out about what Hawk TV is and who we are," Long Piper said.
The downside of being the star in the segment is the extra attention Jable gets from other students.
"The only bad thing is if they don't realize that yes, I am a human," Jable said. "Yes, you can talk to me like a normal person because I am a student just the same as everybody else. The only difference is because one month, I didn't have a story and I decided to do a comedy segment instead of a soft or hard news segment."