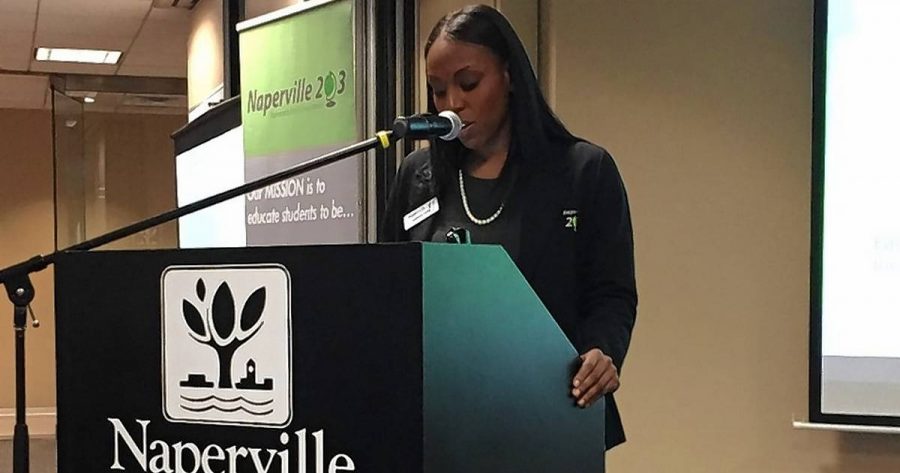 Photo Source: Daily Herald
District 203 has always made the success, safety, and inclusivity of its students its top priority. However, in light of recent years, the demographic has made a great shift presenting the school board officials with the task of conforming to the ever-changing student population.
Dr. Rakeda Leaks, head of the Diversity and Inclusivity at the district office, is playing a key role in making sure that change happens as soon and as smoothly as possible.
Growing up on Chicago's south side, Dr. Leaks exhibited great curiosity wanting the learn as much as she possibly could, "before there was Wikipedia, I had an encyclopedia set," said Leaks, "I would randomly open up the encyclopedia to any random letter and I would read up and whatever it was that I landed on."
Leaks was also extremely involved in her community participating in school sports such as the dance, cross-country, and cheerleading teams as well as playing an active role in her local church, "the community that I grew up in was very close-knit," said Leaks, "our neighbors were like our family." After receiving her Bachelor's Degree from the University of Illinois Urbana Champaign she worked multiple jobs including teaching at a school in Charlotte, North Carolina, and working for an educational consulting firm in Washington D.C.
She later moved to New York to pursue her Doctorate Degree from Fordham University whilst she was working a job as a district administrator before eventually settling down in District 203 a little over a year ago.
"It's a great district to be affiliated with," said Leaks, "It has a great reputation for preparing kids for college and careers which is extremely important."
Though her time in the district has been brief, Dr. Leaks is already impacting District 203 in big ways, "One of the things that she did was over the summer," said Naperville Central Principle William Weisbrook, "she reached out to all of the principles and said that she was planning on taking 4 full school days out of the school year to lead faculty in a type of 'deep equity training.'"
"I knew and understood that the demographic was changing," Leaks said, "I wanted to make sure that we were doing everything we could to create the best conditions possible for all students to have a positive experience both academically and socially."
More recently, Dr. Leaks planned and held what was referred to as "Focus 203". This was a district meeting that was open to the public once in the morning at the municipal center and again in the evening at Naperville North.
The meeting coincedentally followed a racially centered scandal, "It was actually kind of good timing," said Weisbrook, "so many people were already and aware of the issue and were willing to talk about it."
Leaks goal to create a schooling environment that is inclusive and successful for students of all ethnicities is a value that her home neighborhood of Inglewood played a huge role in, "I got the chance to interact with and befriend people from a variety of different cultural, ethnic, and religious backgrounds," said Leaks, "it was great at helping shape my thoughts and ideas and how I live my life today."
Dr. Leaks is already working on more plans for the near future to help District 203 meet this goal of inclusivity for all. In addition to continuing on with these district-wide equity lessons, she hopes to build beyond the equity teams that occupy each school and express the importance of an equitable inclusive learning environment to more people across the district.
"That's how you enact change," Leaks said, "you start to reach and get to know more and more people across the district so they can begin to learn and understand why these changes are being brought on."