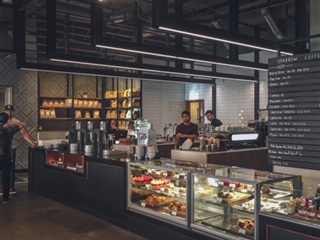 Mary Jane Deer
With 15 Starbucks in a nine-mile radius, finding a new restaurant away from the growing crowds and fast food chains is often more frustrating than fun. Central Times has composed a list of must-try, lesser known chains and small business restaurants located in Naperville.
Invicto
This Naperville and Vernon Hills chain, with a third location scheduled to open in Chicago next year, serves fresh, flavorful food inspired by the recipes of Mexican street vendors. The taqueria is known for delicious and simple-ingredient tacos, and the food is rivaled only by the atmosphere. Invicto is modeled after bright and airy Mexican markets, complete with retro style furnishings, fairy lights strung above tables, and colorful murals to pose in front of for the perfect aesthetic picture. For every meal ordered, Invicto provides a meal to a child in a developing country through their One Feeds Two program.
Naperville Location: 1721 Freedom Drive
Recommendation: Mexican Chocolate custard shake with a churro
Kogii Kogii Express
The menu at this small Korean restaurant is inspired by both traditional recipes and Korean street food. Combinations like build-your-own bibimbap bowls, udon noodles, fried chicken wings and french fries loaded with sour cream, cheese, and bulkogi, create an unusual but delicious twist of old and new flavors. This quick service restaurant brings both sweet and spice to the table, all to a K-Pop soundtrack.
Naperville Location: 1763 Freedom Drive
Recommendation: Chicken tacos
Little Pops
This family owned pizza place has carried their New York roots to Naperville, serving up NYC-style pizza and Italian cuisine. With many of these recipes from or inspired by family dishes, Little Pops provides delivery, quick service, and table service meals in a local, friendly environment filled with New York art and memorabilia. The owners, both coming from New York Italian restaurant families, wagered what was left of their finances on opening the now successful restaurant in 2014. Little Pops provides a diverse Italian-East Coast menu in a casual and family friendly atmosphere.
Naperville Location: 1819 Wehrli Road
Recommendation: Garlic knots
Great Harvest Bread Co.
Although Great Harvest is a national chain, its Naperville location is rarely overcrowded. Each location doubles as a bakery and cafe with its own unique menu, including coffee, sandwiches, pastries, and dozens of types of bread. Fresh ingredients and whole-grains are the pride of Great Harvest, with all items being baked from scratch and by hand. Pre-order from the bakery or stop by the counter to order or to sample from the constantly evolving menu.
Naperville Location: 192 W Gartner Road
Recommendation: Cinnamon scones
New Wok
Although at first glance this small Chinese restaurant seems unimpressive, appearances can be deceiving. New Wok's menu is packed with flavor and perfect for large gatherings or individual meals. Traditional Chinese recipes fill New Wok's expansive menu, featuring a variety of spices, flavors, and authentic ingredients and preparation techniques. There is not much seating in New Wok, so orders can either be delivered or carried out.
Naperville Address: 1807 Wehrli Road
Recommendation: Shrimp fried rice
Sparrow Coffee
Nestled in the newest addition of downtown Naperville, Sparrow Coffee is an aesthetic and urban cafe servicing hot and cold brews along with a score of sweet treats. The unique cafe rotates their menu between 100 signature coffee roasts while also serving a variety of teas and hot chocolate. Just like any Starbucks, the restaurant is full of long stations and tables for customers to work or relax and is located only minutes from Central. Sparrow Coffee commits to serving customers sustainable, organic, and artful drinks, moving towards less wasteful and more responsible brewing techniques.
Naperville Address: 120 Water Street
Recommendation: Peanut butter cookie and Iced London fog tea
Buttermilk
Buttermilk Cafe serves breakfast and lunch with an entire menu dedicated to vegan and gluten free options. This industrial farmhouse-themed restaurant provides a bright and welcoming environment to enjoy traditional, handcrafted breakfast and brunch options. Buttermilk's bar serves a wide assortment of expressos and hot and cold coffees. Sweet pastries and cinnamon roll pancakes meet healthy sweet potato quinoa salad and vegetable paninis.
Naperville Address: 1715 Freedom Drive
Recommendation: Lemon blueberry pancakes
Pho Thien Vietnamese Kitchen
This 2018 winner of Naperville's Best Ethnic Restaurant serves authentic and vibrant Vietnamese food, including pho, smoothies and noodle bowls. The family operating Pho Thien come from three generations of restaurant owners and are passionate about sharing bold flavors and classic recipes to the Naperville community.
Naperville Address: 931 W 75th Street
Recommendation: Shrimp pho