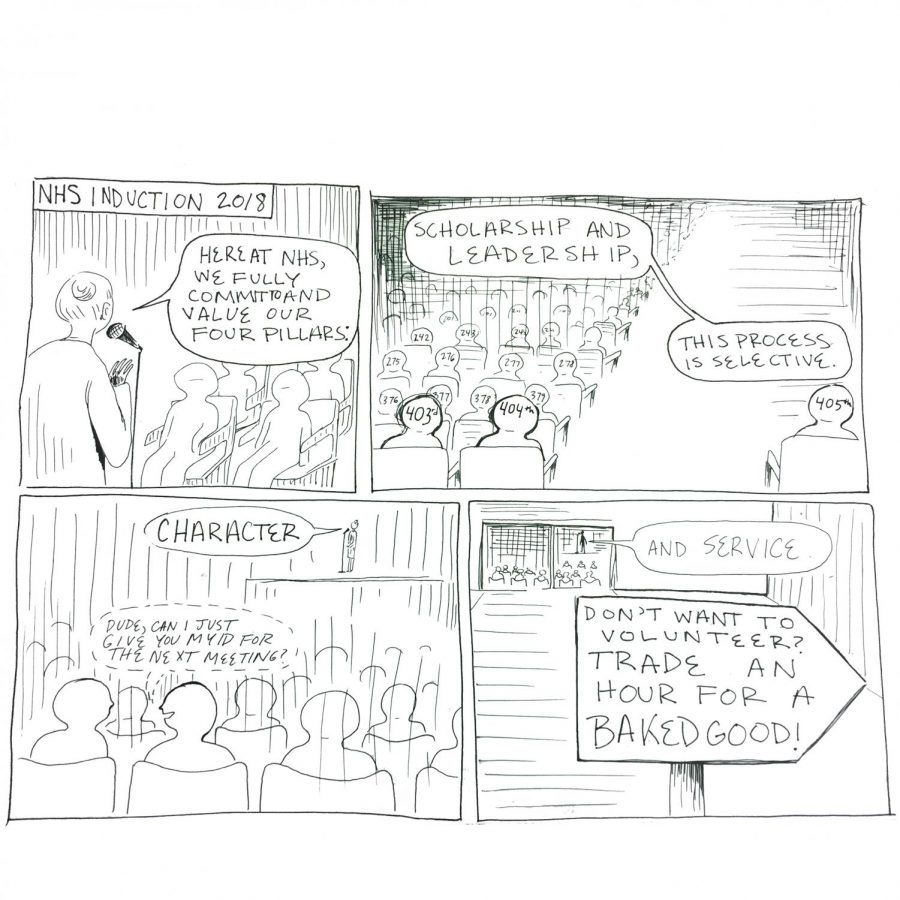 When most schools look at their largest organizations on campus, the list usually includes groups such as speech, debate or a business club, but typically not National Honor Society. With upwards of 450 members, National Honor Society is the largest organization on Central's campus. But should a group that's supposed to contain the most academically elite really allow 26 percent of the entire student body to apply? Central Times delved more deeply into the issues we saw with Central's National Honor Society and our problems weren't just limited to how many students are in the organization.
National Honor Society is a national organization that seeks students who demonstrate the four pillars of the organization: scholarship, leadership, character and service. Membership is awarded to those who demonstrate these pillars fairly well through their application, yet when students are accepted, CT doesn't always see these pillars demonstrated in them.
We recognize that with around 450 members it's hard to keep track of attendance at all meetings. Yet when students cheat the attendance system, they are not displaying the integrity they portrayed in their application.
Often times it takes too long for such a large amount of members to enter a room in 15 minutes. This gives the students ample opportunity to deceive the system by having a rotation of friends checking each other in. This deceit violates the pillar of character.
In addition, these actions are encouraged by a lack of punishment. NHS claims that more hours will be required of students who miss meetings, yet CT staffers who are also members of NHS have missed meetings without repercussions.
Along with attending meetings, all members are required to obtain 20 service hours. These hours can be acquired by any volunteer activity, although no more than 10 hours from a single organization can be counted towards the requirement.
We understand that community service is a vital component to building character, yet the ways students obtain hours is off-putting. The majority complete the hours fairly. They go out in to the community and do their share of service, but there are more than a few who we have witnessed first-hand cheat the system.
Some members are in the organization for the recognition, but couldn't care less about the community service aspect. As a result, they forge signatures on their sheets and make up fake activities they volunteered for. They, too, get away with this without punishment.
Another questionable practice is that hours are offered for students who bring in baked goods to NHS events. CT questioned if this was something that really helped members build on their service pillar. To us, it just seemed like a loophole to retain membership in the club without doing as much work.
When we looked at the root of these issues, we saw two solutions to stop the scamming: fewer members or more advisers. With 450 members, it's nearly impossible to enforce rules and punish those who don't follow them. Central only has two advisers, and with a lack of supervision, it's hard for Central's chapter of NHS to fulfill its minimum standards.
In order for NHS to be the reputable and prestigious organization it is known as nationally, the club most enforce its rules effectively. With more advisers, NHS members could be held to higher standards and with fear of punishment, their integrity wouldn't be compromised. Although their character shouldn't depend on whether or not they will be reprimanded, more advisers or less students would allow this to happen.